Celtics
Flexing his Boston accent, Marcus Smart debuts his new cereal 'Wicked Smarts'
Smart made an appearance at Boston Collegiate Charter school in Dorchester with cereal boxes for the kids.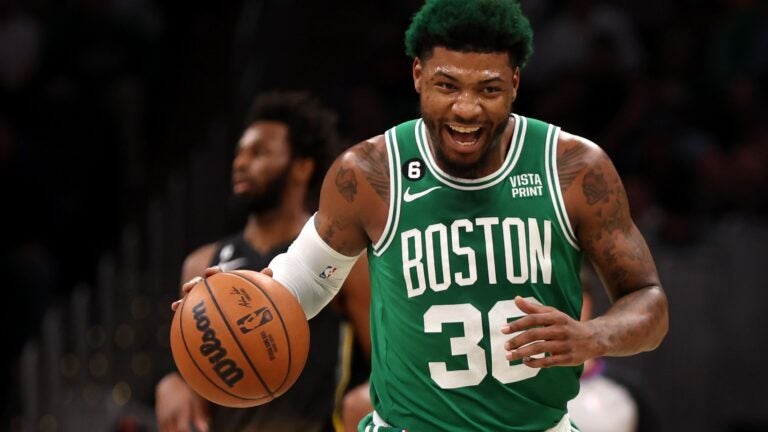 Wearing a green Celtics city-edition hoodie in a gym packed with excited charter school students, Marcus Smart looked down at the box of cereal with his face on the cover and smiled.
Smart made an appearance at Boston Collegiate Charter school in Dorchester on Monday to promote his new cereal "Wicked Smarts."
And yes, Smart pronounced the cereal's name with a Boston accent that he proudly flexed while talking to reporters.
"My name is perfect," Smart said. "You've got the R's for Wicked Smarts. I've got a good Boston accent now, you know what I'm saying. I take walks down by Harvard. I drive my car."
The students in the audience were thrilled to see Smart, bouncing out of their seats, some with both hands in the air as volunteers were called on to join Smart on stage.
There was even a screaming contest, which the students gladly participated in.
"It's a totally different feel [than TD Garden]," Smart said of the screams and cheers. "But, there's similarities."
Smart stepped into the middle of the crowd, surrounded by students holding up their cereal boxes to take a photo.
"For me, as a kid growing up, we've all been there," Smart said. "We all have a favorite cereal … It was like, 'what's something cool that I can do to really embody who I am and to raise awareness?'"
Smart said half of the proceeds will go toward his YounGameChanger Foundation, whose mission is to serve as a source of guidance for inner-city athletes; to create opportunities through sports, education, and mentorship; and to provide life-changing experiences for pediatric cancer patients.
The reigning NBA Defensive Player of the Year said he designed the cereal box himself. The front cover shows Smart's face in front of a bowl of cereal with milk splashing over the sides and lightning green lightning bolts coming down from the sky.

"I'm a 90's kid, a big 'Dragon Ball Z' fan," Smart said. "A big Goku fan, a big Vegeta fan. So to see my hair have that feel, that's where I was going with it. So I was like, let's make this a box and electrify my hair. And they loved it."
When asked about his injury status, Smart said he's feeling 'OK' but doesn't want to rush anything. He has been out with an ankle injury since Jan. 21 when the Celtics beat the Raptors.
"I'm here for longevity," Smart said. "If that means I have to sacrifice a couple games here and there, that's just what we have to do. But, I'm getting better. It's taking a little bit longer than expected. I miss you guys, Celtics Nation. To the team, I miss you guys. But, I'm alright."
Sign up for Celtics updates🏀
Get breaking news and analysis delivered to your inbox during basketball season.