Celtics
Malcolm Brogdon has been everything the Celtics hoped so far
Brogdon has bolstered the Celtics' depth and made life easier for the Jays.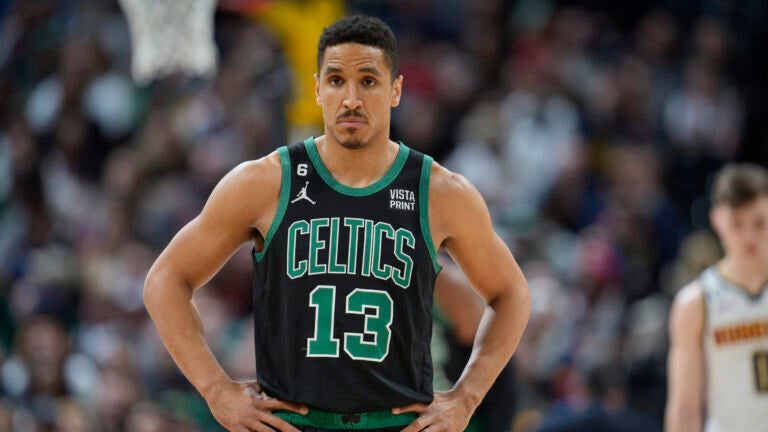 When the Celtics acquired Malcolm Brogdon, games like Saturday were part of the calculus.
Certainly, the Celtics have bigger aspirations than a late-January game against a mediocre Western Conference opponent, even when that mediocre opponent is a rival like LeBron James and the Lakers. Brogdon provides a big scoring punch they will lean on heavily when the postseason rolls around, and — ideally — a steeling, steady presence when playoff nerves threaten to make the ball particularly slippery.
But games in late January matter too. Saturday's victory occurred with both Marcus Smart and Robert Williams on the bench. Over the last 10 games, the Celtics have been without Smart for five, Jaylen Brown for four, Williams for three and Jayson Tatum for one. During that stretch, the Celtics are 7-3, and Brogdon didn't play in two of the losses. His minutes have spiked from 25.0 for the season to 34.3 over the last five games. The surging 76ers and Bucks made up a little ground, but not much — they are both still 2.5 games back.
When Celtics stars need rest, Brogdon's presence helps ensure they can take a breather. When everyone is healthy, he complements them as well as Brad Stevens hoped when he dealt Aaron Nesmith, Daniel Theis and a first-round pick to the Pacers.
"I thought he just did a great job of giving us another ball handler out there and another guy that can dribble drive," Joe Mazzulla told reporters, when asked why he started Brogdon in the second half against the Lakers. "And so with Al at the five, we were able to space Davis a little bit better in the second half because of that lineup, and it gave us some driving angles."
The Lakers were the latest team to struggle with Brogdon, who scored 26 points on 8-for-15 shooting in the Celtics' 125-121 victory. Brogdon's shooting this season has been excellent, which was probably predictable — the Celtics' lineup provides a lot of open 3-pointers. Brogdon is shooting 49.4 percent over his last 10 games, and 44.7 percent for the season — his career-high by a wide margin. He provides Tatum (or the roll man) an outlet when opposing teams double or blitz him out of the pick-and-roll. He gives the Celtics a late shot-clock option aside from Brown or Tatum if the offense breaks down — Brogdon is shooting 44.4 percent from 3-point range from 4-7 seconds on the shot clock and 41.9 overall from 0-4 seconds. Tatum, by way of comparison, is shooting 25.9 percent from the field with 0-4 seconds left on the shot clock.
Brogdon's shots are usually easier than Tatum's. That, of course, is the entire point — the concept behind acquiring him. The symbiosis benefits everyone. Royce O'Neal is guarding Tatum? No problem, that leaves Kyrie Irving on Brogdon. Alex Caruso is on Brogdon? Fine. Here comes Robert Williams to set a screen and force Nikola Vucevic to make a tough decision between Brogdon's 14-foot floater and Williams at the rim (a decision that has plagued teams all year — the two-man lineup of Williams and Brogdon has a net rating of +12.9). The Lakers are playing a small, quick lineup? Easy enough — both Dennis Schröder and Patrick Beverley are too small to deal with Brogdon.
Meanwhile, Brogdon — who seemed to struggle initially with the Celtics' switching defensive schemes — is rounding into shape nicely on that end. Against the Lakers, he often found himself matched with Anthony Davis before the Celtics could bring a double, and the Lakers star finished 6-for-15 overall (and 1-for-8 in the second half). The Celtics value versatility, and Brogdon's muscular 6-foot-5 frame provides plenty.
"Even in some of our losses, I've left really encouraged because of what he was able to provide for us when we were really struggling," Brad Stevens said last month, when he was asked about the Brogdon addition. "And it just adds another dimension to us, I think."
A reporter asked Brogdon on Saturday what he brings to the lineup with Smart out in particular.
"Marcus is an elite defender and a great facilitator. And for me I'm more of a scoring guard, I think I give us that edge," Brogdon said. "But for me, I defend well with size, I defend the bigs well. So I think that's going to be my strength with this team, with this starting group. So I just tried to do that to the best of my ability."
The Celtics are built for the postseason, and presumably, Brogdon was brought on board primarily with the postseason in mind — Payton Pritchard showed a lot of grit, but one would imagine Brad Stevens saw his performance as a rotation player in the Finals and quickly recognized the need for another ball-handler. Brogdon will play an integral role in the Celtics' run this year, however deep it goes.
But a team's postseason path is paved during the doldrums of the regular season — something the Celtics admit they ran up against over the last week.
"Being a great team is really, really hard," Mazzulla said after the Celtics' overtime loss to the Knicks. "You just have to work at it every single day, and you've just got to do the small, boring things all the time."
Brogdon is perfectly equipped to provide those little things. He won't outscore Tatum or Brown on a regular basis, and his highlights won't drive a lot of engagement on social media.
But over a 10-game stretch that threatened to damage the Celtics' standing in the Eastern Conference, Brogdon averaged 18.9 points per game and shot nearly 50 percent from behind the arc.
"A person that can make plays as a guard with the ball, a guy that's playing off the ball, a good shooter and a person who understands how to win, and fits right in with how our guards can play on the defensive end and guard up with his size and strength," Stevens said when he introduced Brogdon in July.
So far, so good.
Sign up for Celtics updates🏀
Get breaking news and analysis delivered to your inbox during basketball season.