Celtics
Who might the Celtics target before the 2023 trade deadline?
Jakob Poeltl and Naz Reid are two intriguing options.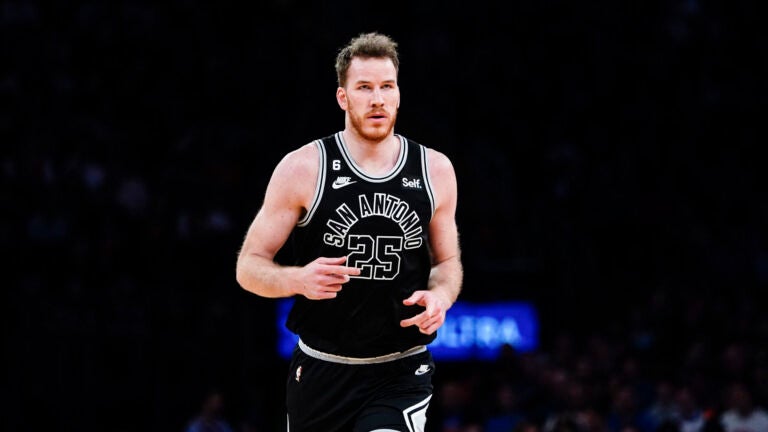 With the 2023 NBA trade deadline approaching on Feb. 9, the Celtics find themselves in an enviable position.
Most notable is their record — a robust 36-15, good for first in the Eastern Conference by two games and first league-wide by one. But the Celtics also have a roster built for a deep postseason run without much tinkering that allows them to make patient decisions. Simply put, there's no reason to make a panicked trade or get sucked into an uncomfortable bidding war when the team is already this good.
A couple of things to consider before we talk about names.
The Celtics still have a traded player exception from dealing Dennis Schröder valued at just under $5.9 million, which expires the day after the deadline. They also have several smaller exceptions. Those can be used in tandem with draft picks if they want, but — as always — they cannot be combined. The incoming player must make less than the traded player exception to be eligible.
The Celtics have room for one player on their roster without cutting anyone after they dealt Noah Vonleh to the Spurs.
The Celtics do not have access to their 2023 draft pick, which belongs to the Pacers as part of the Malcolm Brogdon trade. If they trade another first-round pick, it will have to be their 2025 selection due to the Stepien Rule, which prevents teams from dealing first-round picks in back-to-back seasons. They can trade the player they draft this year, but that — of course — doesn't help them at the deadline.
Let's take a look at some of the rumored names.
Jakob Poeltl, Spurs
Contract: $9.4 million – unrestricted free agent after this season (all contract info via Spotrac)
Stats: 11.8 points, 9.0 rebounds, 3.0 assists per game, 62/0/59 shooting splits
Analysis: Poeltl has been one of the names bounced around most on Twitter, and in a vacuum, he makes a healthy amount of sense. The Celtics would like to get Al Horford off his feet a little more, and while Robert Williams' minutes are ramping up, Celtics fans and front-office members might understandably be a little skittish about his ability to hold up for the rest of the season. Acquiring Poeltl as overqualified insurance is the type of all-in move that only a true contender could reasonably make, but the Celtics certainly are a true contender.
On the other hand, the asking price for Poeltl is two first-round picks. Even one first-rounder (a more reasonable price) would hamstring the Celtics going forward. He also will need a new deal after this season, and it isn't likely to be particularly cheap. He doesn't fit into the traded player exception either, so multiple players would have to be dealt since a player and a TPE can't be combined to make a salary match.
On the floor, Poeltl is solid around the rim and could provide an offensive outlet in the dunker's spot, but he relies a lot on hook shots, he's a poor free-throw shooter, and he doesn't provide much spacing either vertically or outside of the paint. When the Spurs faced the 76ers earlier this season, Joel Embiid rampaged his way to 40 points.
Poeltl is a nice player, but is he worth everything the Celtics would have to give up? Probably not.
Naz Reid, Timberwolves
Contract: $1.9 million – unrestricted free agent after this season
Stats: 10.1 points, 4.7 rebounds, 0.9 assists, 54/32/68 shooting splits
Analysis: The highlights are pretty great.
The contract is very friendly for the Celtics too, who could slot Reid into their Bol Bol traded player exception if they saw fit to use the Schröder TPE elsewhere.
Reid is an intriguing offensive player — just good enough from 3-point range to be confident, just bad enough to make 3-pointers a questionable choice, and perhaps good enough to force opponents to close out. When they do, Reid is devastating off the bounce, and he's solid as the roll man.
Going from Minnesota — where development has been emphasized for years — to a win-everything-now culture in Boston might be a bit of a shock for Reid. But he moves incredibly well for his size and could develop into a highly useful role player who shows flashes of more at his best moments.
Ultimately, Reid's potential will likely demand at least one first-round pick and maybe something else, so the Celtics are a long shot to acquire him. But he would be one of the more interesting options on the board.
P.J. Washington, Hornets
Contract: $5.8 million – restricted free agent next offseason
Stats: 15.1 points, 4.5 rebounds, 2.4 assists, 44/36/77 shooting splits
Analysis: Washington has been bandied about on social media by fans. He's relatively young, he fits into the Schröder TPE, he can space the floor, he's an excellent athlete, and his RFA status is attractive for a Celtics team that might have trouble improving given their tax status moving forward.
The only problem? The Hornets now reportedly want to keep Washington, and they can maintain their own restricted free agents rights on him. So don't expect him to be going anywhere.
Mason Plumlee could be an option as well, but given his free-throw struggles, he feels questionable as a postseason player.
Kelly Olynyk, Jazz
Contract: $12.8 million – partially guaranteed next season
Stats: 11.9 points, 4.9 rebounds, 3.2 assists, 50/41/83 shooting splits
Analysis: Olynyk would be a great fit — a veteran big who can space the floor off the bench with better defensive acumen than he often gets credit for. Matching Olynyk's salary would require dealing Danilo Gallinari, and Danny Ainge is not known for allowing himself to be fleeced in a trade. Assuming Ainge demands at least one first-round pick for a highly productive role player — which seems to be the going rate this year — the Celtics would need to evaluate whether the 31-year-old Olynyk is worth handcuffing themselves for the foreseeable future when their current big rotation might be good enough to get by.
Some other options:
Target low-cost wings and guards who can shoot
If the Celtics don't want to deal a first-round pick for one of the top-tier options on the market, they could try to simply upgrade at Sam Hauser's wing position, since Hauser's shot has not shown any real progress over the last few weeks. Pistons guard Alec Burks is 6-foot-6 and shooting 45 percent from 3-point range. The Celtics could match his salary relatively easily with Danilo Gallinari and draft compensation, but they wouldn't be the only contender interested in a high-level sharpshooter with length, so they might have to beat other offers. Former Celtics camp invitee Garrison Mathews might be cheaper and could fit into a TPE if the Rockets are interested in a second-round pick.
Finally: Do nothing and wait for buyout candidates
This might be the most prudent course of action, since the Celtics already have a championship roster. If they keep their pick for now and deal it after the draft, they can avoid getting hit with the Stepien Rule. Meanwhile, the Celtics would be a prime destination for buyout candidates looking to join a good team and simultaneously raise their profile with a lengthy playoff run.
Still, the Celtics know they have a rare opportunity here. Wyc Grousbeck told NBC Boston Sports that Brad Stevens has a green light to spend if he sees fit.
"It's about this year," Grousbeck said. "It's not about 'this will pay dividends in three years,' or 'this will do this next year' — it is 'this year, muscle up, and let's get the job done'.
"So that's his instructions, and that's what we're going to try to do. If there's anything to do, we'll do it. If not, we love this team, we're at the top of the elite right now."
Sign up for Celtics updates🏀
Get breaking news and analysis delivered to your inbox during basketball season.