Celtics
Kyrie Irving tips his hat to the Celtics after blowout loss: 'It's clear as day that they want to win a championship'
"Tonight I felt like we were just one of those teams in the way."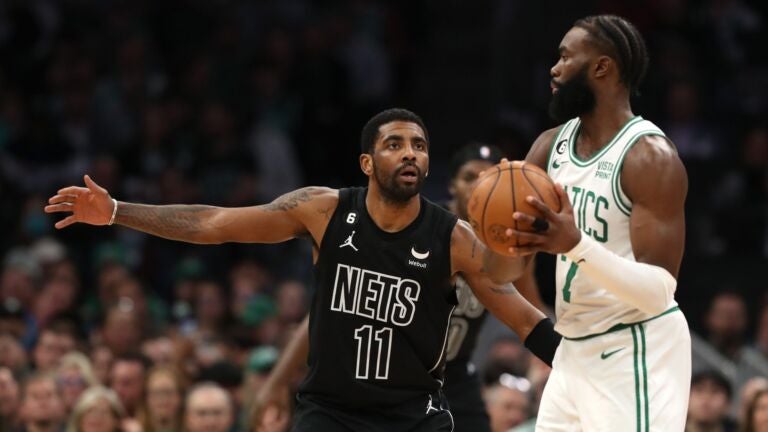 Kyrie Irving could only shrug his shoulders.
The Brooklyn Nets were shorthanded entering Wednesday's showdown against the Celtics. Without Kevin Durant sinking shots on the parquet floor, the Nets were lacking in both firepower and size.
But even if a scoring conduit like Durant was on the court and dropped 30 points against Boston… the Celtics still would have won by 13 points.
Regardless of the personnel in place, the Celtics throttled the Nets in a laugher on Causeway Street, scoring 46 points in the first quarter en route to a 139-96 blowout win.
Irving's icy relationship with Boston has been well-documented over the last few years. But after a one-sided affair like Wednesday night, the All-Star guard could only give his former team its due.
"When you're going against a very motivated team such as the Boston Celtics — they have a chip on their shoulder," Irving said. "It's clear as day that they want to win a championship and they're not wasting any time during the season. So tonight I felt like we were just one of those teams in the way. We just can't be one of those teams in the way. We got to be one of those teams that stands up to them and at least shows them that we're going to be competition for them moving forward, which I believe we are.
"But tonight we just didn't show it. … Obviously, it's disappointing. I would love to come in here to Boston and beat them. Even when they came to our house in Brooklyn, we'd love to beat them. But you just take the lessons and as one of the leaders, just see where I can continue to prepare better and lead a better example out there."
On paper, the Nets pose a legitimate threat to the Celtics' reign in the Eastern Conference. But on the court, Boston has dominated Brooklyn over the past year.
With Wednesday's victory, the Celtics have won 10 straight games against the Nets, including their four-game sweep in the first round of the 2022 playoffs.
Brooklyn offered little resistance during Boston's first-quarter onslaught. By the time the dust settled after 12 minutes of action, both Jayson Tatum and Jaylen Brown (30 combined points) nearly doubled up the Nets' entire offensive contribution (16 points).
Wednesday marked the first time in Celtics history that Boston outscored an opponent by 30 points in the first quarter.
"Feels like after the first quarter, that was pretty much the game. I mean, we were playing in a deficit that just couldn't climb out of, especially against a great team like them," Irving said. "The last couple of times that we played them, they've been the better team."
A crash course in the postseason feels inevitable once again between these two teams. Irving believes that his team has a far higher ceiling than what they've shown so far. But there's no denying who the top team in the conference is right now.
"The past is past. We just got to keep reworking it," Irving said. "As a competitor, I'm not going to stop until I figure out what this methodology is to the Boston Celtics right now and why they're so hot. I think I have a main reason — is just how connected they are and how much they play together, how many minutes they've logged in together and again that chip on their shoulder.
"You can see it, you can feel it. And I think we just have to develop a tougher mentality here. And when we do that, I feel like we'll be in better competition with them. I know we will."
Sign up for Celtics updates🏀
Get breaking news and analysis delivered to your inbox during basketball season.