Celtics
This level of dominance 'has been a long time coming' for Jayson Tatum and Jaylen Brown
Tatum and Brown put on one of the best 3-point shooting performances in TD Garden history.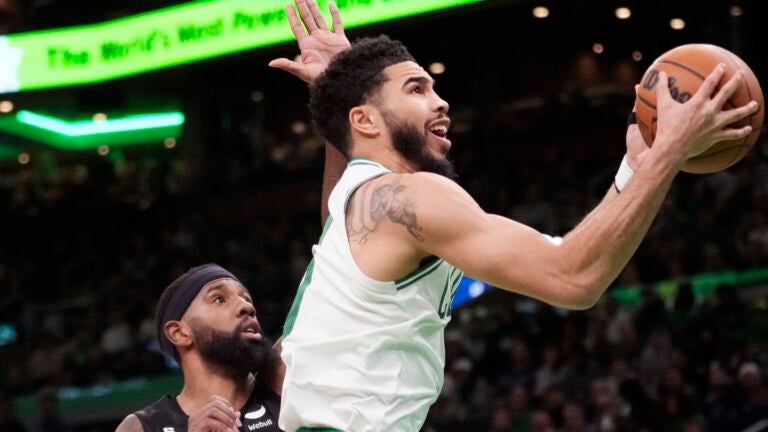 After the Celtics rained down a TD Garden-record 26 3-pointers in a blowout win over the Kyrie Irving and the Brooklyn Nets, Jayson Tatum took about a minute to reflect on how far he and Jaylen Brown have come since they first arrived in Boston.
"It's been a long time coming. I talk about it pretty often," Tatum said. "We've had our good times, and not so good times but I think those are just growing pains. We were just 19-year-old kids that came into the league hungry and trying to help our team win. We've had to learn how to play in this league, learn how to play with each other, learn how to lead the team."
Tatum and Brown became the first Celtics teammates to hit seven-three pointers each in the same game. They finished with 31 and 26 points respectively.
The 3-point outburst helped catapult Boston to a 27-4 run to open the game. Brooklyn never got close, trailing by 34 at the half and ultimately losing 139-96 to Boston.
"It was the biggest difference in the game," Brooklyn coach Jacque Vaughn said. "I think they started 8-for-8 from three or somewhere around there. So that barrage of them making shots, and then we weren't making shots at the same time."
Celtics coach Joe Mazzulla applauded the hot start, pointing out how much he liked the team's proactive and aggressive approach.
They weren't afraid to let shots fly early and often. And they bulldozed the smaller Nets on the boards, winning the rebounding battle 57-32. All of the Celtics starters shot 50 percent or better from the field, and the team shot 48 percent from 3-point distance collectively.
"It's clear as day that they want to win a championship and they're not wasting any time during the season," Nets guard Kyrie Irving said. " So tonight I felt like we were just one of those teams in the way. We just can't be one of those teams in the way. We got to be one of those teams that stands up to them and at least shows them that we're going to be competition for them moving forward, which I believe we are. But tonight we just didn't show it."
The Nets have struggled against the Celtics, losing their last 10 games against Boston. And they didn't have Kevin Durant, who is out with an MCL sprain.
But that shouldn't take away from the fact that the Celtics, led by Tatum and Brown, put on a shooting performance as good as any we've seen from them in a while.
"I feel like we're still a long way ultimately from where exactly we want to be," Tatum said. "But, we've made amazing strides from the beginning. We've still got a long way to go. It's not done until we win a championship."
Sign up for Celtics updates🏀
Get breaking news and analysis delivered to your inbox during basketball season.