Celtics
6 takeaways as Celtics beat Nets for the 10th straight time in blowout win
"It's clear as day that they want to win a championship."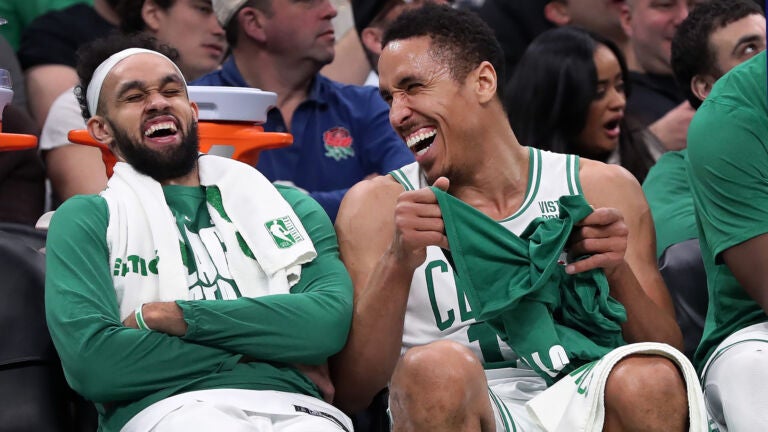 The Celtics annihilated the Nets 139-96 on Wednesday, claiming their second win in a row after their controversial victory over the Lakers on Sunday.
Here are the takeaways.
1. Dating back to last year (and including the playoffs), the Celtics have now won 10 straight games against the Nets. None of the previous nine were as dominant as Wednesday, however, which brought to mind last year's 135-87 victory over the 76ers.
The Celtics led 27-4 at one point in the first quarter and 46-16 after 12 minutes. They cruised the rest of the way and the Nets never challenged. Six Celtics scored in double figures. Only two topped 30 minutes. Jaylen Brown started 7-for-9 from 3-point range before missing his last three when the game was all but decided. Brown and Jayson Tatum both hit seven triples, becoming the first teammates in Celtics history to hit seven apiece. Robert Williams was dominant in his return from a sprained ankle (more in a minute). The Celtics set a TD Garden record for 3-pointers made and could have made their second run of the season for the franchise record in a game after they hit 27 in November.
And the Celtics did it all without Marcus Smart. The Nets – it should be noted – were without Kevin Durant, but Wednesday's game was a bruising win.
"I think we did a great job of whoever was in the game, whoever subbed in kept up the intensity," Tatum said. "Kept extending the lead and playing the right way and you're competing because human nature can set in and you can relax and things like that. I think we did a great job of managing that and focusing on what we were trying to accomplish."
2. Robert Williams played perhaps his best game since his return to the floor in December, pouring in 16 points on 7-for-8 shooting.
Joe Mazzulla provided a laundry list of reasons Williams played well.
"I don't think he let anyone go under so every screen had to go over," Mazzulla said. "He sealed, he created gaps, he created small 2-on-1s, he did a great job against smalls on the offensive glass and he really helped our switch attack. For our offense to get to another level, he's got to be dynamic with his screening against different coverages and his ability to score down there. I thought he showed that tonight."
Williams's only missed shot was a put-back attempt, which he then snagged and scored anyway – one of five offensive rebounds he pulled down. Mazzulla praised him for beating guards on the offensive glass, but Williams also grabbed a rebound around Day'Ron Sharpe for his fourth, and outmaneuvered three Nets to come up with his fifth (which drew a foul).
"Rob has an unlimited ceiling," Tatum said. "The sky's the limit for him. Just continue to work hard, stay healthy, he can be as special as he wants to be."
Williams said he wants to be an outlet for the team's stars to relieve defensive pressure.
"I feel like one of my biggest strengths is creating sort of 2-on-1s or advantages for my teammates if not myself," Williams said. "So I've just got to recognize when to slip. I'm a lob threat going to the basket. Most guys don't want to give up lobs, so it's a corner kick. Like I said, it's just creating shots for everybody."
3. Jayson Tatum cracked 30 points for the 29th time this season (31 on 12-for-19 shooting, 7-for-12 from 3-point range), but he nearly didn't. As the third quarter wound down, he was sitting on 28 points and facing the high likelihood that he would not play in the fourth. But on the final possession of the quarter, Luke Kornet set a high screen that sent Yuta Watanabe stumbling backward, and Tatum buried the triple before heading to the bench for the rest of the night.
After the game, Tatum talked extensively about the heavy minutes load he has built up over the last few years. While he is second this year in minutes per game, Tatum (and the Celtics) credit his improved habits and diet for his ability to play so many minutes. Tatum referenced Celtics trainer Nick Sang twice for helping him build a plan and stick with it consistently.
"I just want to play. I love the game, I love playing, I want to play every game," Tatum said. "So those two things are hand in hand. I feel great. My body feels so much better at this point in the year than it did last season. Last year at this time, I was essentially dealing with a lot more, but I still was figuring out a way to get out there and play."
4. A blowout like Wednesday's can lead to some wild numbers, such as Jayson Tatum's +46, Al Horford's +37, Jaylen Brown's +35 and Derrick White's +34 (or Kyrie Irving's -31).
While the Celtics' net rating took a healthy bump, the Nets dropped off significantly – falling from ninth to 22nd in defensive rating over the last two weeks with a hit that dropped them from 116.9 to 118.9.
Tatum said he believes the Celtics have grown since they blew out the Suns similarly earlier this year.
"[Mazzulla said] that there's a sense of humility when you win like that, because it can happen to you," Tatum said. "And a month or so later, we went to OKC and got our ass kicked.
"So that was kind of a reality check of, we are really good, but in this league on a given night you don't come out and play the right way, it can happen to you. So always have that in the back of your mind has been helpful for us since then."
5. Malcolm Brogdon played just 21 minutes. He entered the game at the start of the fourth with the Celtics leading by 38 points – even Joe Mazzulla, it seems, couldn't believe the Nets folded that quickly – but exited after hitting the dagger 3-pointer to put the Celtics up by … 43.
6. Fans booed Irving once again, but he was complimentary to the Celtics after the game. He admitted beating the Celtics in Boston would have been meaningful and praised the Celtics for their connectedness and the chip on their shoulder after losing in the Finals last year.
"It's clear as day that they want to win a championship, and they're not wasting any time in the regular season," Irving said. "Tonight I just felt like we were just one of those teams in the way. And we just can't be one of those teams in the way. We have to be one of those teams that stands in the way."
Irving noted that while the Celtics now have a lengthy winning streak against the Nets, only a little more than a year has passed since the Nets swept the Celtics out of the playoffs. That Celtics team, however, increasingly feels like a thing of the distant past.
The Celtics play the Suns on Friday at 7:30 p.m.
Sign up for Celtics updates🏀
Get breaking news and analysis delivered to your inbox during basketball season.