The two-part documentary 'Bill Russell: Legend' isn't revelatory, but it's worth your full attention nonetheless
One of the most satisfying elements of "Legend" is the array of basketball greats of many eras who are eager to share their admiration for Russell.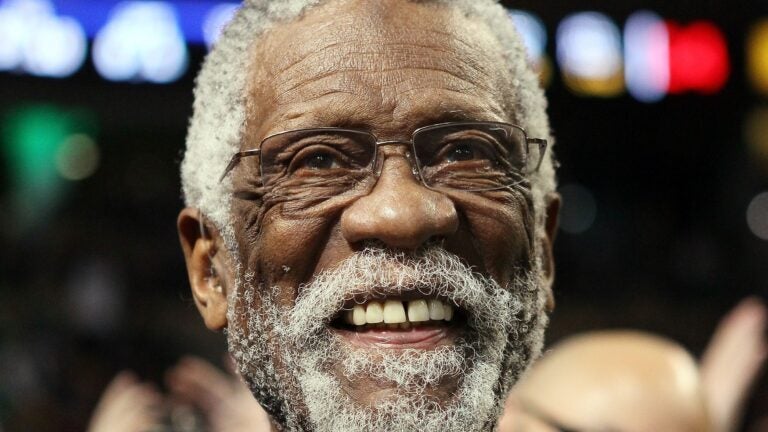 "Bill Russell: Legend," the two-part documentary on the ultimate Celtics champion and civil rights icon that begins streaming on Netflix Wednesday, is compelling, complete, and worth every minute of your attention.
What it is not is revelatory. "Legend," directed by Sam Pollard ("MLK/FBI," "Lowndes County and the Road to Black Power"), does feature some spectacular unfamiliar visuals — a scene of Russell, wearing a party hat and dancing with his Celtics teammates and their wives at a post-championship celebration, feels heartwarming until your mind finally gets the hint. And then the scene of people of different races savoring each others' company wallops you as a jarring contrast to the racism Russell and his Black teammates endured.
"At that time, I was in love with my career. I just loved it, absolutely every minute of it," actor Jeffrey Wright says, reading from one of Russell's memoirs. What's left unsaid: Basketball was always the easy part, and often the only easy part. "Boston was the least liberal city in the United States when I got there," says Russell matter-of-factly in an archival interview. (Russell died at age 88 last July. His last known interview was with Pollard for "Legend.")
The beats of Russell's story — first as a sui generis rebounding-and-defensive genius of a player who led the Celtics to 11 championships in 13 seasons ("ritualizing winning," he once wrote) and then as a courageous activist and cultural figure — are entirely familiar. I don't think, at least from a Boston perspective, that such familiarity is a bad thing. Perhaps it means that in the complications, reckoning, and eventual bond with Boston, his story here has been told truthfully, unsparingly, and in full. Most of us know where he stood, how tall he stood, and have the sense to revere him for it.
That relative shortage of fresh information does not detract from appreciation of "Legend." The familiar stories — his childhood spent as a shy kid in Oakland who cherished his library card, the confidence he found as a basketball player his senior year in high school, his rapid ascent to championship heights in college, the Olympics, and then the NBA, the battles with Wilt Chamberlain — are all welcome in their retelling.
So, too, are the stories about Russell's courageous role in the fight for human rights — including marching with Martin Luther King Jr., traveling to Mississippi to host a basketball clinic not long after the murder of Medgar Evers, and leading a boycott of a 1961 game in St. Louis because of racial discrimination in the city. "Bill Russell the man is someone who stood up for the rights and dignity of all men," said Barack Obama, upon bestowing Russell with the Presidential Medal of Freedom in 2010.
Russell allowed Pollard access to his personal archives, and the passages Wright reads from his 1965 memoir "Up For Glory" and 1979 masterpiece with Taylor Branch "Second Wind" bring Russell's voice to the documentary in a different way. One of the most satisfying elements of "Legend" is the array of basketball greats of many eras who are eager to share their admiration for Russell.
Former Knick (and US senator from New Jersey) Bill Bradley calls Russell the "smartest player that ever played the game."
Larry Bird says, "When he thought about something he thought was right, that's what he's going to go by. That's called a stand-up man. That's the way Bill was on a consistent basis."
The perpetually loquacious Bill Walton offers a lovely description of Russell and the dynasty Celtics' playing style: "His job was get the rebound, block the shots, deflect the passes, and then turning it right around in the other direction and letting the rest of the guys rush up the court like the oncoming tide."
"Legend" includes footage of Russell's arrival at Logan Airport to join the Celtics during the 1956-57 season after he had led the United States to the gold medal at the Melbourne Olympics. He is greeted by a group holding a long, rudimentary "Welcome to Boston" sign. The same sign is seen in "Legend" during an auction of Russell's memorabilia seven months before he died.
Some modern players are asked early in Part 1 of "Legend" what piece of Russell's memorabilia would they like to own. Stephen Curry's answer struck me as particularly thoughtful. A manuscript of one of his books, Curry says, or a rough draft of "Second Wind."
It was a small reminder in a documentary rich with them that the most accomplished winner in the history of American team sports had a much greater impact away from the basketball court, and the current generation is following his lead.
"I fought," wrote Russell, "because I believed it was right to fight."
Loading...