Celtics
6 takeaways as Celtics rally but ultimately fall flat in loss to Suns
The Celtics whittled down a 20-point lead but couldn't get over the hump.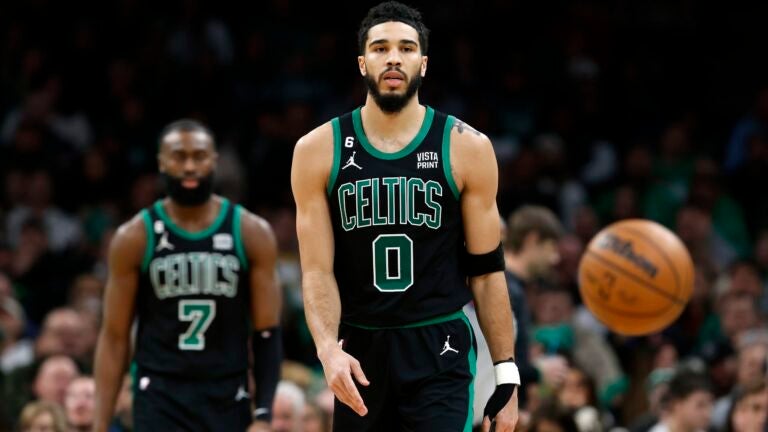 The Celtics slowly whittled away a big deficit against the Suns on Friday and had multiple chances to take the lead but ultimately lost 106-94.
Here are the takeaways.
1. The Celtics had innumerable opportunities to take control of Friday's game, but the biggest one felt like it came at the start of the fourth quarter.
Early in the game, the Suns built a 20-point lead when Robert Williams sat down — allowing DeAndre Ayton to take control in the paint. For the rest of the game, the Celtics tried to pull themselves back up, starting with an 11-0 run that helped them cut the lead to 13 at halftime. They proceeded to then win the third quarter 29-17 and appeared well-positioned to take control in the fourth, trailing by one.
On the first play of the fourth, Malcolm Brogdon caught the ball on the wing, drove past Ish Wainright, and pulled up for an open 15-foot floater that would have given the Celtics the lead, but he left it just short off the front rim. On the other end, Damion Lee hit a 3-pointer. Then Jock Landale got free at the rim in transition and threw down a dunk. Then Saben Lee mashed home a two-handed slam that sent the Suns' bench into hysterics and built the lead back up to nine.
From there, the Celtics were forced to fight both the clock and a short-handed but energetic Suns team. With Devin Booker, Cameron Johnson, Cameron Payne, and Landry Shamet all sidelined, the Suns defended hard and avenged the beatdown the Celtics administered to them earlier this year in Phoenix.
"We missed some shots early with some decent looks, but they just dominated us on the defensive end," Brown said. "We didn't get stops. They got some offensive rebounds. They made some shots. They got it going. They were willing to run, and we didn't answer.
"I think the start of that fourth quarter, once we cut it to one, that was kind of the game, and we've got to be ready to go. Usually, that group is really good to start the fourth and put pressure on the team. Tonight, that wasn't the case."
2. The Suns were fine defensively against Jayson Tatum, but he seemed off right away. He missed his first five shots, all against different Suns defenders and all relatively make-able. His first triple was lightly contested by Torrey Craig and came up well short. He missed a driving layup that would be difficult for nearly anyone but is generally routine for him. The Suns' defense broke down and gave him an open 18-footer, which he bricked off the back rim. He missed a turnaround jumper over Wainright. He missed the rim entirely on a driving layup against Landale. He missed another 3-pointer. Finally, with 3:35 remaining in the second quarter, Tatum buried his first field goal — a 3-pointer off a pick-and-roll with Robert Williams.
That shot was one of just three Tatum converted from the field. He finished 3-for-15 from the field with 20 points, boosted significantly by his 11-for-12 evening at the free-throw line.
"I saw he got good looks," Joe Mazzulla said. "I saw they were in drop, so he was able to get wide-open threes. We've got to do a better job of, when he's screening, of getting stuff out of that, especially when teams are switching and not just be as pick-and-roll oriented but off ball as well."
Despite his struggles, Tatum was +1 in the box score.
3. Tatum was far from alone in his struggles from behind the arc. The rest of the Celtics shot 7-for-28 from behind the arc (25 percent). The worst offenders included Al Horford (1-for-6 from deep, zero 2-pointers attempted), Jaylen Brown (3-for-12), and Malcolm Brogdon (0-for-3).
Despite his struggles, Brown was the lone Celtics player who put together a nice night — 27 points on 21 shots, eight rebounds, and four assists.
"Every game has its own story," Brown said. "Other times, we depend on guys to come off the bench to lift us up, stuff like that. Some days it's Malcolm; some days, it's Payton, or Grant, whomever.
"We just didn't get enough tonight, and we just got to be better going forward. We've got to find ways. As a leader, I've got to find ways to help get my team going."
The Celtics' offense as a whole has struggled over the last two weeks — scoring just 111 points per 100 possessions, which is 17th league-wide. Since the calendar flipped to January, the Celtics are 13th in the NBA in offense.
A reporter asked Joe Mazzulla how the Celtics can be tougher when they can't find baskets.
"I don't know if it was a toughness thing as much as it's a math thing," Mazzulla said. "You can't get out-shot by 20 [field-goal attempts], you can't have 15 turnovers for 16 points for their nine, and you can't have 10 offensive rebounds to our three. You have to be able to win on those margins all the time. We got into a really good rhythm of being able to do that, and so we just have to understand that's something that we have to do night-in and night-out, which is hard. So that's kind of the test for us."
4. Meanwhile, the Celtics had a couple of other tough stat lines as well — Grant Williams was 0-for-2 from the field and a cringeworthy -24, while Sam Hauser didn't play until Mazzulla emptied the bench in the final minutes of the fourth. Williams has been mired in a two-way slump recently, which hurts the Celtics' depth (and raises an eyebrow a bit with the trade deadline looming). Hauser, meanwhile, seems to be out of the regular rotation.
5. Suns forward Ish Wainright has had a pretty fascinating journey to the NBA, including various stops in Germany to play basketball and a brief dalliance with the Buffalo Bills to play football.
On Friday, he defended Tatum pretty well, and he also hit this shot which didn't count but sure looked impressive.
6. Wednesday's game against the 76ers suddenly feels like a pretty important moment in the Eastern Conference standings. The Sixers are third in the East, but they are just two games behind the Celtics, and one game behind in the loss column. The Celtics also have a game against the second-place Bucks looming on Feb. 14.
Before their big showdown with the Sixers, the Celtics hit the road to take on the Pistons on Monday.
Sign up for Celtics updates🏀
Get breaking news and analysis delivered to your inbox during basketball season.