Celtics
6 takeaways as Jayson Tatum leads short-handed Celtics over Pistons
The Celtics rode a balanced attack and a big night from their superstar to the win.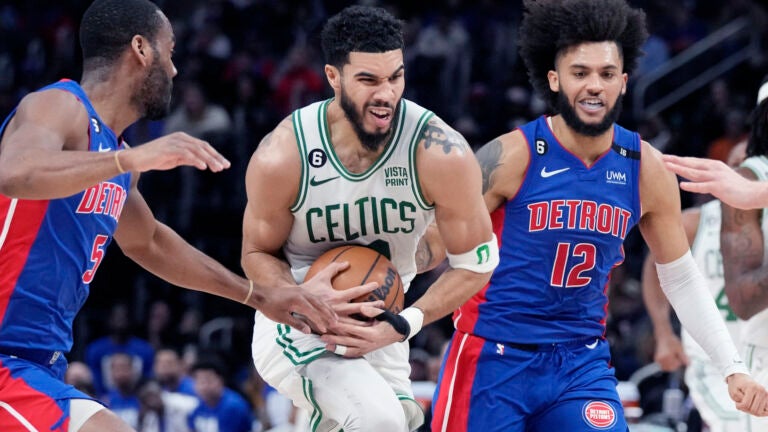 The Celtics won their third game in their last four attempts on Monday, beating the Pistons 111-99 in Detroit.
Here are the takeaways.
1. The Celtics were without Jaylen Brown due to a non-COVID illness on Monday, which sparked some chatter after Stephen A. Smith hinted on ESPN that the Celtics might be interested in dealing him for Kevin Durant before the trade deadline on Thursday.
We should note here that there doesn't seem to be much else besides Smith's vague "keep your eye on [Jaylen Brown]" report to suggest the Celtics are on the verge of moving their 26-year-old All-Star wing halfway through a season in which they find themselves fending off challengers from the top of the Eastern Conference.
For his part, Celtics coach Joe Mazzulla told reporters Brown was indeed sick.
"He's sick," Mazzulla said, per The Boston Globe. "I'm not sure [when he became sick]. I know he got some extra rest today to try to be able to play. He doesn't feel [up to it]."
In any case, Brown's absence (even compounded by the continued absence of Marcus Smart) had minimal effect on the game itself — the Celtics led by 20 in the third quarter, and while the Pistons cut the lead down to six in the fourth largely with Jayson Tatum on the bench, Tatum's return essentially cemented the win.
2. Jayson Tatum's second half would have been a great full-game stat line for any normal player — 22 points on 8-for-11 shooting with seven rebounds and three assists. The Pistons had no answer for him around the rim, where he shot 8-for-13 on Monday.
For Tatum, who is keeping his foot wedged comfortably in the MVP conversation, the big second half was part of a 34-point outing that included a 21-5 run. As Sean Grande noted on Twitter, it also boosted him back above Luka Doncic for the overall scoring lead league-wide.
"Regardless if I make every shot or if I don't, just all about taking the right shots," Tatum said. "I wasn't worried, I knew I was going to find my rhythm, but I was just trying to make the right plays while I wasn't making shots."
Tatum's performance came on the heels of a brutal 3-for-15 shooting performance in the Celtics' loss to the Suns on Friday — one of his worst shooting lines of the season, and a disappointing loss overall.
Still, Tatum didn't spend long brooding thanks to his son Deuce. Tatum told reporters he often brings Deuce into the locker room after wins, but on Friday, he heard footsteps following him toward the locker room after the loss and his son yelling "Daddy!"
"He ran in the locker room and gave me a hug, and I remember Rob [Williams] looked at me and he was like, 'Man, s— puts stuff in perspective," Tatum said. "And Joe came in and he was like, 'Deuce it's good to see you.'
"It just kind of lightened the mood a little bit. Obviously, I didn't shoot well, didn't play well, but just hearing him run down the hallway and scream my name and come in, and he didn't care how many points I scored, whether we lost or not. Just wanted to be in there with the guys. It kind of made everyone feel a little bit better."
3. It isn't always easy to explain why Derrick White is good, but he's so consistently a major contributor when the Celtics play well.
With Smart out, however, White's role has been a lot simpler to explain. On Monday, he scored 23 points on 8-for-17 shooting and dished out a team-high seven assists. The Pistons couldn't contain him on a variety of spin and dribble moves, and White knocked down a pair of 3-pointers.
He also banged home this dunk against Pistons big man Jalen Duren.
White, who is very soft-spoken, conceded to reporters after the game that it was "a nice little dunk."
"People have told me I'm 'wirey strong,'" White said. "I don't really know what that means. But I'll take it. …
"I think it's a compliment. I could be wrong."
With Brown and Smart out, White was one of several players who was asked to step up. Tatum in particular implores White to be more aggressive looking for his shot.
"He's not the only one, just telling me to do what I do, be aggressive," White said. "I don't know why I need to be reminded sometimes, but it just happens, and it's just good to hear."
4. Robert Williams also draws Tatum's ire when he isn't aggressive.
"I tell Rob he might be the most pass-first guy I have ever played with," Tatum said with a smile. "A lot of times, when I get doubled so high and I throw it to him over the top and he's rolling, I tell him, 'Rob you take one dribble and you could go dunk it.' …
"I tell him all the time, like 'Yo go be aggressive, go score, go put pressure on the rim.'"
Williams was excellent on Monday, finishing with 15 points on 7-for-9 shooting and 15 rebounds, six of which were offensive.
5. Sam Hauser recorded his first career start and played very well, once again playing alongside Jayson Tatum. He made five of his six nine 3-point attempts and finished with 15 points on 5-for-10 shooting overall to go with six rebounds.
Playing alongside Tatum has gone well for Hauser this season — per Cleaning the Glass, their lineups together have outscored opponents by 11.2 points per 100 possessions.
6. The Celtics now tip off a stretch of games that could have enormous implications going forward. They currently hold the top seed in the Eastern Conference by 1.5 games over the Bucks and 3.0 over the 76ers. On Wednesday, they take on the Sixers at 7:30 p.m. After facing the Hornets on Friday, they take on the 2-seed Grizzlies on Sunday before facing the Bucks again on Tuesday.
A winning stretch could give the Celtics a commanding lead at the top of the standings. A couple of losses, and the Eastern Conference playoff picture gets murky.
Sign up for Celtics updates🏀
Get breaking news and analysis delivered to your inbox during basketball season.