Celtics
Jalen Rose slams 'foolish' Jaylen Brown-for-Kevin Durant trade rumors
The JB for KD rumors are flying again after comments from Stephen A. Smith.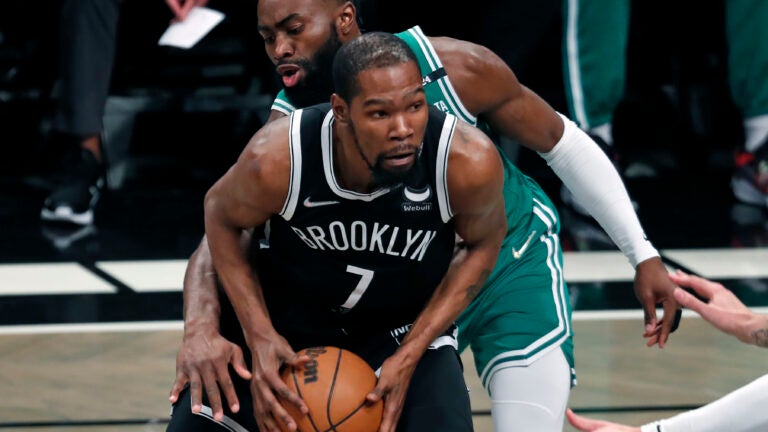 Stephen A. Smith told viewers to keep their eyes on a potential Jaylen Brown-for-Kevin Durant trade earlier this week on ESPN's "First Take."
The Celtics reportedly offered Brown in exchange for Durant during trade talks that fell apart this summer. The speculation around a potential deal had largely died down while the Celtics got off to a blazing start on their way to the NBA's best record.
But now, with Smith's comments and the Nets' decision to deal Kyrie Irving to Dallas, Durant's future with Brooklyn seems more uncertain than it had in recent months.
Would Boston be the right destination for Durant? Not if it involves giving up Brown, said ESPN basketball analyst Jalen Rose on "Get Up!" on Tuesday morning.
"The Boston Celtics, they would be foolish to trade Jaylen Brown at this point of his career," Rose said. "And [to] break up Jayson Tatum and that duo that a lot of people have been clamoring for them to do the last few years for some odd reason, for Kevin Durant at this point of his career."
The argument for making the trade would be that Durant could be the piece that puts Boston over the top in its quest for its 18th NBA championship.
But the Celtics would have to give up a 26-year-old All-Star in exchange for the aging superstar. That's too steep of a price, Rose said.
"I'm no fool. I know how dominant and great [Durant] is," said Rose. "But at his age, he's dealt with some injuries over the last couple of years. You don't trade Jaylen Brown for him if you're the Celtics."
The trade deadline is on Thursday. Durant has been out nearly a month, since Jan. 8, with a sprained MCL.
He's averaging 29.7 points per game, and was voted as an All-Star starter along with Jayson Tatum. But, his MCL issues date back to 2017 and he missed the entire 2019-2020 season with a torn Achilles tendon.
His recent injury history shows that a healthy postseason run is far from a guarantee.
Sign up for Celtics updates🏀
Get breaking news and analysis delivered to your inbox during basketball season.