Celtics
With his recovery timeline uncertain, Danilo Gallinari understands a trade may lie ahead
Gallinari tore his ACL for the second time in his career before the season started.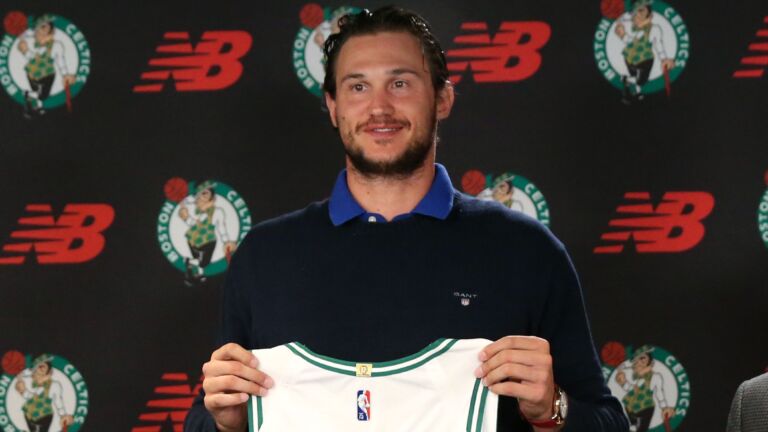 Danilo Gallinari signed with the Celtics in the 2022 offseason looking to contribute to a Finals contender. Now though, it's unclear if the Italian forward will suit up for Boston this season or even be on the roster after Thursday's NBA trade deadline.
Prior to the season Gallinari tore the ACL in his left knee, and while he's back to jogging and taking jump shots, according to The Athletic he still isn't ready for game action.
Gallinari spoke with The Athletic's Jared Weiss about his recovery timeline.
"I wish I could share something like this because it would make me feel better if I could share something like this," Gallinari said. "But honestly, I won't because even with the trainers, we take it week-by-week and you gotta measure improvements day-by-day, week-by-week, and month-by-month. To make a prediction right now, honestly, is tough."
While a healthy Gallinari would provide a useful third option on offense for the Celtics (he's averaged double digit scoring every year except for his rookie season and has a career 38 percent mark from deep), right now he may be more useful to the team as a trade chip.
Gallinari, who's been moved five times in his career, is familiar with how the trade market plays out in the NBA.
"We haven't talked about the trade situation," Gallinari said. "But I'm 34 years old, I've been in the league 15 years. Whatever happens, happens. It's out of my control, and I'm focused in on my job."
Over the course of his career, Gallinari's been traded for stars like Carmelo Anthony and Paul George. He's been the centerpiece of trade's like the one that sent him to the Hawks in 2020, and he's also seen himself be used simply as salary filler in a deal.
That last scenario is where Gallinari will likely fall this year. If the Celtics look to add a veteran player via trade which they reportedly are interested in, Gallinari's $6.5 million salary for this year could become quite useful when trying to match contracts.
Kelly Olynyk for example is owed $12.8 million this year, and Jakob Poeltl, another player the Celtics are watching, is making $9.4 million.
Gallinari's salary along with a combination of Blake Griffin, Luke Kornet, Justin Jackson, and Payton Pritchard would be enough to get Boston up to the required price point. If general manager Brad Stevens tosses in a pick or two the Celtics should be able to acquire a player like Olynyk or Poeltl.
The other positive to trading Gallinari now is that the Celtics would be moving his contract that pays $6.8 million next season. Gallinari would be 35 at that point and it's unclear what type of player he'll be once fully recovered.
If the Celtics want to save a little cash in a move that also improves their team's ability then Poeltl would be the preferred choice, as he becomes a free agent at season's end.
Sign up for Celtics updates🏀
Get breaking news and analysis delivered to your inbox during basketball season.