Celtics
When will we be free from the Kevin Durant for Jaylen Brown rumors?
Why would the Nets trade Kevin Durant? Why are we doing this again?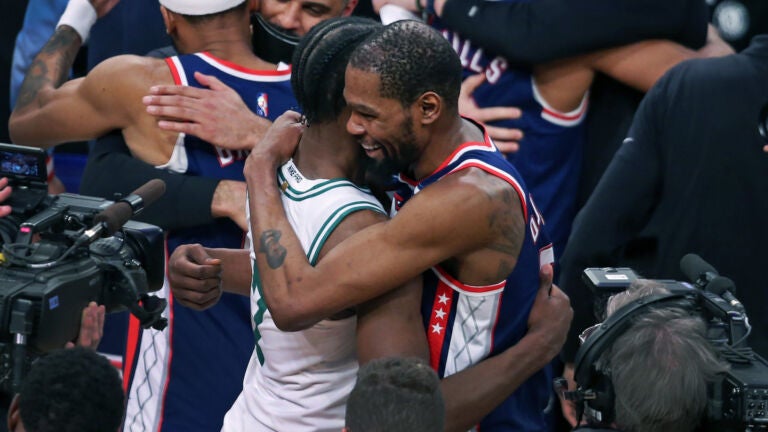 COMMENTARY
The rumors have returned. Maybe they never went away. Maybe they never will.
Once again, we – people who watch the Celtics, people who consume content about the Celtics, and people who create content about the Celtics – are expected to give credence to the idea that the Celtics might trade Jaylen Brown for Kevin Durant in the wake of Kyrie Irving's departure to Dallas.
We've been here before. In all likelihood, we will be here again. Time, as the great American philosopher Rust Cohle once opined through a haze of cigarettes and cheap beer, is a flat circle.
This time, the source of the rumors is a vague report by ESPN's Stephen A. Smith suggesting fans "keep an eye" on a potential Brown-for-Durant swap.
Aren't you exhausted by it? Haven't we done this enough? Do we really need to try to muster the energy to care about these rumors again? As Cohle put it: "This is a world where nothing is solved."
The problem is that the rumors are always just credible enough. Often, simply saying out loud the thing people half-wonder to themselves when a report comes across their screen is enough to yank the Trade Rumor Content Machine's pull cord and bring it sputtering to life. Smith, perhaps more than anyone, knows exactly how to pull it.
After all, if Brown were to hit the trade market, he would be the best player or asset available immediately. He has shown for stretches this season that he can be bona fide star – maybe not an MVP, but more like Donovan Mitchell. If the team around him is well-built, he could be a playoff team's best player. The Nets could bring him on board and build themselves into a playoff team pretty easily given what is already on the roster.
Meanwhile, let's not kid ourselves. If Kevin Durant was truly available, the Celtics would have to take a hard look at themselves. Setting aside the potential of Durant going to Miami or Philadelphia, a Durant-Tatum pairing – particularly surrounded with plenty of Celtics role players – would be a kind of super-pairing we haven't seen since Durant left Golden State. No Eastern Conference contender could match their firepower, and the defense might get even better. The main objection from Celtics fans who wring their hands over the deal is that Brown is 26 and Durant is 34, which is true, but 34-year-old Durant is friends with Tatum, and he is still an MVP-level player.
The Celtics would probably need to replace Durant with another star at some point, but they have outscored opponents by 15.1 points per 100 possessions with Tatum on the floor and Brown off it this season — not a knock on Brown, but a testament to who Tatum has become. To quote internet parlance, Tatum is Him. You can contend with Him surrounded by good players even after Durant has exited his prime. Do you trust Brad Stevens to put good players around Tatum by now? You should. He's given you every reason to do so.
And yet.
Why would the Nets trade Durant? They already won one stare down by essentially refusing to move him this offseason. They also improved by trading Kyrie Irving. Their package brought in a couple of draft picks, but they also acquired Spencer Dinwiddie to supplement Durant's buckets as well as Dorian Finney-Smith – the type of versatile wing defender who could make life significantly more difficult for a team like the Celtics. Cam Thomas just became the youngest player in NBA history to score 40 points or more in three consecutive games. All three players are significantly less likely to pick up a lengthy suspension for doing dumb things on social media. This Nets roster can make some noise.
So to pry Durant free, the Celtics would need to make a wild offer – one we won't even speculate about here. And why would the Celtics make that offer? For everything we said above about the potential of Tatum and Durant, the truth is a Tatum-Brown pairing is good enough to win a championship, especially with a roster built specifically for them. We saw it last year. We've seen the Celtics remain in first place for most of the season despite taking a haymaker from nearly every opponent they have faced this year.
As the Celtics get better, these rumors feel more and more stretched. We no longer get breathless reports from Shams Charania suggesting the Celtics reached out to the Nets about Durant – Jaylen Brown! Derrick White! A first-round pick! Instead, we now revisit the same half-hearted conversation we've all had hundreds of times based on one line offered by a TV personality.
Of course the Celtics would have to consider trading for Kevin Durant if he were available. He's an all-time player who still possesses his powers, and they have always coveted him. The legacy of Danny Ainge would finally be complete.
Of course the Nets would ask for the world plus two first-round picks. They have Kevin Durant. He is worth all of that and more.
Of course the Celtics would feel the need to pull away from giving up the world and two picks. They are the best team in the NBA. Getting greedy could doom them.
And of course we can't help ourselves here on the internet. We will dedicate podcast segments to this topic. We will argue about it on Twitter. Heck, we wrote this column.
Cohle was referencing philosopher Friedrich Nietzsche's concept of eternal recurrence with his famous "Time is a flat circle" line, although he didn't really capture what Nietzsche was trying to say. Nietzsche searched for and found optimism in the face of eternal recurrence.
But maybe Cohle was on to something with his pessimism. Maybe we too will be stuck in a room with the Durant-for-Brown rumors again and again and again, forever.
Sign up for Celtics updates🏀
Get breaking news and analysis delivered to your inbox during basketball season.