Celtics
What Jayson Tatum said about 'freak accident' that caused Jaylen Brown's injury
"Obviously I feel terrible, it was a freak accident."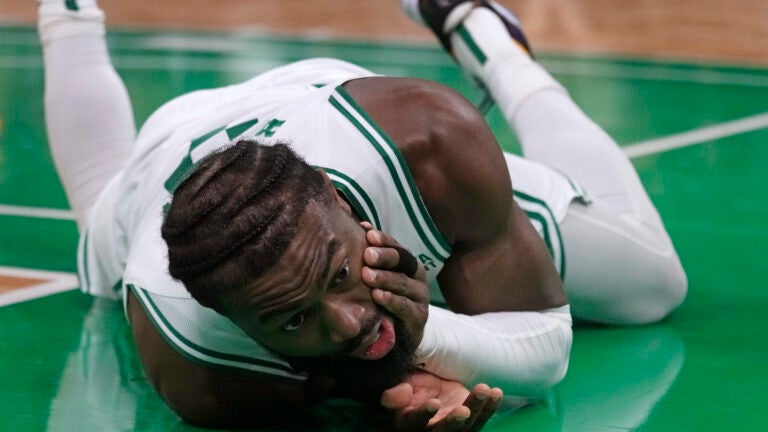 Jaylen Brown is still feeling the pain from his collision with Jayson Tatum Wednesday night that broke a bone in the all-star guard's face, Celtics president of basketball operations Brad Stevens said before Friday's 127-116 win over the Hornets.
Stevens said Brown was fitted with a mask and his injury status will be reevaluated next week.
"He's still feeling it. It doesn't feel great. We'll see how he feels when he starts moving around," Stevens said. "Then we'll get together early in the week and kind of figure out what's next. But it doesn't look like it's going to be too long, which is a good thing."
Brown collided with Jayson Tatum during Wednesday's win against Philadelphia, when both chased after a rebound and Tatum's elbow met Brown's face.
"The first time all season, me and him crashed to the corner," Tatum said. "And I ended up elbowing him in the face Obviously I feel terrible, it was a freak accident. But, whether it's a mask or buying him a car, I think I got it."
Tatum said helping Brown pick out his mask would be "the least I could do."
Despite Brown's absence, the Celtics didn't have much of an issue handling the Hornets Friday night.
Derrick White hit his first six 3-point attempts, en route to a 35-point, 10 assist double-double. Tatum scored a game-high 41 points on 13-21 shooting from the field. He became the youngest player in NBA history to make 1,000 3-pointers, surpassing fellow St. Louis native Bradley Beal.
"Obviously we've talked about our relationship, him being my big brother and the guy that mentored me when I was in high school and still to this day," Tatum said of Beal. "That was the coolest part for me. I know he's probably genuinely happy for me too, and that's the best part, you know, somebody that I wanted to be like and helped me get to this point means the world, so for me to break the record and to pass him, I'm grateful."
Tatum said that his experiences from last season have helped carry over into this year, where he feels as comfortable scoring the ball as ever.
"Figuring out what works best for myself, what works best for the team," Tatum said. "This summer, focusing on finishing, focusing on getting easier baskets. Off ball cuts, transition, screening. There's going to be times for those isolation plays, but over the course of the game and over the course of a long season, the more easy looks you can get just kind of makes my life [easier]."
Sign up for Celtics updates🏀
Get breaking news and analysis delivered to your inbox during basketball season.