Celtics
What Ja Morant said about 'fine in the West' comments after loss to Celtics
"I said what I said, and I mean that."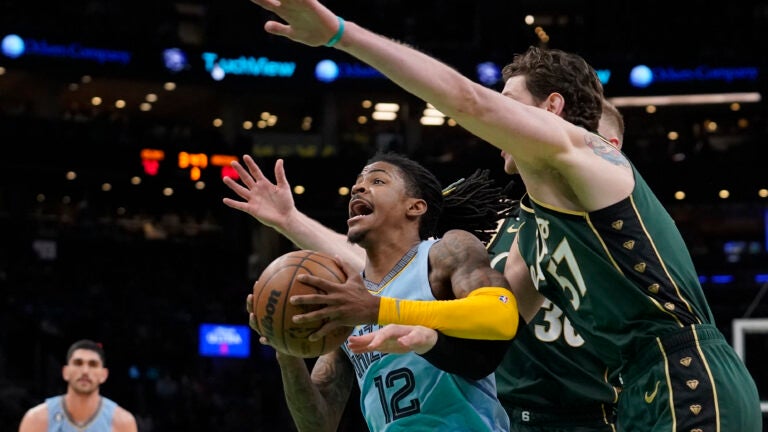 Ja Morant knew the questions about his "fine in the West comments" were coming after a shorthanded Celtics team handled the Grizzlies with relative ease during a 119-109 Boston win at TD Garden.
What makes the Celtics the team to watch out for more than any team in the Western Conference? What were his thoughts on how people took the comments and ran with them?
The one team Morant named during a December interview with ESPN's Malika Andrews that he felt he had to watch out for was the Celtics.
"No one in the West," Andrews asked.
"Nah, I'm fine in the West," Morant responded.
Does Morant still feel fine in the West after a wild NBA trade deadline that resulted in Kevin Durant and Kyrie Irving moving there?
"I don't care. Honestly. I said what I said, and I mean that," Morant said. "The confidence I had when I said that, is the confidence that got us to the point we're at now, being a top team in this league."
Morant is sticking by his comments even while the Grizzlies have lost nine of their last twelve games, including this one against the Celtics without Jaylen Brown, Marcus Smart, and Malcolm Brogdon.
Memphis is still in second place in the West, but Dallas and Phoenix are creeping up behind the Grizzlies in the standings as Durant and Irving get settled in. Denver is 4.5 games in front of Memphis.
Morant said none of that changes his mindset. When asked directly if he's still "fine in the West," Morant said:
"Yeah, my confidence will never change. I don't care who got something to say about it."
Jayson Tatum was available for Boston, but had an icy cold shooting night going 3-for-16 from the field and 1-8 from 3-pt range. Sam Hauser played 31 minutes and scored 20 points. Derrick White was Boston's leading scorer with 23 points.
This is a Celtics team operating far from it's full strength, and beat Memphis by double-digits.
"I feel like them being balanced and them having two guys who lead them on the offensive ends. then you have two terrific defensive players as well with Smart and Robert Williams. Obviously you can't discredit JB with him playing on both sides of the ball and you've got everybody else coming out and playing a type of way. Pretty tough team. Well balanced. Good guys."
Sign up for Celtics updates🏀
Get breaking news and analysis delivered to your inbox during basketball season.