Celtics
Joe Mazzulla more than earned his chance to lead the Celtics
Mazzulla has been everything the Celtics needed.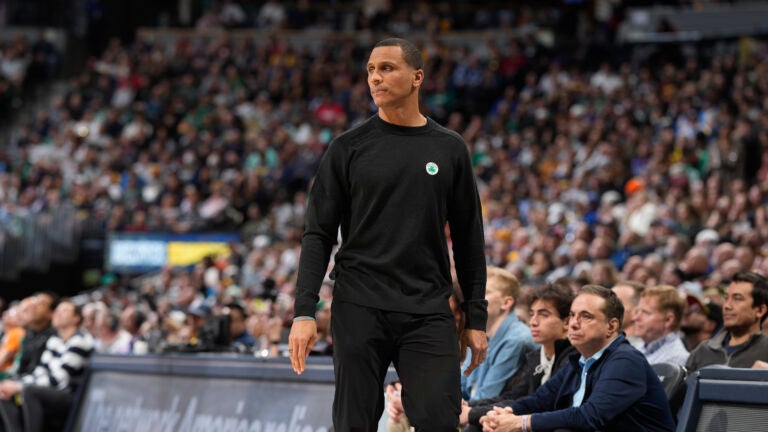 COMMENTARY
The Celtics were never obligated to choose Joe Mazzulla.
Not when Ime Udoka's personal life spilled into an improper relationship professionally. Not when the team started the season 4-3. Not when the Nets appeared to be on the verge of hiring Udoka, scratching the scab off of a sensitive topic early in the season for Celtics players who still had not received an explanation as to why Udoka was no longer their coach. Not even after they won 14 out of 15 games and started the season 18-4.
Until Thursday morning, the start of the All-Star break, the Celtics went without an official head coach. The team seemed to be holding on to Mazzulla's interim tag for procedural reasons rather than coaching ones, but Mazzulla must have felt some pressure, whether he would admit it or not. After all, who wouldn't be nervous participating in a months-long audition for millions of dollars and their dream job?
But Mazzulla auditioned so well, he made the Celtics' decision pretty easy. The surface-level is obvious — the Celtics have the NBA's best record at the All-Star break at 42-17, which is why Mazzulla's first NBA game as the official head coach of an NBA team will be the All-Star game. They have the league's best net rating, buoyed by the NBA's fourth-best defense and third-best offense. They have shown the ability to beat teams in a variety of effective ways.
Of course, the Celtics have a number of talented players who impact winning more than the coach, but that's the case with any roster — just ask Gregg Popovich, who can put a championship ring on four fingers and a thumb and is currently coaching a 14-45 Spurs team. Jayson Tatum, Jaylen Brown and a plethora of star-in-their-role players are the biggest reasons the Celtics put the ball in the basket and prevent the opposition from doing the same.
Along with the surface-level reasons to give Mazzulla a full-time gig, the Celtics have also gotten a remarkable amount of buy-in. On Media Day, just three days after the coach who helped them break through to the Finals was suspended, the Celtics players were already praising Mazzulla. Tatum noted that Mazzulla had been in Boston for 3-4 years and was someone "that we're familiar with and have a lot of respect for." Marcus Smart, who might have been the most vocal critic of the Celtics' process with Udoka, still spoke glowingly of Mazzulla.
"He's new to this, and we're new to him being in this position," Smart said expressing support for his new coach. "So we're all going to learn together and go together."
That always seemed to be the prevailing opinion. Mazzulla never really asked for this position, and the Celtics' players understood that he was as blindsided as they were. But the Celtics still had talent, and they still had a lot of familiarity with their coach. They just needed someone to put all the pieces together on the floor. Over the last five months, Mazzulla has proven himself eminently capable of assembling everything. The players like his style. The assistant coaches, most of whom were hired by Udoka, all stuck around with the exception of Will Hardy (who was hired by the Jazz before Udoka's suspension).
"As he has shown, Joe is a very talented coach and leader," Brad Stevens said in a statement on Thursday, in which the Celtics announced Mazzulla as their 19th head coach in franchise history. "He has a unique ability to galvanize a room around a mission. We are thankful for the work he has done to help get us to this point, and excited that he has agreed to lead us into the future."
You will hear a lot about Mazzulla's timeouts, a talking point that has only gained steam over the course of the season. Mazzulla likes to let his team try to work through its issues in preparation for the playoffs.
"It's a feel thing," Mazzulla said in November. "There are times when you are going to have to do it. But in order for us to be a great team, we have to handle those situations and we got to build an awareness. We have to know how to execute."
That explanation hasn't always satisfied fans who sometimes become enraged at what looks at a glance like the work of an inexperienced coach who isn't sure when to stop the flow of the game.
But like it or not, Mazzulla has a method, and Celtics players have expressed appreciation that he trusts them as athletes to solve their own problems. After all, anything they learn about themselves now might help in the postseason, which is ultimately where everyone will be judged. Mazzulla might have a shiny new deal, but the Celtics have put him in charge of a win-the-title-now quality team. They expects results, and Mazzulla has the Celtics in first place. Timeout usage is hardly a primary concern.
Udoka's transgressions put the team in an uncomfortable position, which they then had no choice but to hoist onto the shoulders of another head coach. The interim tag added a little more weight. Mazzulla carried that weight well and was rewarded with a multi-year contract just in time for the stretch run of the season. The shadow of Udoka's situation will probably hang around for one more press conference and then will likely dissipate entirely.
Mazzulla is no longer the Celtics' interim coach. For a franchise that values coaches who stick around for a long time, he earned both his own title and a chance to help the Celtics chase the all-important one.
Sign up for Celtics updates🏀
Get breaking news and analysis delivered to your inbox during basketball season.