Celtics
Why Brad Stevens, Celtics decided now was time to lift interim tag for Joe Mazzulla
"We're going to be in battles."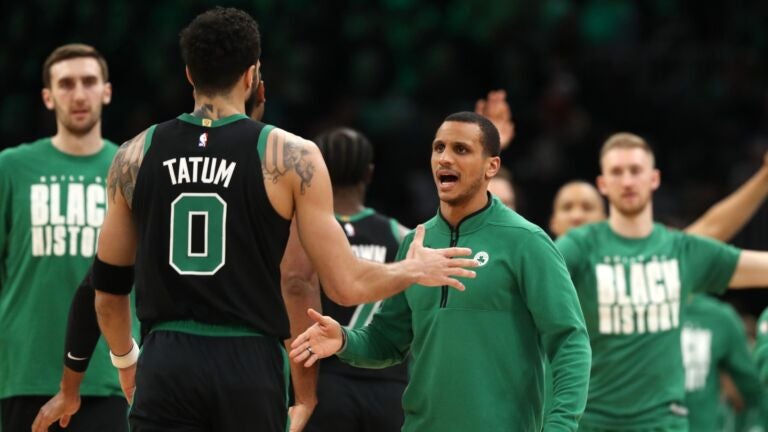 Joe Mazzulla and the Celtics still have 23 games left on the regular-season docket. A promising (but grueling) playoff push awaits this spring.
But after steering the Celtics through a tumultuous preseason and leading them to an NBA-best 42-17 record, Brad Stevens believed that now was the time to remove any doubt of Mazzulla's place within the organization.
The Celtics officially named Mazzulla as their head coach on Thursday morning, shedding the interim tag that the 34-year-old has held since taking over for Ime Udoka in September.
With Udoka — who was suspended by Boston, reportedly due to an improper relationship with a team staffer – now reportedly no longer employed in any capacity by Boston, Mazzulla can take the helm without any reservations ahead of the postseason.
"As far as the timing of it from the standpoint of this is the one thing that they've obviously done a great job," Brad Stevens told reporters on Thursday evening. "They've obviously put themselves in position to compete for the things we want to ultimately compete for thus far. And I want to give them the opportunity to finish the regular season strong, hopefully the postseason strong, and not be in a cloud of uncertainty.
"I think that they certainly have earned that and Joe specifically has just done a great job. I mean, he really has. He's always prepared. He's really driven. He does all of the work necessary, but he also has a pulse on when the work needs to be put aside for the people. And so we were not only really comfortable with it, we're also really excited about him leading us now and into the future."
In particular, Stevens praised Mazzulla for his ability to galvanize Boston's locker room "around a mission". Granted, Boston entered the 2022-23 season with plenty of motivation after falling just two wins short of an NBA title last June.
But given the distractions and upheaval that presented themselves following Udoka's suspensions, it wouldn't have come as a surprise if the Mazzulla-led Celtics needed some time to gain traction in October and November.
Instead, Mazzulla and the Celtics went 21-5 out of the gate.
The stellar play of Jayson Tatum and Jaylen Brown has obviously played a major role in Boston's success. Offseason pickups like Malcolm Brogdon have added more depth to an already stout roster.
But Mazzulla's ability to keep Boston grounded and fixated on one goal has helped this team overcome adversity at nearly every turn. That coaching mentality will come in handy as Boston prepares to navigate through a daunting playoff field.
"It all goes back to the idea of now, going into the playoffs, we're going to be in battles. Like it's going to be really hard," Stevens said. "The East is terrific, obviously. The West is loaded up. It's going to be really hard to win and the hardest thing to do would be coaching, looking behind you and looking over your shoulder.
"It's about looking forward and if you're in a Game 7, know that everybody in the organization believes in you and that uncertainty erases. Like you've earned that, and so I thought that was really important."
Ever since he was given the keys to the coaching staff, Mazzulla has wasted little time expressing his sentiment on his role and title. Most of his press conferences are littered with succinct updates and a focus on the players out on the parquet floor.
When asked weeks ago about what his appointment as a head coach for the NBA All-Star Game meant to him, Mazzulla kept things brief.
"Nothing," he said.
But on Thursday, the Rhode Island native expanded a bit more on the opportunity presented to him, and the well-deserved promotion that he earned after just 59 games.
"Even though it was an interim position, I knew exactly where I stood," Mazzulla said. "I knew I was gonna get a fair shake, I knew I was gonna get an opportunity. I knew that I was just going to be able to do it the way that I thought to give us the best chance to be successful without any pressure because of that. And so because of their standards and their communication and how they treated me as an assistant, I just felt comfortable regardless.
"I'm just grateful," Mazzulla added. "Grateful that not many people get an opportunity to experience this — especially in the manner that I am with the players that I'm able to coach and the people I'm able to work for, and it's for the Celtics. It is a dream come true."
Sign up for Celtics updates🏀
Get breaking news and analysis delivered to your inbox during basketball season.
Newsletter Signup
Stay up to date on all the latest news from Boston.com