Celtics
Inside JD Davison's transformation into one of the G League's top playmakers
The 6-foot-1-inch point guard leads all two-way players in assists and is guiding the G League's highest-rated offense.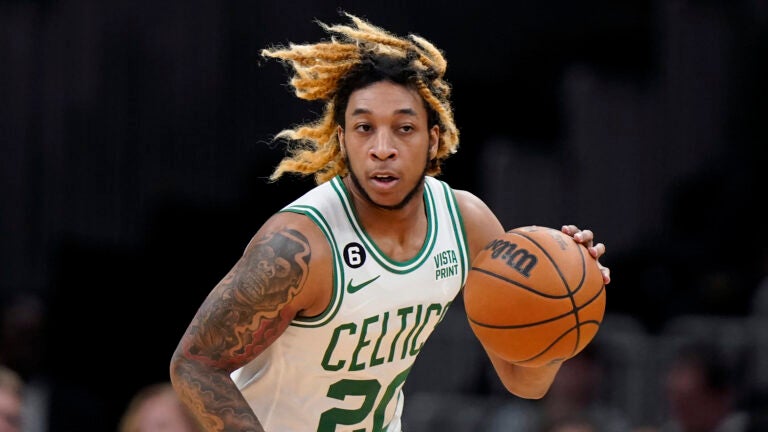 PORTLAND, Maine — It's late January in Maine and JD Davison, playing in a game for the Maine Celtics against Birmingham, Alabama's G League affiliate Squadron, sets a pick at the top of the key.
Davison screens for the ball-handler, then opens his stance, faking as if he's looking for a pass while taking a step back.
The tiny shift creates just enough of an opening for Davison to race down the left side of the lane, using an elbow screen from a big and taking off from the block for a forceful two-handed alley-oop.
It's the kind of electrifying athletic play the lone rookie in the Celtics' 2022 draft class can routinely make. As a 6-foot-1-inch, 195-pound point guard, Davison is capable of rising up and catching lobs off of designed alley-oop plays.
An explosive first step, open-court speed, scoring ability, and an extensive list of highlight-reel dunks earned Davison a five-star recruiting ranking in high school when he was considered as one of the top-15 prospects in his class.
"The first thing is, he's fast," says Maine Celtics guard Kamar Baldwin. "First step, everything. Sees the floor really well. He doesn't get sped up, he's always attacking and getting everyone the ball."
Since being selected with the No. 53 pick in last year's NBA Draft, Davison has split time between Boston and G League affiliate Maine as he continues to shape his natural ability into a skill-set that can thrive at the professional level.
For the 20-year-old guard who played one year of college basketball at Alabama, that means rounding out his game as a more efficient playmaker.
After leading the NBA Summer League in assists, the success has carried over into the regular season.
Leading the G League's highest-rated offense
Davison leads all NBA two-way players in assists per game with 8.8, more than twice as many as he averaged in college. With 145 total assists against 49 turnovers, his assist-to-turnover ratio is 2.96.
"I just think he's doing a really good job getting into the paint," Maine Celtics coach Alex Barlow said. "In high school and college, when you get into the paint it's a little bit easier to score than it is at this level. He could just jump over dudes pretty easily at that level and finish. Here, guys are a step quicker, so as he's getting into the paint someone is rotating over a step quicker than they were in college or high school, so someone else is open."
Davison has always been able to read defenses and see the floor well, but one of the main pre-draft questions around his game was if he'd be able to put it all together consistently so that his game would translate efficiently in the NBA.
So far at the G League level, he's shown that consistency hasn't been much of an issue. Among the G League's top-five assist leaders, Davison has the second-fewest amount of turnovers at 2.6 per game. He's helped lead the Maine Celtics to a league-best offensive rating of 119.4. And he's shooting 51.8 percent from the field.
"I think the game is slowing down for him," Baldwin said. "When he first started he was doing well also, but once you get in the system playing in the G League, you learn the speed of the game and things start slowing down for you. I feel like he's seeing things before they happen. He's making the right reads and people are getting easy shots because of it."
Barlow pointed out that Davison is getting hard-earned assists in the half-court offense instead of just in transition, a sign of his ability to run the offense and create open looks for others.
"There's not many guys that can just blow by dudes like he does," Barlow said. "As he continues to grow and get more reps and experience, he's going to get really good at being like this is a kick, this is a finish, this is 'oh I'm in the paint nobody's open, I'm going to keep dribbling it out and then I play.' He's made a lot of strides in that area."
Always repping Lowndes County
Portland, Maine is just under 1,400 miles away from Letohatchee, Alabama where Davison played high school basketball at The Calhoun School just two years ago.
He grew up in Lowndes County, Alabama, the same place as four-time NBA Defensive Player of the Year Ben Wallace is from.
Davison's eyes light up with pride when he speaks of home. It's where he learned to dunk by pulling a trampoline in the backyard close to the basketball hoop before his full-grown jumping ability kicked in.
"I'm always repping my hometown no matter where I'm at," Davison said. "A lot of people don't know what it is. A lot of people from my hometown will tell you they're from Montgomery. I'm always telling people I'm from Lowndes County, because that's where I was born, that's where I was raised, that's where my friends and family are."
To say Davison has been a source of inspiration for the tiny county of just over 10,000 people would be an understatement.
The title of a 2020 Montgomery Advertiser profile on Davison reads: "God may have 'forgot' Lowndes County, but he blessed it with 4-star point guard JD Davison."
"I traveled to a lot of places in the US where poverty jumps out from behind every corner," United Nations special rapporteur on extreme poverty and human rights Phillip Alston told the Montgomery Advertiser in the piece. "But Lowndes County is one of the bleakest and most determinedly neglected counties once one gets out of the city area and into the rural parts."
As Davison puts it, he's from the "country, country" part of Alabama where they ride four-wheelers and ATVs for fun. He remembers the food shop inside of a local Chevron gas station that he claims has the "best pizza in the world." He remembers running up hills in the summer heat with his older brothers as he trained.
His mom, Katrina Davison, still sends him daily words of encouragement and bible scriptures via text message. She said being in Boston to see Davison score his first NBA points in November was the coolest moment of her life.
She's intensely proud of her son, and she said the best two words to sum him up would be "quiet and humble."
"JD hardly goes anywhere," his mother said. "After practice, if he's not shooting, he's in his room playing video games. He's always been like that. We're from a very small town. What you do is sports and home."
As he continues to climb toward his NBA dream here in New England, Davison hasn't forgotten about that small town in rural Alabama.
"It's small," Davison said. "But the people in the town work for everything that they've got. That definitely translates to my game, because once you see everyone working hard to feed their family it's just built in my genes to go hard."
Sign up for Celtics updates🏀
Get breaking news and analysis delivered to your inbox during basketball season.