Celtics
Danny Ainge nearly traded the picks that became Jayson Tatum and Jaylen Brown for Jimmy Butler
"Thank goodness [I didn't make that trade], we were lucky."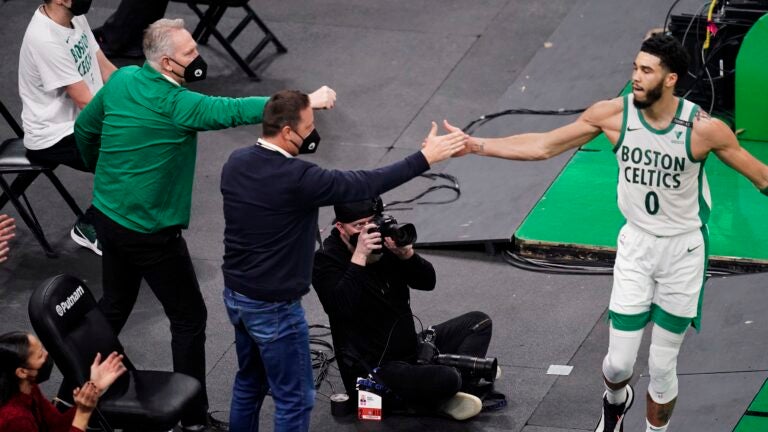 For several years, Danny Ainge was criticized for hoarding his draft picks and young players while refusing to make a trade for an All-Star player.
They were linked to Paul George and Kawhi Leonard in trade rumors between 2017 and 2018, but didn't land either. In August 2017, they traded for Kyrie Irving, but gave up just one first-round pick, which they received from the Nets as part of the Paul Pierce, Kevin Garnett trade.
Possibly the most notable instance of Ainge getting ridiculed for keeping his assets and passing on making a trade for a star player came in 2019, when Pelicans big man Anthony Davis requested a move out of New Orleans.
It was rumored at the time that the Pelicans wanted Jayson Tatum and Jaylen Brown wanted Davis in any trade with Ainge refusing to give up both players.
But such a trade was never even on the table, according to Ainge.
"There never even was that deal. That's the other thing," Ainge told Underdog Fantasy's Rob Perez. "You're assuming there was a deal like that. There was no deal like that. There might have been one truth in that era, so yes, I'm saying that wasn't true."
There was another player though that Ainge nearly gave up the picks that became Brown and Tatum in a trade.
"There was a situation where I could have given away both of those picks to get Jimmy Butler," Ainge said. "That criticism is fair, hoarding your picks to get Jimmy Butler. I just thought it was too rich at the time.
"Thank goodness [I didn't make that trade], we were lucky. It turned out to be Jaylen Brown and Jayson Tatum. Anthony Davis, no. Jimmy Butler, yeah. That was fair criticism, but you never know how those are going to work out. Jimmy was really good, and we liked him and we wanted him. And I was still mad I didn't draft Jimmy Butler."
There were rumors about the Celtics possibly trading for Butler, when he was still with the Bulls, on draft night in 2016. Of course, those rumors didn't turn into a trade as the Celtics held onto the No. 3 pick and surprised many analysts that night when they selected Brown. Butler was eventually traded from the Bulls to the Timberwolves on draft night in 2017, getting moved for Zach LaVine, Kris Dunn, and the draft right to Lauri Markkanen (the No. 7 overall pick in the 2017 NBA Draft).
As for the Davis situation, there was a very small window in which the Celtics could've completed a trade for the All-Star big. Davis requested a trade in January 2019, but Boston likely wouldn't have been able to trade for him at the time due to the "Rose Rule," which prevents teams from trading for two players on designated rookie scale contracts. Irving was already on such a contract at the time, and because the Celtics traded for him in 2017, they could've only acquired Davis if they traded Irving at that time.
Boston could have traded for Davis in the 2019 offseason because Irving's contract expired then. However, the Lakers and Pelicans agreed to a deal in June of that year, weeks before free agency began, to send Davis to Los Angeles for Brandon Ingram, Lonzo Ball, Josh Hart, three-first round picks, and a first-round pick swap.
Obviously, the Celtics have done well in keeping Tatum and Brown, reaching the NBA Finals last season in Tatum's fifth year and Brown's sixth year in the league.
Ainge, who is now the CEO of the Jazz, acknowledged that he got lucky along the way.
"You need some luck to have it work out," Ainge said. "When we traded the No. 1 pick to get Jayson Tatum, you don't know for sure [that it's going to work out]. I mean, we traded the No. 1 pick and thought we were going to take Tatum with the No. 1 pick anyway, so we ended up getting our guy. But Jayson's turned out to be a fantastic player.
"But you've got to have some luck."
Sign up for Celtics updates🏀
Get breaking news and analysis delivered to your inbox during basketball season.