Celtics
Jayson Tatum said he still speaks with Ime Udoka, says he was 'probably' his favorite coach
Tatum said it "isn't a knock on anybody" that he called Udoka his favorite coach.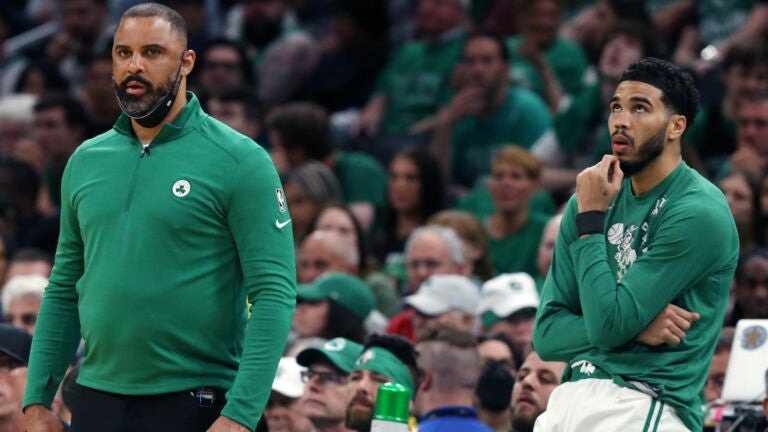 The Celtics officially moved on from Ime Udoka when it promoted Joe Mazzulla from interim coach to head coach on Thursday.
That doesn't mean though that the players have severed their communication with Udoka. Jayson Tatum shared that he still speaks with his now former coach five months after Udoka was suspended for at least the entire 2022-23 NBA season by the Celtics for breaking the team's code of conduct.
"He's somebody that I've talked to throughout the season, just periodically checking in," Tatum told reporters of his relationship with Udoka at Saturday's NBA All-Star Media Day.
Tatum mentioned that Udoka had a lasting impact on him in his lone season as the Celtics' coach.
"Whatever happened happened, and that doesn't have anything to do with me," Tatum said. "But I can't take away the relationship that me and him had and the impact that he had on me in that one season."
Tatum also made a bit of an admission too when speaking about Udoka.
"I love Coach K (former Duke coach Mike Krzyzewski). I love Brad [Stevens]. I love Joe. I love all those guys, but there was just a different kind of relationship I had with Ime," Tatum said. "[He was] probably like, my most favorite coach I've ever had.
"And that's not a knock on anybody. I've got a great relationship with Joe. I love everything that he's doing. I'm extremely happy for him. Brad helped me navigate through the NBA when I was 19 and he kind of helped he grow and put me in the right spots.
"So, I have different perspectives and respect for each coach that I've had – just different times in my life."
Tatum didn't get too into the specifics of what he and Udoka discuss.
"Nothing crazy, just checking in," Tatum said. "He's been telling me he's watching me play and to keep up the good work and things like that."
Tatum was also asked if he hoped to see Udoka get another coaching job in the NBA, but was interrupted.
Tatum has spoken highly of Udoka since the coach was suspended in September. In an interview with The Athletic's Sam Amick and Jared Weiss, Tatum gave Udoka credit for helping to lay a foundation for the Celtics last season en route to reaching the NBA Finals.
"Ime deserves as much credit as anybody. Ime deserves a lot of credit for how he got us playing, and Joe has stepped up and found his own voice and obviously has got us rolling now," Tatum said in December. "But I feel like Ime, especially last year, righted the ship to get us playing the right way."
The Celtics reportedly were letting Udoka seek out other job opportunities as he wished prior to Thursday's news. Udoka was in talks to become the Nets' head coach in November and the Celtics reportedly weren't seeking compensation, but Brooklyn opted to promote interim coach Jacque Vaughn instead.
Sign up for Celtics updates🏀
Get breaking news and analysis delivered to your inbox during basketball season.