Celtics
Jaylen Brown wants changes to NBA All-Star Game: 'It was just a glorified layup line'
"We got to figure out how to make the game a little bit more competitive."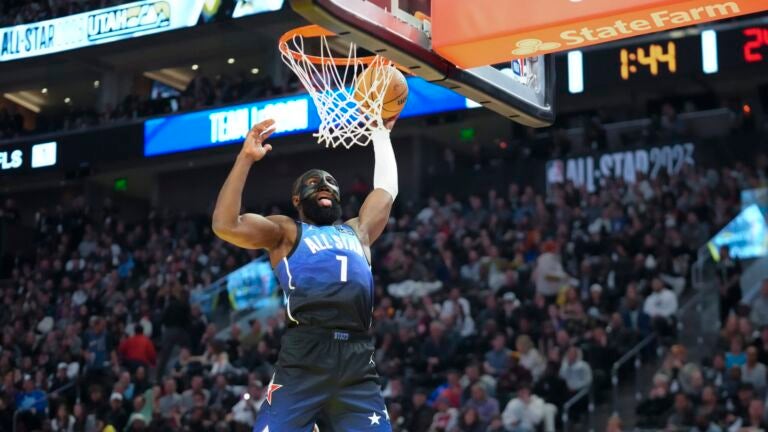 The Celtics' star tandem of Jayson Tatum and Jaylen Brown shone bright at the NBA All-Star Game in Salt Lake City on Sunday night.
Tatum won MVP honors after dropping a record-breaking 55 points in the 184-175 win for Team Giannis, while Brown led the way for Team LeBron with 35 points and 14 rebounds.
But even with an impressive stat line in his second All-Star outing, Brown offered some candid and critical thoughts on Sunday's collective defensive effort (or lack thereof).
Granted, contesting shots, locking down the paint, and pressuring players up and down the court has never really been a point of emphasis during the NBA's annual exhibition.
But Brown, playing with a mask for the first time after suffering a facial fracture earlier this month, believed his strong play was aided by the lack of defensive pushback on the court at Vivint Arena.
"All is fun in games like this," Brown said to reporters postgame. "Real basketball is different. This was like a layup line. I don't know how much notoriety we would want to to get from this. This was a glorified layup line. We got to figure out how to make the game a little bit more competitive. If the fans like it, that's all that matters."
Brown was not the only All-Star participant who was less than pleased with the actual product on the court Sunday. Nuggets coach Mike Malone — who served as the head coach of Team LeBron — didn't hold back when asked about the play put forth by some of his roster.
"It's an honor to be here, and it's an honor to be a part of great weekend with great players, but that's the worst basketball game ever played," Malone said. "I don't know if you can fix it. I give Joel Embiid and Kyrie Irving [credit], those two guys were competing. They tried to get some defense in. No one got hurt, they put on a show for the fans, but that's a tough game to sit through, I'm not gonna lie."
Of course, the fans in attendance for these types of events likely won't bemoan seeing the NBA's top talent drill shot after shot beyond the arc or load up the highlight reel with gravity-defying dunks.
And with the players themselves also putting their collective games on cruise control in order to avoid overexertion and injury during what is essentially a no-stakes scrimmage, it remains to be seen how the league makes the All-Star Game more competitive.
There were a few moments in Sunday's contest where the competitive juices were flowing, headlined by the one-on-one battle between Tatum and Brown at the end of the third quarter.
Both Celtics stalwarts managed to land punches against each other in a rare tilt. Brown sank two shots directly in front of Tatum, including a deep 3-ball, while Tatum swished a step-back three of his own in the closing seconds of the frame.
"That was like another day at the office for us, right? Been on the same team for six years now," Tatum said of his battles with Brown. "We've played countless number of one-on-one games, scrimmages against each other. We've always kind of brought the best out of each other. So it was a normal day for us. Just millions of people watching on one of the biggest stage. So just had a little fun with it."
Newsletter Signup
Stay up to date on all the latest news from Boston.com