Celtics
Jayson Tatum keeps checking off personal milestones: All-Star takeaways
Tatum promised himself he'd win the Kobe Bryant All-Star MVP award. On Sunday, he delivered.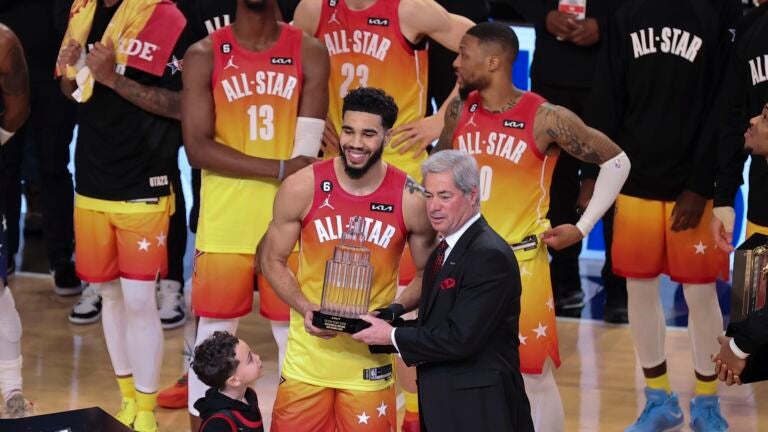 Like many of the most successful people in their fields, Jayson Tatum has a clear sense not only of what he wants to accomplish, but also the timeline necessary to achieve those accomplishments.
When Tatum made his first All-Star team in his third season, he knew that he was a little behind schedule. After all, Kobe Bryant — his childhood idol — and LeBron James both made the All-Star team in their second season. Tatum's breakout rookie year was overshadowed in his sophomore season by the Celtics' nightmarish 2018-19 campaign, which left everyone in the organization re-evaluating some things.
Since then, however, Tatum is yet to miss the annual honor, and this year was a no-doubter. Tatum is one of a few players league-wide averaging 30 or more points per game, and he is a bona fide MVP candidate as the best player on a Celtics team holding off the red-hot Bucks for the best record in the NBA.
But Sunday's game, in which Tatum broke the All-Star record by scoring 55 points to claim the MVP award, is an individual honor. It's an exhibition that ostensibly gives fans a chance to watch the game's best players compete, but in reality gives the world's best players a chance to be recognized as the world's best players. NBA athletes value individual accolades, but they generally value team success more. That's a big part of the reason the All-Star game itself is so bad.
The All-Star trophy, however, is named after Bryant — a player who took everything seriously including the All-Star game, and as such won the most All-Star game MVPs in history with four. Bryant's "Mamba Mentality" ethos might be oversaturated at this point, but the man cared about competition, even in a game that doesn't really matter.
Tatum cares deeply about winning, just ask anyone who has had to wrestle him off the floor to rest this season. He will tell anyone who will listen about how much it hurt to lose in the Finals last season, and how it galvanized him to carry the Celtics further this year.
But Tatum sets goals for himself too, and those goals have carried him far. He's now a four-time All-Star before the age of 25. He has a signature shoe. He's an MVP candidate. And now, after Sunday's game, he's an All-Star MVP.
"My first All-Star game was in Chicago in 2020 when they renamed the MVP after [Bryant], and I remember telling myself that day that I have to get one of those before I get done," Tatum told reporters after the game, with the trophy sitting on a table in front of him. "To be able to wear my signature shoe today and break the record and take home this award of someone I idolized, it's a hell of a day."
So when an opportunity presented itself for Tatum, he took it.
"I think I had like 49, and [Damian Lillard] was like 'Yo the record is 52, go get it,'" Tatum said. "I was like, 'Alright, I'm going to go get it.'"
And he did. Tatum, like his predecessors, is so talented individually, that in a non-competitive game against the NBA's best players, he can simply decide that he is going to break a record, and then he can go do it.
Like so many young players, Tatum looked up to Bryant and James and wanted to replicate their legacy. The problem for most young players is that while both Bryant and James worked obsessively to achieve their greatness, both were also so physically gifted that the combination of physical and mental strength made them undeniable.
Unlike nearly every young basketball player in history, Tatum has the physical potential to accomplish what his predecessors accomplished. And unlike anyone else on Planet Earth, he has found a way to truly walk in the footsteps of giants like Bryant and James.
"Now for the MVP, I don't think there's much suspense," Adam Silver said on Sunday before presenting Tatum with the trophy.
Like his predecessors, Jayson Tatum has made himself undeniable.
Other takeaways
1) Appropriately in a season when the Celtics have had the best duo in the NBA by far, their duo led their respective teams in scoring on Sunday. In additin to Tatum's 55, Jaylen Brown finished with a game-high 35 points for Team LeBron.
Brown wasn't particularly excited about the basketball, calling the game a "glorified layup line." But he and Tatum did deliver one of the few exciting moments — a back-and-forth stretch in which the two guarded each other with some intensity and exchanged a pair of highly contested 3-pointers.
Tatum called it "extremely special" to share the All-Star Game stage with Brown.
"We've always kind of brought the best out of each other," Tatum said. "So it was a normal day for us, just millions of people watching on one of the biggest stages, so just had a little fun with it."
A normal day with millions of people watching. Surely, we can all relate.
2) It was only an exhibition game, but Brown shot well in his first game (16-for-27 from the floor) with a mask after he fractured his face in a collision with Tatum shortly before the All-Star break.
The real test, of course, will take place when the opposing team plays defense.
3) Tatum debuted his signature sneakers, which were roundly mocked when they first surfaced online.
The colorways of the JT1 which surfaced on Sunday, however, were much better received, especially given their promise of being a light basketball shoe.
4) Tatum also participated in the 3-point contest, but he was eliminated in the first round.
"I didn't want to come in the All-Star and leave empty-handed," Tatum said. "I had it in my head that I was going to win the MVP or the 3-point contest, so I was leaving here with something."
5) Now the NBA season begins in earnest. The Celtics have a 42-17 record, and they hold a slim 0.5-game lead over the Bucks in the Eastern Conference standings. Tatum said he and Brown spoke about how crucial the next few weeks are after Sunday's game.
"I think historically, at least since I've been in the league, the team that has kind of clicked in this last stretch, that has kind of peaked and played their best of the season going into the playoffs usually is the team that wins it all," Tatum said. "This stretch is important. You want to be as healthy as possible going into the playoffs, and you want to be playing your best basketball individually and as a group, so that's what we're trying to do."
The Celtics return to action on Thursday against the Pacers.
Sign up for Celtics updates🏀
Get breaking news and analysis delivered to your inbox during basketball season.