Celtics
6 takeaways as cold-shooting Celtics fall to Knicks, drop to second in East
The Celtics shot their worst 3-point percentage of the season on Monday.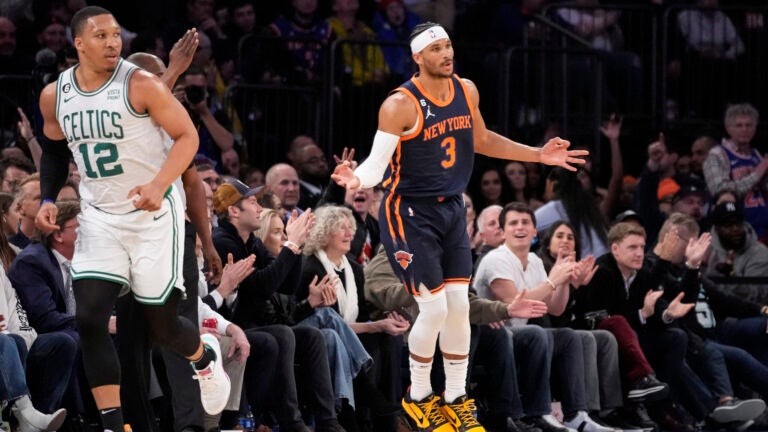 The Celtics dropped a 109-94 loss to the Knicks on Monday on a cold-shooting evening without Jaylen Brown.
Here are the takeaways.
1. The Celtics put together their worst 3-point shooting game of the season, finishing a paltry 9-for-42 (21.4 percent) from behind the arc. That narrowly edged their loss to the Clippers in December (9-for-39, 21.3 percent) and their two losses to the Magic, also in December (11-for-46, 23.9 percent and 12-for-47, 25.5 percent).
Al Horford buried his first 3-point attempt on the Celtics' first possession — the result of a nice opening set and a perfectly placed skip pass to the corner by Jayson Tatum. Then the Celtics went almost impossibly cold, missing their next 16 3-pointers before Marcus Smart finally knocked one down with 1:36 remaining in the second quarter.
All season, the Celtics have relied heavily on 3-point shooting with great results, but Monday's game started to turn in the first half when they got to the paint. Trailing by 20 midway through the second quarter, Derrick White scored a put-back layup which sparked a 12-0 run that pulled the Celtics back within eight. All 12 points were a result of the ball touching the paint — five two-point field goals and two free throws.
Then Tatum and Horford missed 3-pointers, and the Knicks connected on two big ones to push the lead back to 16. They took a 14-point lead into halftime.
After the game, the Celtics felt like they had good shots that simply didn't fall.
"I don't know what the adjustment would be if we get more shots, more offensive rebounds and just go 9-for-42 from 3," Mazzulla said.
'I thought we played good basketball," Malcolm Brogdon added. "I thought we moved it, I thought we got the shots we wanted. That's a good defensive team, especially in the half-court, but I thought we got the shots we wanted. We just didn't make a lot of them."
2. For the first time in his career (at least in a regular-season or playoff game), Tatum was thrown out after he picked up a second technical arguing that he should have gotten a foul call in the fourth quarter.
"All the great players get thrown out a few times in their career," Tatum joked after the game. "It's good for my rep."
The first technical came after a big dunk in the third quarter. Tatum swung forward on the rim when Knicks big man Isaiah Hartenstein put his hands in his back, but the officials didn't call a foul, and Tatum picked up a technical for his reaction.
"That one was tough because they literally glided me to the rim, two hands in my back," Tatum said. "That would have been scary if I didn't hold on to the rim. I was upset about that. …
"If you look, it was clearly a foul, and those ones are tough. You get a tech for something you probably were right about."
The second technical came in the fourth, after Tatum missed a 3-pointer. Julius Randle appeared to make contact with Tatum's arm, and the Celtics star barked at an official up and down the floor.
"I just told him this was probably the best officiated game I've been a part of," Tatum said. "I tried to give him a compliment. Didn't go over so well."
So it was the sarcasm that did it?
"I said it was the best officiated game I've been a part of," Tatum said smiling. "I meant it."
3. In his last five games, Tatum is averaging just 23.4 points per game on 40 percent shooting, to go with 29.8 percent from 3-point range. That includes three inefficient games since he was named All-Star MVP a little more than a week ago. He finished 1-for-9 from deep on Monday.
After a weekend in Salt Lake City and three road games, Tatum is ready to get back home.
"I haven't been home in two weeks," Tatum said. "I miss my bed. See Deuce. Just get back home, get some home-cooked meals and get ready for Wednesday."
4. Brogdon was a bright spot for the Celtics offensively, shooting 10-for-16 from the floor en route to a team-high 22 points. His confident drives to the basket gave the Celtics some badly needed offense in the first half, and he buried a pair of triples in the second as the Celtics tried to rally.
5. The Celtics shot an unsustainably bad percentage from 3-point range and were without one of their two All-Stars, but the Knicks are a much tougher team than they have been even earlier this year. Monday's win was their sixth in a row. Jalen Brunson and Julius Randle shot just 11-for-28 from the field, but Josh Hart and Immanuel Quickley played well off the bench, and Mitchell Robinson proved to be an imposing presence both at the rim and on the glass.
"Honestly, tonight I thought they were a more well-balanced team [than the first time the Celtics played them]," Brogdon said. "They had more people contributing. The first time we played them, they were more Brunson and Randle heavy. Those guys were doing a lot more. Now, I think they are actually playing better basketball and moving the ball more, which makes them a better team."
The Knicks, meanwhile, aren't shy about their intentions.
"We don't want to make the playoffs. We want to make a run in the playoffs," Hart said. "And I think we have the capability to do that."
Monday's win is a point in their favor.
6. For the first time in months, the Celtics are not the No. 1 team in the Eastern Conference. Monday's loss dropped them percentage points behind the Bucks, who have won 13 games in a row. Milwaukee faces the Nets on Tuesday.
For the Celtics, meanwhile, the road ahead doesn't get much easier this week — they travel back home to face the Cavaliers on Wednesday.
Sign up for Celtics updates🏀
Get breaking news and analysis delivered to your inbox during basketball season.