Celtics
Eddie House predicts more ejections for Jayson Tatum, says referees don't respect him
"He sees everyone else getting that respect and he's not getting it. Yeah, he should be upset."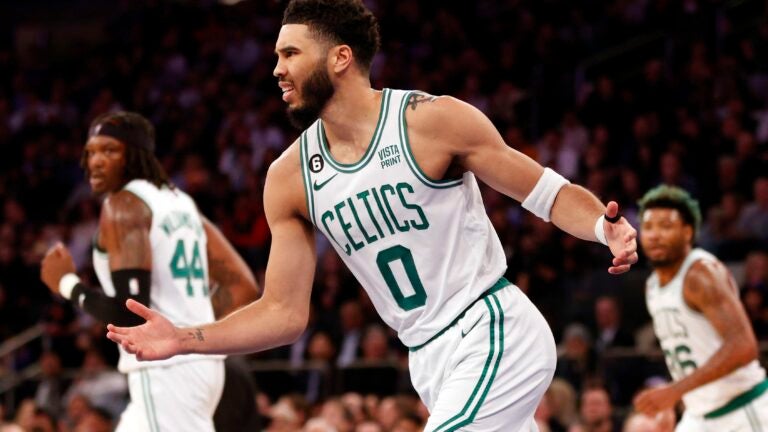 Jayson Tatum picked up the first ejection of his NBA career during Monday night's loss against the Knicks.
Former Celtics guard turned broadcaster Eddie House thinks it won't be his last.
"I tell you this, it won't be his last [ejection] because he doesn't get the respect from the referees as the player that he is. You know, superstar status," House said on NBC Sports Boston's Celtics Postgame Live.
The Celtics were down by double-digits late in the fourth quarter when Tatum got thrown out of the game.
New York's Julius Randle smacked Tatum's hand on a contested three-point shot and the referee didn't call a foul. Josh Hart hit a 3-pointer on the next possession and smirked.
Tatum said something to a referee and was quickly ejected. House felt Tatum had the right to be upset over what he thought was a "clear-cut foul."
"They have to understand who they're dealing with. This ain't Jayson Tatum who just came into the league," House said. "This is Jayson Tatum who's an MVP candidate, who has been part of the NBA Finals, five conference finals, and on top of that won the MVP of the All-Star Game. He has to get some respect. And I understand where it's coming from, because he sees everyone else getting that respect and he's not getting it. Yeah, he should be upset."
After the game, Tatum tweeted: "Lol this is what I get for fouling Bron," referencing the Celtics' overtime win against Los Angeles in January when Tatum hit LeBron James's arm, resulting in a no-call and a miss layup on James's attempt at what would have been the go-ahead drive.
He also joked that the incident was good for his reputation, because "all the great players" get ejected every now and then.
Tatum struggled Monday night, shooting 6-of-18 from the field, including 1-of-9 from 3-point range. The Celtics slipped into second place in the Eastern Conference with the loss.
Sign up for Celtics updates🏀
Get breaking news and analysis delivered to your inbox during basketball season.