Celtics
Former Laker Michael Cooper defended Larry Bird in argument with J.J. Redick
"You know what? I hate Larry Bird," Cooper admitted, "but I respect the hell out of that man."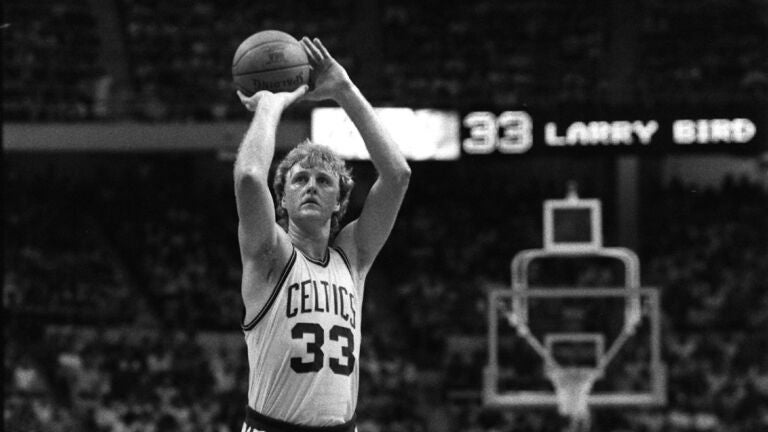 Though he was a fierce Celtics rival for the entirety of his career, Michael Cooper vehemently sided with Larry Bird in a recent debate over the famous Celtic's place in NBA history.
Cooper's defense of Bird resulted from a recent discussion of all-time three-point shooting. J.J. Redick, a former NBA player and current ESPN analyst, asserted that he didn't think Bird was a top-five all-time three-point shooter during a debate with Chris "Mad Dog" Russo.
Apparently, this touched a nerve with Cooper, who spent much of his career trying to stop Bird.
Speaking on his podcast, "The Showtime Podcast With Michael Cooper," the former Lakers guard offered an unsparing rebuttal.
"J.J. Redick, who's a journeyman, played for six different teams, all his accolades came in college," Cooper said, as transcribed by NESN's Lauren Willand. "He played 15 years in the NBA, was being shifted around from team to team because all he could do was shoot, and he wasn't that great of a shooter. He was a poor man's Danny Ainge."
Cooper cited Redick's claim that Warriors guard Stephen Curry faces comparable physicality from defenses as Bird saw in his playing career.
"In today's NBA game, I don't know what game he's looking at, you can't touch the guy," said Cooper. "Anytime you touch the guy, a three-point shooter, or come close to them when they're landing, it's a foul.
"J.J. Redick needs to be quiet, and stop trying to compare," Cooper added.
He later made his thoughts on Bird's place in history clear.
"Larry Bird was one of the greatest three-point shooters that ever played the game," Cooper explained. "F*** percentages, it ain't about that. It's about hitting big shots, things that [Redick] couldn't do as a player without getting a pick set for him.
"People compare each generation. And I appreciate and love basketball," Cooper continued. "I enjoy each decade. I have so much respect going all the way back to the '60s and watching Bob Cousy."
Reminded that Redick had also trash-talked Cousy's place in NBA history — the ESPN analyst claimed in a 2022 discussion that Cousy was being guarded by "plumbers and firemen" — Cooper defended yet another Celtic.
"It's sad because you have to have respect for where this game came from," said Cooper. "All these guys in today's game — I'll say from five years ago up until where it's going to go — are living, playing breathing off the shoulders of Bob Cousy, Wilt Chamberlain, Bob Petit, players that came [through]."
Cooper even clarified that he was defending Bird even if he's not a fan.
"You know what? I hate Larry Bird," he admitted, "but I respect the hell out of that man because I went against him in all those championships and during the year, all we did [with] the Lakers was all about the Boston Celtics."
Delivering his final thoughts on the subject, the 1986-1987 NBA Defensive Player of the Year had a withering take about Redick.
"That guy has no clue of how basketball was played in the '80s," he said. "I guarantee you this, J.J. Redick, if you had played in the '80s — this is Michael Cooper talking — I'd have locked your a** up. You wouldn't have gotten a shot off, you would've gotten nothing off. You would've spent more time on the bench than on the floor when I was on the floor. You couldn't have played when I was on the court."
Sign up for Celtics updates🏀
Get breaking news and analysis delivered to your inbox during basketball season.