Celtics
How Al Horford's 'massive' impact from the 3-point line is boosting the Celtics
Horford knocked down a career-high six threes Wednesday night and is second on the team in 3-point shooting percentage.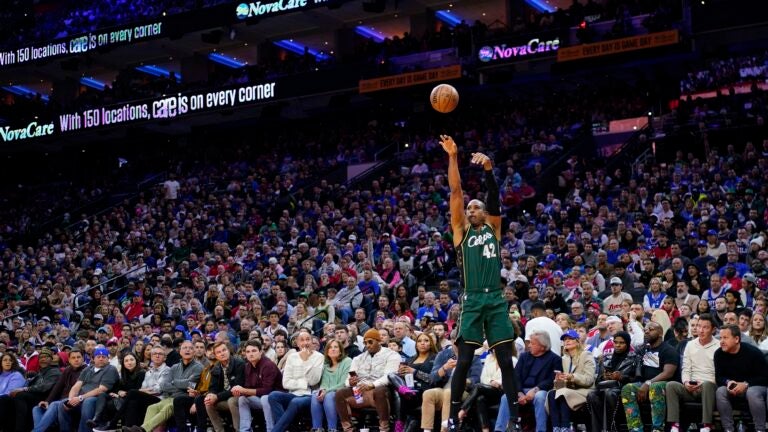 Somewhere between his second and third made 3-pointer on Monday night, Al Horford knew that he was en route to one of the best long-range shooting nights of his career.
The Celtics big man knocked down six of his eight 3-point attempts, establishing a new career-high for made threes during a 117-113 win over Cleveland at TD Garden. All but two of his shot attempts were threes.
"It's massive," Celtics coach Joe Mazzulla said of the impact of Horford's 3-point shooting. "He's done a great job this year in recognizing coverage and screening versus different coverages. And so we ran that ATO for him and he recognized the coverage [the Cavaliers] were in and popped and shot it. The second time they tried to switch him, he created an advantage."
Horford is making a career-high 2.2 3-pointers per game this season and shooting 44-percent from 3-point range, the second-highest percentage on the team behind Malcolm Brogdon.
"I think it's taking what the defense gives you and just looking for opportunities," Horford said. "I felt like our guys did a really good job attacking and finding me. I took advantage of those looks. I knew that I had to continue to evolve as a player and grow and shoot the 3-ball more. It's fun when you're out there getting those opportunities."
A cost comes with Horford spending more time hanging around the 3-point line. He's averaging a career-low 6.2 rebounds per game. He's averaging 1.2 offensive rebounds per game, down from 3.1 during his rookie season.
But, on nights like this one when he can clean up on the defensive glass while proving to be a scoring threat from outside, he tends to make up for it. Horford tied Jayson Tatum and Robert Williams III for a team-high 11 rebounds.
Horford grabbed 10 of his 11 rebounds on defense and scored 23 points, posting his fifth double-double of the season.
The Celtics grabbed five more rebounds than the Cavaliers did, which was key during such a close win. Horford and Williams shot a combined 12-of-14 from the floor and snatched a combined 22 rebounds. One of Horford's early highlights was hitting Williams with an alley-top pass after opening up off of a screen he set.
"[Our chemistry] is very important," Horford said of Williams. "Rob is such a big piece of what we do. His energy was just great tonight. Defensively he was very active and him being on the floor just changes how teams view us. It makes them hesitant to attack the paint. And for me, it's been fun playing alongside him and watch him develop and get more confident."
Mazzulla said Horford's improved shooting has had a profound impact on the Celtics' offense this season.
"He's constantly trying to find small ways to reinvent his game," Mazzulla said. "And what he does you can't even put into words what he means to our team."
Sign up for Celtics updates🏀
Get breaking news and analysis delivered to your inbox during basketball season.