Celtics
What the Celtics are saying about Grant Williams's benching against Cavs
"He's gonna be alright. He's a professional, so we just gotta keep moving forward."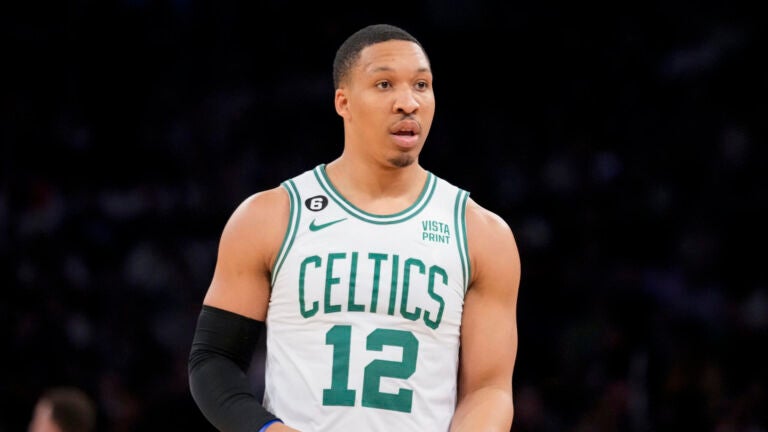 Grant Williams did not show up on the injury report for Wednesday night's game against the Cleveland Cavaliers.
He also didn't play a single minute during the win.
It was a surprising absence for the fourth-year forward who is averaging a career-high 27.3 minutes per game this season.
Celtics coach Joe Mazzulla insisted that he wanted more rim protection against the Cavs. Robert Williams III played 31 minutes, nearly seven minutes above his season average. Newly acquired big man Mike Muscala got 11 minutes, missed all three of his shot attempts, and grabbed one rebound.
"Just matchups on the offensive end as far as spacing the floor and having rim protection," Mazzulla told reporters Wednesday. "When Mike was in, we were able to play a different defensive lineup. Didn't want to switch these guys at much in that second unit."
The additional minutes for Rob Williams, combined with 20 minutes of action between Muscala and Sam Hauser, add up to 27 minutes which is right around Grant Williams's season average.
Williams has played 20 minutes or less in four of the Celtics' last five games, including an overtime win against the Pacers during which he got six minutes. The exception was against Philadelphia, when he played 29 minutes.
He hasn't made more than two field-goal attempts in a game since Feb. 15.
"For Grant, just keep his head," Jaylen Brown said. "Grant, he knows what he brings to this team and the type of player he is. He's been able to carve value out in this league, so a couple games here and there based upon whatever the coaching staff thinks doesn't mean any more or less.
"Grant has helped us win playoff games. Grant has helped us get to the Finals last year. So obviously, we're going to need him. So keep his head, he's gonna be alright. He's a professional, so we just gotta keep moving forward."
Williams notched a season-high 48 minutes during an overtime loss to Milwaukee last month, where his ability to defend Giannis Antetokounmpo is a noted plus. He's already tied his career high in starts with 21. He's averaging 8.4 points and 4.8 rebounds while shooting just over 40 percent from three.
It's not time to panic over Williams's minutes yet, but this stretch of limited playing time including Mazzulla's decision not to play him Wednesday night have been noticeable.
"Obviously you just stay in his ear," Robert Williams said. "Tell him his time will come. Grant's a good dude, he's a hard worker, he's mentally strong."
Sign up for Celtics updates🏀
Get breaking news and analysis delivered to your inbox during basketball season.