Celtics
Here's when Joe Mazzulla got 'worried' during the Celtics' biggest collapse of the season
"I knew the tide was going to shift because they were going to continue to shoot threes."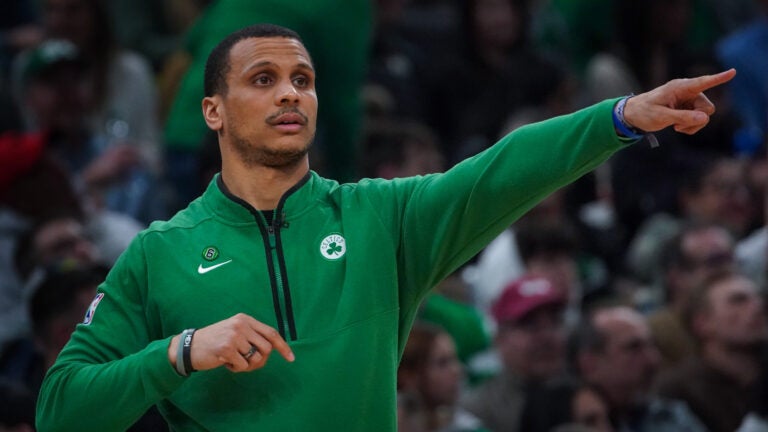 After trading Kevin Durant and Kyrie Irving, the Brooklyn Nets team that the Celtics clobbered at TD Garden last month orchestrated the biggest comeback against the Celtics this season.
Boston rightfully got booed as it walked off the floor at the end of the game. The Celtics blew a 28-point lead, allowed a 77-37 run on their home floor, and generally looked lifeless for long stretches of the game.
"They beat us in every analytical category possible," Celtics coach Joe Mazzulla said after the game. "If we don't commit to the margins no matter how hard we play, we're not going to win. They got more three's up, they got more shots up, they got more free throws, they got more offensive rebounds, and they turned it over less. You can play as hard as you want, you're not going to win with that."
The Celtics certainly played hard coming out of the gate, opening up a huge lead while Jaylen Brown poured in 21 points at the half.
But, Boston lost that intensity even before halftime rolled around, and it cost them.
"It definitely has happened more times than we want obviously," Celtics guard Derrick White said. "Everything just happened so easy there at the beginning of the game, and then they just started playing harder and we didn't do a good job of responding. That's just on us as a group and each individual. We've got to find a way to play 48 minutes."
The Celtics had their share of undisciplined moments throughout the game, too. Brown threw an ill-fated alley-oop to Rob Williams off the backboard. Marcus Smart got whistled for a technical foul. Jayson Tatum bricked eight threes in a row while it was clear his shot wasn't falling.
The Celtics gave up a number of wide-open threes that let Brooklyn back in the game.
What had Mazzulla worried from the beginning, though, was the Celtics' lack of 3-point attempts. Boston shoots an average of around 30 threes per game.
Mazzulla said that while Brooklyn went 2-11 from 3-point range in the first quarter, he saw that the volume of their attempts could become problematic.
"I was actually worried," Mazzulla said about the early stretch where the Celtics built their lead. "Because we were scoring, but it wasn't because we were making shots. It was because we were getting layups. And they're a very analytically sound team. I knew the tide was going to shift because they were going to continue to shoot threes."
Brooklyn, on the other hand, launched 44 3-point attempts, which was 14 more than Boston.
"I know you guys all think it's funny," Mazzulla said. "But the 3-point attempt rate is the most important stat in the game of basketball because of the pace of play, shot selection, and the ability to go on runs. When you get outshot by 14 threes, the potential points there are crucial because it gives you way more shots and way more opportunities.
To me, I'm not that surprised or worked up about it because a 24-point lead in today's NBA with the way offenses are means almost nothing."
None of that changes the fact that the Celtics have to find a way to hang on to those big leads if they want to make another deep run late in the season.
"I'm more upset about the Cleveland situation than I am about tonight as far as finishing a game and being up and getting down. That's just something we have to learn," said Mazzulla.
Sign up for Celtics updates🏀
Get breaking news and analysis delivered to your inbox during basketball season.