Celtics
7 takeaways as Celtics fall to Cavaliers in OT after Grant Williams' missed free throws
The Celtics once again blew a double-digit lead.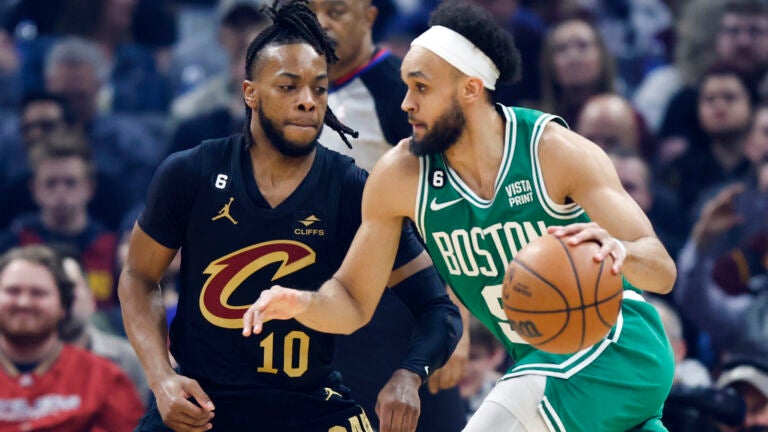 The short-handed Celtics nearly pulled out a hard-fought (and unlikely) win over the Cavaliers on Monday but found perhaps the most painful possible way to fall 118-114 in overtime.
Here are the takeaways.
1. Clearly, we have to start with Grant Williams, who had a chance to essentially put a Celtics victory on ice with a pair of free throws, a tie game and just 0.8 seconds remaining on the clock, but first, a note about how the free throws came together.
The Celtics led by two, and Cavaliers star Donovan Mitchell barreled down the lane looking for a layup. He missed, but an official whistled a questionable foul against Williams. The Celtics challenged the call, and referee Tony Brothers determined that the call on the floor was correct.
Then the Celtics put the ball in Payton Pritchard's hands, and he sped up the floor looking for a game-winning layup. The Cavaliers fouled Williams after Pritchard missed the layup, and Williams went to the line with a chance to steal a win.
Cavaliers star Donovan Mitchell approached Williams before his first free throw, and Williams could be seen telling Mitchell he was about to make both.
Williams missed the first and then — after the Cavaliers masterfully iced him for nearly a minute by shuffling back and forth in the lane — missed the second as well. Marcus Smart nearly tipped the ball back in, but his tip rolled off the rim.
It was a brutal moment for Williams, who otherwise had a very solid game, going 4-for-6 from the floor, including 4-for-5 shooting from behind the 3-point line. After a series of tough performances, it looked like the 24-year-old forward, who is due for a new contract after this season, might have a feel-good game to build some confidence back.
Instead, Williams essentially cost the Celtics the game. Less than 24 hours removed from a brutal double-OT slugfest against the Knicks, the Celtics looked winded and couldn't hold a slim overtime lead against a very good Cavaliers team.
There's not much more to say about the free throws. Joe Mazzulla said he expects Williams to bounce back and correctly noted that Williams didn't try to miss them. The team went together to lift weights after playing their 11th period of NBA basketball in two days. Williams was resoundingly mocked on social media, which — frankly — is the risk you run when you tell an opponent you are about to make both of your free throws before missing them.
Just brutal.
The Celtics really need Williams to be good when the postseason rolls around. He defended Kevin Durant and Giannis Antetokounmpo better than anyone else last year and played a pretty crucial role in helping the Celtics reach the Finals.
Getting Williams back on track is a worthwhile project for the Celtics over the next month. Unfortunately, they appear to have a number of worthwhile projects on the horizon.
2. Jaylen Brown put together an excellent, gritty performance given the circumstances. With Jayson Tatum, Al Horford, and Robert Williams all sidelined, he scored 32 points on 12-for-26 shooting and came just an assist short of a triple-double with 13 rebounds and nine assists.
Malcolm Brogdon was solid as well in his return to the floor after suffering an ankle injury, scoring 24 points on 8-for-14 shooting. A number of players performed pretty well on Monday despite being visibly gassed. If the Celtics had simply lost in a normal way, the panic meter might have been significantly lower.
3. For the second night in a row, the Celtics generated significantly more 3-pointers than their opponent and still lost. On Monday, they shot 16-for-48 from deep — just 33.3 percent.
Again, fatigue appeared to be a factor. The Celtics moved the ball well and shot 13-for-25 from deep in the first half, then posted a catastrophic 3-for-23 in the second — one of which was Derrick White's late 3-pointer that bounced off the front rim and fell through.
4. Much was made on social media over the fact that the Celtics blew a double-digit lead once again, which just doesn't seem like a valid concern at this point. Fans understandably grow frustrated watching what looked like a comfortable lead fall away, but how many times do we need to watch it happen in the NBA this season before we understand that leads aren't really safe anymore? In an era where 3-pointers are more emphasized (and more efficient) than ever, a 15-point lead isn't much.
There are myriad reasons to be concerned about the Celtics at this stage, but a blown double-digit lead on the second night of a back-to-back is less of a worry and more of an inevitability. The only question was whether they could hang on against the Cavaliers' storm. They nearly did, but "nearly" means a third straight loss and the fourth in five games.
5. The Celtics have now tied a franchise record for overtime games in a single season with 16 games remaining.
6. Pritchard — who has largely been out of the rotation, presumably since the Celtics are trying to build their playoff lineups — played 16 minutes, but he appeared to hurt himself on the final play of regulation and hobbled off the floor. Cavaliers team doctors visited him in the locker room.
7. The next few weeks are incredibly important for the Celtics — not just in their pursuit of the No. 1 seed (which is slipping away a little bit at the moment), but also as they try to right the ship with the postseason approaching.
Malcolm Brogdon, meanwhile, discussed why the upcoming six-game road trip matters so much.
"There's definitely urgency, and I think it's less even about the playoffs than just about this road trip coming up," Brogdon said. "I was just talking to Blake, and we really need to win this game against Portland so we can leave Boston on a good note, on a positive note starting the road trip. These are six teams on the road that we should beat, that we need to beat. It's really that simple. So going undefeated is the goal and the expectation."
The Celtics will look to get back on track against the Blazers on Wednesday at 7:30 p.m.
Sign up for Celtics updates🏀
Get breaking news and analysis delivered to your inbox during basketball season.