Celtics
Celtics' Joe Mazzulla admits to lineup mistake following 2OT loss to Knicks
"Definitely should have been moments where we could have had him on the floor."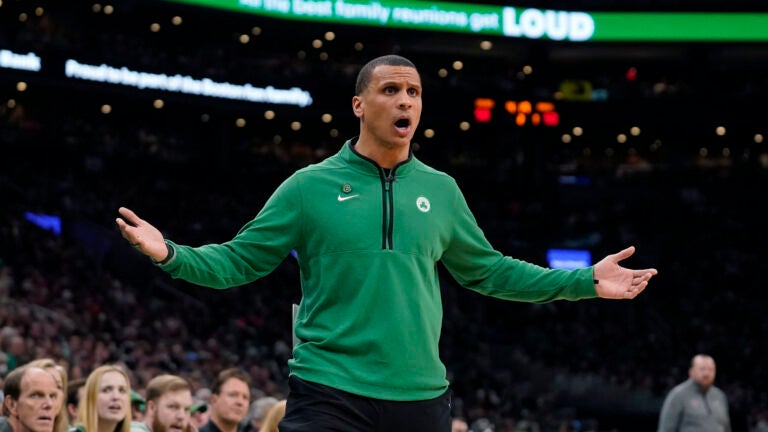 Just a day after the Celtics dropped a home contest to the Knicks in double overtime, head coach Joe Mazzulla accepted the blame for a critical lineup lapse.
Even though Derrick White has been one of the most valuable contributors on a loaded Celtics roster this season, the guard spent most of Sunday's crunch-time minutes on the bench.
During the fourth quarter and most of overtime, Mazzulla opted for Grant Williams on the floor, with White not even touching the parquet during the first overtime period against New York.
Williams finished with nine points off of 2-of-7 shooting in his 44 minutes against the Knicks. White finished with 12 points, 6 rebounds, and 4 assists in his 32 minutes of work.
Ahead of Boston's road matchup against the Cavaliers on Monday, Mazzulla acknowledged that White should have been playing during critical sequences at the end of Sunday's game.
"It's probably a coaching fault of mine yesterday. Probably should have had him in at the end of the game," Mazzulla told reporters, per NBC Sports Boston. "When we have the majority of our roster, balancing that out and trying to get the best players on the floor is important.
"Re-watching it today, definitely should have been moments where we could have had him on the floor. When he's on the floor, we're a really good team. We need him to be confident and aggressive on both ends."
It's been a rough couple of weeks for Mazzulla, with the 34-year-old coach admitting that there will be additional growing pains as he navigates the tightrope act of managing minutes, timeouts, and more from the sideline.
"Number one, whether I coach for one year or 20 years I'm still going to make mistakes at year 20," Mazzulla said. "So it's not really whether I'm a first-time head coach or not. It's just people who have been coaching a long time, they get a pass. I have to be a continuous learner regardless of how long I coach in this game.
"And like I said before, no one will put more pressure and expectations than I put on myself and then our team and the guys put on themselves. So at the end of the day, if you coach for the Celtics, the number one goal is to win. If we don't do it then that's my fault. And that's how you have to approach every day."
During Monday's game against the Cavaliers, it appeared Mazzulla learned his lesson. Even though White finished the game just 5-of-14 from the field, he hit a 3-pointer (with some fortunate bounces) that gave Boston a 109-107 lead with just 12.8 seconds left in regulation.
Unfortunately, a worn-out Celtics team was still unable to overcome Donovan Mitchell and the Cavaliers. Boston fell in overtime to Cleveland, 118-114, suffering its third loss in a row.
Newsletter Signup
Stay up to date on all the latest news from Boston.com