Celtics
6 takeaways as Celtics fall to Knicks again in double overtime
The Celtics have some work to do.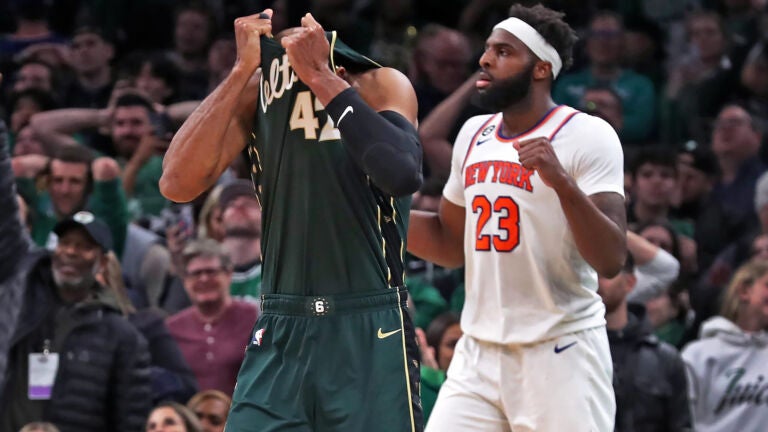 The Celtics dropped their second game in a row on Sunday, falling in double overtime to the Knicks 131-129.
Here's what happened.
1. It's possible — perhaps even likely — that the Celtics are fine, and that when the postseason rolls around, their experience combined with their burning desire to make up for last year's Finals carries them on a deep run. They have played well against the best teams in the Eastern Conference. They have significantly more big-game pedigree than teams like the Knicks and Cavaliers. They have stars and so many excellent role players, some don't get minutes.
"We just gotta kind of get our swagger back," Derrick White said. "Find a way to play with each other, have fun out there, and I'm sure we'll get it back soon."
How much concern does Joe Mazzula have?
"Zero," he said.
Great! That seems promising.
But increasingly, it's hard to ignore a few rankling questions.
For instance, how tired are the Celtics, really? Al Horford benefited enormously from taking a half-year sabbatical in Oklahoma City two years ago. This year, he's coming off a trip to the Finals, and he played 44 minutes on Sunday. Jayson Tatum (48 minutes) and Jaylen Brown (47 minutes) are both young and tough, but the extended time will catch up with them eventually — whether this year or in the future — if they don't ease back a bit.
Likewise, one can't help but wonder whether opposing teams have put together some pretty effective strategies for facing the Celtics. After all, the Eastern Conference has spent the year chasing them, which is obviously good, but also something of a curse because teams are prepared for them every night. People always stand tallest when they are next to the measuring stick.
As we wrote Saturday when the Celtics blew a 28-point lead to the Nets, we won't remember this stretch if the Celtics make a deep run. Even if they don't make a deep run, the playoffs create problems that drive things that happened in March from our minds.
"We would like to win every game coming out of the break, but probably wasn't going to happen," Jayson Tatum said. "We're still in a great position and we still got time to figure it out — and we're going to. Some minor things, but we know what we're capable of."
That's the concern though. The Celtics certainly know what they are capable of, but so does everyone else.
2. The Celtics closed the fourth quarter with a furious run, capped by Jaylen Brown's 3-point play and his steal from Julius Randle.
The second two overtimes, however, were less smooth. In the first, the Celtics' final set began with a pick-and-roll between Brown and Jayson Tatum that didn't start until there were 5.9 seconds remaining. Brown took an extra dribble and bounced a pass to Tatum, who finally made his move at the 3-second mark. Unfortunately for the Celtics, Al Horford was in the corner on Tatum's side of the floor, and Mitchell Robinson helped off him to make Tatum's layup attempt more difficult. The Celtics needed either more time (so Tatum could kick out to Horford) or a clear side of the court for Tatum and Brown to operate.
The second overtime was worse. Trailing by two with 22 seconds left, the Celtics forced a shot-clock violation and brought the ball up the floor, but Tatum and Grant Williams seemed to get the play confused, and Mazzulla called timeout with 10 seconds remaining as a frustrated Tatum stormed back to the bench. The Knicks gave a foul with 6.8 seconds remaining, which meant the Celtics wasted nearly 15 seconds.
Mazzulla conceded that losing those seconds was "tough," while Tatum called the play a "miscommunication" over which player was supposed to come up and set a screen to get the play going.
Still, the Celtics generated a good shot for Al Horford in the closing seconds, which hit the front rim and bounced off.
"Not legs, not tired," Horford said. "I just think I rushed it a little bit. And I probably had a little more time than I thought."
3. After being outshot 44-29 against the Nets in 3-point attempts on Friday, the Celtics took a franchise-record 59 3-pointers on Sunday and made 21 of them.
"Thought we got some good looks, but hindsight is 20-20, right?" Tatum said. "You miss some, look back, and say you probably should've drove it more. But it's kind of our style of play, just trying to get the best shot every time down the court."
Generating good 3-point shots is crucial to the Celtics' offense. Perhaps no other team this season better exemplifies the truism that the NBA is a make-or-miss league.
4. Despite missing Robert Williams, who Mazzulla said could miss 7-10 games with a hamstring strain, the Celtics outscored the Knicks 29-7 on second-chance points and out-rebounded them 17-11 on the offensive glass.
5. The Knicks look legitimately good. Even with Jalen Brunson sidelined, Julius Randle is a bruiser (in a literal sense — his style of play looks like it would leave bruises), Immanuel Quickley played an incredible game, Mitchell Robinson pulled down seven offensive boards, and even R.J. Barrett scored 29 points. Offensively, they are unconventional but talented. Defensively they have a lot of good individual options. Role players like Josh Hart fit perfectly into a playoff rotation.
A 4-5 matchup between the Knicks and the Cavaliers would look on paper like the best series of the first round. The 1-seed would have to hope they wear each other down, because neither team will be an easy out.
6. The Celtics need to choose whether they want to try to bounce back or rest their stars on Monday — they face the Cavaliers in Cleveland on the second night of a back-to-back at 7 p.m.
On the one hand, the Celtics won't go anywhere if their stars are exhausted when the postseason rolls around. On the other, the No. 1 seed can be the difference between having a home Game 7 in the Eastern Conference Finals or a road one.
"I'm sure we're all aware of [the standings]," Derrick White said. "As a basketball player, you're aware of things going on. But we just want to be playing our best, so we have to figure out a way to look internally and figure out how to play better."
Sign up for Celtics updates🏀
Get breaking news and analysis delivered to your inbox during basketball season.