Celtics
Five concerning trends facing the Celtics ahead of the playoffs
Boston might be 45-21 on the year, but several flaws have emerged on the Celtics' roster as of late.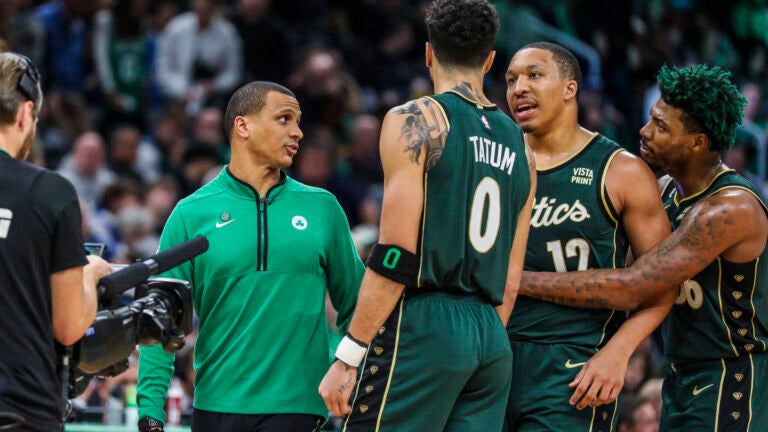 This Celtics' core has a track record of flipping the switch in critical situations.
After opening last season with a sluggish 18-21 start, Boston turned things around and rode that second-half surge all the way to the NBA Finals.
But this season, after opening the 2022-23 campaign with a 21-5 record, Boston has regressed with a 25-15 showing since mid-December.
Granted, 10 games over .500 is still a solid mark. But the C's have seen their foothold atop the Eastern Conference slip.
After dropping four of its last five games, Boston sits two games behind the first-place Bucks in the conference. The 76ers lurk just two games behind Joe Mazzulla's squad.
Still, even during this most recent lull, Boston's head coach hasn't exactly sounded the alarms.
"Zero," Mazzulla noted when asked about his concern with the Celtics following a 2OT loss to the Knicks on Sunday.
Mazzulla's faith in his team clearly hasn't been shaken. But there are still some concerning trends that have followed Boston over this extended malaise.
With the NBA Playoffs just five weeks away, let's dive into a few of these extended woes.
A potential regression in 3-point shooting
With Mazzulla at the helm, the Celtics have embraced the "live by the 3, die by the 3" mantra.
The Celtics currently rank second behind the Warriors in both 3-point attempts per game (42.1) and 3-pointers made per contest (15.8).
That high volume of shots beyond the arc invites plenty of risk, but the Celtics have made the most of their multiple volleys from deep. As of Tuesday night, Boston ranks seventh in the NBA with a 37.7 shooting percentage from 3-point range.
Still, a team so reliant on that type of shot can run into some trouble when those numbers inevitably begin to dip over an extended stretch of action.
Yes, the Warriors' dynasty was built upon that hot shooting, but any potential regression tends to get negated when you're gifted with arguably the two most talented sharpshooters in NBA history.
The Celtics were buoyed earlier this season when just about every player in their rotation was sinking their shots from 3-point territory. But Boston has been marred in a cold streak (or perhaps a return to equilibrium) for some time now.
Since the All-Star Break, the Celtics have dropped to 15th in the NBA in 3-point shooting percentage (36.8 percent). It should come as no surprise that their offensive rating over that same stretch has dipped down to 113.7 (16th overall in the league).
Boston's game plan on offense is pretty cut and dry. Hit their shots outside the arc, and they're on a clear path to victory. So far this season, the C's are 25-0 when shooting at least 40 percent from 3-point range.
But when those shots aren't connecting, this Celtics offense has a tendency to grind to a halt.
That being said, it doesn't seem like Mazzulla has any plans to curtail Boston's green light from deep.
"I actually was more nervous in the beginning of the game because we shot less threes, and they were shooting more," Mazzulla said following Boston's loss to the Nets on March 3. "We were scoring, but it wasn't because we were making shots.
"It was because we were getting layups, and they are a very analytically sound team. So I knew the tide was going to shift because they were going to continue to shoot threes, and if we didn't play at a level of shooting threes and getting offensive rebounds and taking care of the ball, that was going to cost us."
Fatigue setting in
The NBA playoffs are a marathon in their own right.
This Celtics team can attest to that, given that they were playing into mid-June during their failed championship conquest against the Warriors last year.
Boston's roster was already facing an uphill climb this season, given that short turnaround.
And the C's haven't made it easy on themselves when it comes to conserving their energy over an 82-game gauntlet.
Already, the Celtics have found themselves in 11 overtime games this season. That ties a franchise record for the club, and there are still another 16 games left on the docket.
Boston might be led by two superstars in their prime — Jayson Tatum (25 years old) and Jaylen Brown (26 years old) — but these taxing minutes could spell disaster for older players like Al Horford or contributors with a track record of injuries like Malcolm Brogdon and Robert Williams (more on him shortly).
Mazzulla and the Celtics have been more than willing to prescribe load management in order to properly maintain key cogs like Tatum, Horford, Brogdon, and others.
But these multiple overtime slugfests and crunch-time minutes are already exhausting the fuel reserves that should be stored until the postseason.
The health of Robert Williams
Robert Williams' return from a meniscus injury during the 2022 playoffs paved the way for Boston's title run.
When he's on the parquet floor and playing to his potential, Williams is a defensive anchor and in-game spark plug. He can inject energy into his team by way of thunderous alley-oops, momentum-shifting blocks, and stout play in the post.
But if Williams' effectiveness is either lessened this postseason or completely neutralized due to injury, Boston's championship odds will take a major hit.
"I'm very concerned," Kendrick Perkins said Monday on ESPN's "NBA Today," as transcribed by NESN.com's Gio Rivera. "And I'm concerned because the health of Robert Williams. Like when is he gonna be available to show us consistently that he could be on the floor? And Jayson Tatum said it himself. He is the piece as far as us trying to complete the mission of winning it all."
Williams did return to game action in December after missing over two months due to knee surgery, but it's taken the C's big man some time to get back up to speed.
And even in his 24.2 minutes per game this season, Williams' trademark athleticism and explosiveness have not been seen consistently.
Add in his latest hamstring ailment that is expected to keep him out at least a week, and Celtics fans should be worried about how their defensive cornerstone will hold up once the calendar flips to the postseason.
"He's still kind of favoring that knee injury that he has," Perkins said. "His history tells us that you really can't rely on him. And when you think about the Eastern Conference, you thinking about Giannis [Antetokounmpo], Brook Lopez … [Bobby] Portis with the Milwaukee Bucks. And then you thinking about big Joel Embiid and Philly and it's like, can you really get past those two teams alone without Robert Williams or the available Robert Williams? No."
Lapses in defensive execution
The Celtics had plenty of star power on their 2021-22 squad. Multiple contributors stepped up in key segments of a long playoff run.
But the bread and butter of Boston's success was the team's collective effort on defense. Even on the nights when the Celtics' shots weren't falling or calls weren't going their way, the team could still rely on its suffocating play down the other end of the court to keep them in close contests.
This season, Boston's defensive integrity has taken a hit. Granted, the absence of Williams has put a dent in Boston's numbers when protecting their own basket.
But since the All-Star break, Boston is posting a pedestrian 116.1 defensive rating, which ranks 18th in the NBA. It's a steep drop from the first four months of the season, when Boston posted the fourth-best defensive rating at 110.6.
Boston has a roster filled with players capable of making an impact on the defensive end, be it Marcus Smart, Horford, Derrick White, Rob Williams … the list goes on and on.
But as of late, that trademark execution and stingy play just hasn't been there.
"We should be fighting to win," Jaylen Brown said following Monday's loss to the Cavaliers, per Brian Robb of MassLive.com. "That's what it should be. In a rhythm or not in a rhythm, what matters is winning games. At this point of the season I think that we are fighting to get in our own rhythms a little bit too much. And that's from the top to the bottom. Like, we should be fighting to win."
The growing pains of a first-year head coach
Considering the circumstances at play that elevated Joe Mazzulla to his current post, the Celtics have to be pleased with how the team has responded to a 34-year-old head coach.
But it hasn't always been perfect for Mazzulla as he navigates the tightrope act of balancing minutes, timeouts, and much more from the bench.
It's a give-and-take exercise that all first-year coaches go through. But few are given the task while guiding a win-now team like the 2022-23 Celtics.
And as of late, some of Mazzulla's substitutions and lineup decisions have led to some serious questions.
The players might do most of the heavy lifting when it comes to a team's success. But a coach has to put the right personnel on the court at the right times to succeed.
And as was the case with Derrick White's limited crunch-time reps against the Knicks on Sunday, some of Mazzulla's in-game calls have hampered this club.
"Number one, whether I coach for one year or 20 years I'm still going to make mistakes at year 20," Mazzulla said Monday. "So it's not really whether I'm a first-time head coach or not. It's just people who have been coaching a long time, they get a pass. I have to be a continuous learner regardless of how long I coach in this game.
"And like I said before, no one will put more pressure and expectations than I put on myself and then our team and the guys put on themselves. So at the end of the day, if you coach for the Celtics, the number one goal is to win. If we don't do it then that's my fault. And that's how you have to approach every day."
By the time the playoffs arrive, Mazzulla needs to be ready for the chess game that awaits against other coaches in critical moments.
Newsletter Signup
Stay up to date on all the latest news from Boston.com