Celtics
7 takeaways as Celtics get back on track with win over Trail Blazers
"Great teams just bounce back quicker."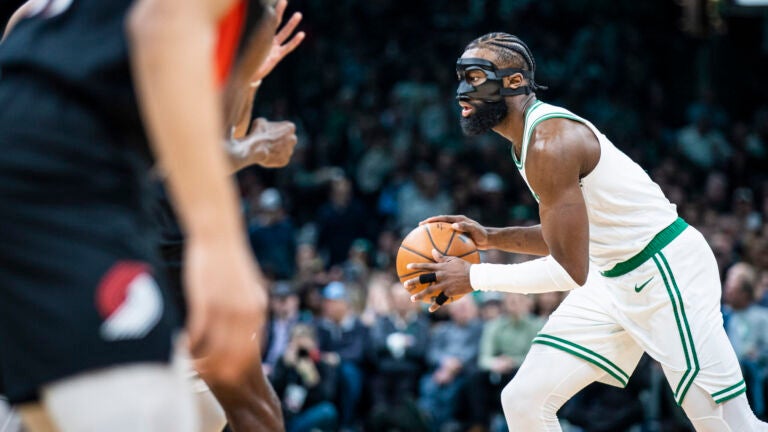 The Celtics claimed a badly needed victory on Wednesday, beating the Trail Blazers 115-93 to snap a three-game losing streak.
Here are the takeaways.
1. More than anything, the Celtics really needed a win. Any win would have sufficed, but they got a good solid one — the kind of win when Jayson Tatum, Jaylen Brown, and Al Horford all put their feet up for the entire fourth quarter and watched as lesser-used Celtics and rookie J.D. Davison kept a double-digit balloon up in the air until the final buzzer.
"I don't like to lose," Horford said. "But it was important before hitting the road. We had a couple losses here at home in a couple games that I felt like we controlled. So I'm just happy with our group. Despite everything, we got the win, we held onto the lead which was important, and now we get to go on the road and continue to build on that."
2. Tatum was one of several players who took Monday's loss to the Cavaliers off, which made his 30-point, 11-for-17 shooting performance particularly notable. Perhaps the Celtics simply reverted to the mean after a bad stretch, but both Tatum (11-for-17 overall, 6-for-10 from three) and Horford (7-for-11, 3-for-5) were excellent from the field.
If these statistical trends continue, the Celtics need to make it a priority to continue to rest their crucial players as they prep for the playoffs.
"I thought we maintained our poise, we controlled the game with our transition defense and we just really fought to get a great look every time down," Celtics coach Joe Mazzulla said. "So I thought we won all those margins and I think when you're winning you have to do those things even more, and I thought we did that."
3. Horford, meanwhile, moved into ninth all-time in Celtics history with 462 made 3-pointers, passing Isaiah Thomas. He is now 58 triples behind Avery Bradley for eighth.
"It's definitely special given all the greats that have come through here, but it also speaks to the way that the game is now," Horford said. "I'm sure that some of those guys were shooting a little more, these records would be unreachable, so I just happen to be a product of playing in this time and getting these shots, and for me, it's something that we've really put a lot of work in behind it, and just continue to get more comfortable shooting those 3s."
4. Two days after missing two free throws that could have won Monday's game over the Cavaliers, Grant Williams was largely out of the rotation — replaced by Blake Griffin, who started the game with Robert Williams sidelined. When Grant Williams finally entered the game, he buried his first 3-pointer and finished 3-for-8 while playing the entire the fourth quarter.
"He's doing a good job," Derrick White said. "Obviously it's not easy, but he's a great guy, a great person. He wants everybody to succeed, and we all love Grant. So we've got his back and he's got ours."
5. It has been nearly a month since Jayson Tatum fractured Jaylen Brown with an inadvertent elbow, and Brown is still experiencing symptoms from the injury.
"It's not healed," Brown said. "I'm having like headaches, been going from the last couple weeks, just from, I guess, the pressure and whatnot. But I'm trending in the right direction, so that's all that matters."
He has also grown sick of his protective mask.
"I know it looks cool, but sometimes it's hard to breathe," Brown said. "It kind of limits your vision at times depending on the lighting and depth perception. But y'all don't want to hear none of that, that's something like excuses and stuff, right? Come out each and every night and make it happen."
6. Derrick White missed his first two 3-point attempts and finished just 1-for-5 from 3-point range, but he made all eight of his two-point attempts which included several pull-up jumpers and a couple of tough floaters. Importantly, he helped keep the Celtics in control when things briefly grew shaky in the fourth quarter with a layup off a double pick-and-roll with Luke Kornet, which pushed a shrinking Celtics lead from 14 to 16 with three minutes remaining.
"I think we just got a little lackadaisical," White said. "I was a big part of that. Luke did a good job of setting a screen and I got a wide-open layup off of it. That kind of just settled us down and we went from there."
White was asked about how it feels knowing he could play more.
"I mean, I'm playing basketball, I'm blessed," White said. "So I'm just trying to have the right perspective on things, but just understand that it's a team game. There's going to be times when I'm going to need to close, there's going to be times when Malcolm [Brogdon], [Marcus] Smart, it's hard to take them out of the game as well. Any time I'm out there, I just try to help us win games, and even if I'm off the court, just be a good teammate and trust that the people out there are going to help us win."
That's a great answer for the media, but White can still make a very strong case to be in the closing lineup.
7. The Celtics now embark on a six-game road trip which begins in Atlanta. On Monday, Malcolm Brogdon said the "expectation" is that the team goes undefeated during this stretch, which is a very lofty goal.
Still, the Celtics have lofty expectations of themselves.
"The great teams stay the best version of themselves the longest," Mazzulla said. "When you don't, you have to quickly get back to who you are. That's the goal. I don't know if we're going to go on a winning streak. I have no idea what's going to happen. but I know we have habits that we've had the entire year. We've gone through small stretches of those habits waning.
"Great teams just bounce back quicker. That's important. It seems like we've bounced back. We've done a good job with some carry over. We have to continue that for however long we are playing."
Sign up for Celtics updates🏀
Get breaking news and analysis delivered to your inbox during basketball season.