Celtics
Paul Pierce, Kevin Garnett attribute Celtics' struggles to adjusting to being the 'hunted'
"When you have the target on your back - they used to be the team that was chasing. Now, they're going to be getting everybody's best."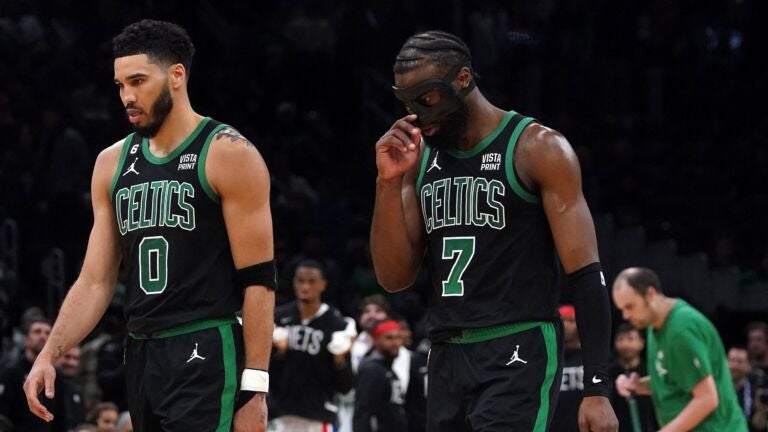 The Celtics have hit a bit of a rough patch in the first couple of weeks after the All-Star break, but a pair of franchise legends aren't too concerned by the recent skid.
However, Paul Pierce and Kevin Garnett believe the Celtics are having some trouble in their new role as being one of the hunted teams in the league. The Hall of Fame duo spoke attributed the Celtics' recent three-game losing streak, plus the 1-4 mark they posted in their previous five games prior to Wednesday's win against the Blazers, to that more than poor play.
"Other teams are encouraged," Garnett said on Showtime's "Ticket & The Truth." "When you're the hunted -"
"That's the thing they've got to understand," Pierce interrupted. "When you have the target on your back – they used to be the team that was chasing. Now, they're going to be getting everybody's best."
Garnett and Pierce pointed to the home losses against the Nets and Knicks as examples of that happening. Against Brooklyn, Boston blew a 28-point lead as Nets forward Mikal Bridges scored 38 points, the second-most he's ever scored in a game. Two days later, Boston blew a 13-point lead against New York before falling in double overtime as guard Immanuel Quickley scored a career-high 38 points.
"Everybody [is giving them their best]," Garnett said. "Man, when the Knicks played them in Boston, Quickley [was playing well]."
"Did you see Brooklyn?" Pierce asked back.
"Yeah, I didn't see any one of them play like that before man," Garnett said, alluding to Bridges's 38-point performance along with the performances of Cam Johnson, Spencer Dinwiddie, and Dorian Finney-Smith.
Being the "hunted" is certainly a new challenge for this Celtics group. All of them are coming off their first NBA Finals appearance and they opened up the season with an 18-4 record as they looked to prove that last season wasn't a fluke and to get over the hump this time around.
That's part of the reason why Pierce isn't too concerned by their shortcomings as of late, even if they're happening not too long before the playoffs begin.
"They're going through their little lull right now," Pierce said. "They understand that the playoffs are coming but this is the best time of the year when you've really got to pick it up. They jumped out of the gate fast and they maintained it. They didn't really have a lot of peaks and valleys. They had a high peak and a small valley in the middle of the season. Now, they're going into that valley again and I don't know, this isn't the right time to be going into that valley.
"But they're dealing with some injuries – Marcus Smart missed some time. Robert Williams is missing some time. So, I'm not sure if it's a chemistry issue. I'm not too worried about them. I see them as a team that's built for the playoffs. They've got a great understanding right now. They've been to the Eastern Conference finals a number of times and they've been to the Finals. If it continues, I'd get a little worried but sometimes you have those little hiccups before you really get to it."
Garnett agreed with Pierce while emphasizing that health is the most important factor moving forward.
"I'm not worried about the C's," Garnett said. "I think it's a situation where you're going to go through peaks and valleys. The big question mark with me when it comes to the C's is everybody healthy? Is everybody healthy man? Then let's get it. Let's ride. I'd put them up against anybody in a seven-game series."
In addition to losing games, the Celtics have also lost the No. 1 seed in the Eastern Conference to the Bucks. Milwaukee recently went on a 16-game winning streak and has won 19 of its last 20 games, giving it a 2.5-game lead over Boston in the standings entering Saturday's slate.
Garnett isn't sure if "the C's catch [the Bucks]," adding that "once you're that one seed and they look like champions, they're [feeling confident]."
But, as Pierce pointed out, this Celtics group won a pair of elimination games on the road last season, defeating the Bucks in Milwaukee in Game 6 of the Eastern Conference semifinals and the Heat in Miami in Game 7 of the Eastern Conference finals.
"Let's look at this: They didn't need home-court advantage last year and they made it to the Finals," Pierce said. "So, let's see if they're healthy and see what they do."
Sign up for Celtics updates🏀
Get breaking news and analysis delivered to your inbox during basketball season.