Celtics
Jayson Tatum, Joe Mazzulla praise Blake Griffin following performance in Celtics' win over Hawks
"I just like his overall mental, physical, emotional toughness that he brings to our team. I feel like he makes the guys better when he's on the floor."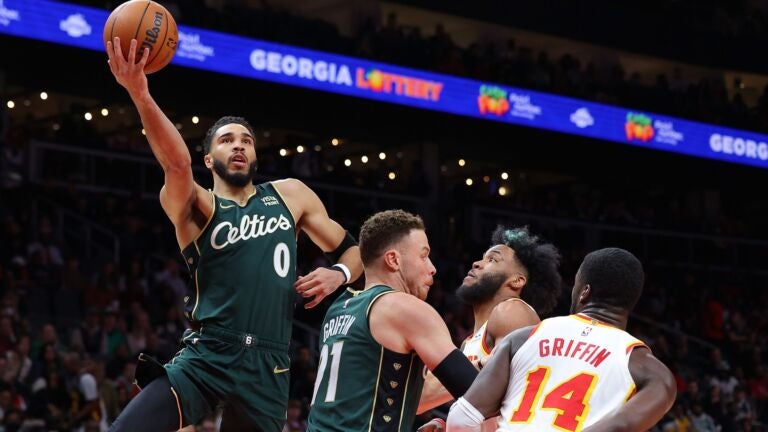 The Celtics received a relatively major contribution from an unexpected player in their 134-125 win over the Hawks on Saturday night.
Blake Griffin shined off the bench in Boston's victory. The soon-to-be-34-year-old scored eight points on 4-of-6 shooting with five rebounds, an assist, a steal, and a block in 15 minutes.
There were also the hustle plays Griffin brought, diving for loose balls and moving along the baseline to make sure Jalen Johnson didn't get his shot off prior to the third-quarter buzzer sounding.
Griffin's playing time might come as a bit of a surprise as he didn't play in five of the Celtics' first six games following the All-Star break. But with Robert Williams recently going down with a hamstring injury and Grant Williams struggling and reportedly dealing with an elbow injury, Griffin's number has been called.
Griffin played 18 minutes in the Celtics' shorthanded loss to the Cavaliers on Monday, helping the Celtics outscore the Cavs by seven in the minutes he played in. He also played 18 minutes against the Trail Blazers on Wednesday, recording six rebounds, three assists, and two steals.
Celtics coach Joe Mazzulla explained the hustle plays have gotten Griffin back into the rotation as of late.
"He had three offensive rebounds, he does a great job on the offensive end of screening," Mazzulla said. "Those short rolls, he had a couple of those tonight. Defensively, he's got active hands, he's always getting deflections, knocking balls alive, keeping balls alive on both ends of the floor so we can get those.
"I just like his overall mental, physical, emotional toughness that he brings to our team. I feel like he makes the guys better when he's on the floor."
One of those players that feels the boost when Griffin is on the floor is Jayson Tatum. He admitted as much following Saturday's game, in which he scored 34 points.
"I appreciate that a lot," Tatum said of Griffin's play. "I know the guys do as well. He never makes it about himself. It's contagious — his energy, enthusiasm, and personality. We're all very fortunate to have him as a teammate because everybody respects him and respects what he's accomplished.
"His voice carries. He's somebody that's always going to be ready when his number is called. Whatever it takes from game-to-game to just contribute and whatever minutes he gets, we know he's gonna bust his [expletive]."
Tatum also credited the six-time All-Star for embracing his role off the bench.
"I give Blake a lot of credit," Tatum said. "He was a superstar in this league — multiple All-Star, All-NBA, so he was really at the top. Whether it was because of injuries or whatever, he's taken on a different role. It's been really unique to see his attitude every day. He doesn't play for two weeks and then with certain guys out, he'll play four or five games in a row. He takes the first bus. On off days, he plays pickup with the guys that might not play to help keep their cardio up.
"You just don't see that with guys that were at his level."
As Tatum raved on about how Griffin has inspired the Celtics, Mazzulla continued to mention how the play of everyone else rises when he's on the floor.
"There are certain people, he's one of them, that when he's on the floor, everyone else is better," Mazzulla said. "And because of his experience, his toughness and the way he plays, he does that."
Sign up for Celtics updates🏀
Get breaking news and analysis delivered to your inbox during basketball season.