Celtics
Celtics players explained how they regrouped to close out win vs. Hawks following Marcus Smart's ejection
"The mentality was to finish the game and we did."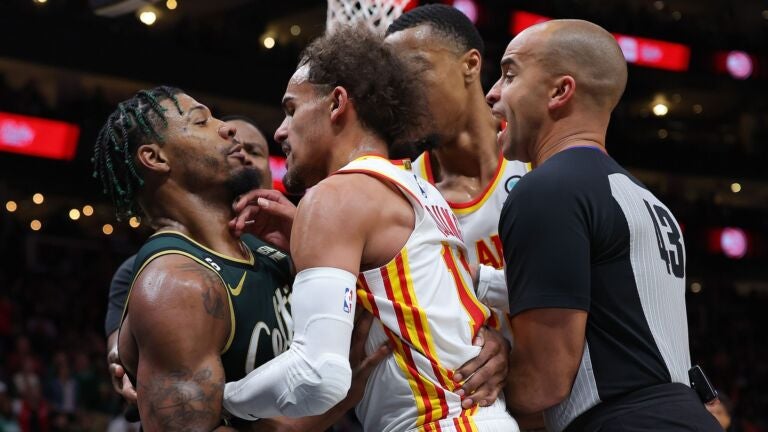 The Celtics' 134-125 win over the Hawks was mostly smooth sailing as they held the lead from the middle of the second quarter all the way through the final buzzer on Saturday.
There were still dramatics late in the game, though.
With 1:25 remaining, Marcus Smart took exception to something Hawks star Trae Young did when Smart fouled him. The two went face-to-face before taking each other down to the ground.
Following a several-minute-long review, the officiating crew ejected Smart and assessed Young with a technical foul.
The crew chief for Saturday's game, Sean Wright, told the Atlanta Journal-Constitution's Lauren Williams in the pool report that Smart was ejected "for the grab and take down," adding that Smart slammed him to the ground.
Wright said that Young only got a technical foul because "his actions did not rise to the level of an ejection" but received a technical foul for "getting up and pointing in Marcus Smart's face."
Following Smart's ejection, Young made two free throws to cut the Celtics' 129-123. Boston couldn't score on its next trip down the court and allowed Atlanta to grab a couple of offensive rebounds.
Al Horford put an end to the Hawks' comeback bid, when he blocked John Collins's shot with 39 seconds left, leading to an easy two points in transition for the Celtics to go up 131-123.
Horford explained what he saw during the play Smart got ejected on and how the Celtics worked through it.
"I mean, I just saw them both go down," Horford said. "Them chirping at each other and going down. All we were doing is try to do damage control and split them up the best we could.
"We got some adversity there. Not ideal but as a group, we have to regroup, we have to get it together and move on. We can't have him be in those positions and do that, it puts us in a tough place but it doesn't matter what it is. We have to keep it moving and we did that tonight."
Tatum credited the Celtics' mentality to move past Smart's ejection and pull out the road win.
"We were just aware of the moment," Tatum said. "Whatever happened, happened. The mentality was to finish the game and we did. We got key stops. Al got a big block which led to a transition bucket and we went from there.
"The carryover of moving onto the next play, for us to do that in the time of the game with us being on the road was big for us."
Celtics coach Joe Mazzulla was succinct in his thoughts on how the team finished off Saturday's game following the ejection.
"It's part of it. You have to navigate in the chaos," Mazzulla said.
Smart didn't speak to reporters following the game and it's yet to be seen if he'll receive any further discipline from the league.
Smart's ejection on Saturday came two days after he co-signed Raptors guard Fred VanVleet's profane-laden rant about the league's officiating.
"I don't know if you guys have seen Fred VanVleet's interview. That's all I'm gonna say," Smart said when asked about some of his foul trouble problems as of late on Thursday. "Obviously, it let you know that I'm not speaking out of my butt. And I'm not the only one that feels that way. So I'm gonna let Fred do all the talking."
When asked how he kept his composure following Saturday's incident, Young mentioned VanVleet.
"I'm not gonna Fred VanVleet these people," Young said. "I'm just going to keep it there."
Sign up for Celtics updates🏀
Get breaking news and analysis delivered to your inbox during basketball season.