Celtics
6 takeaways as Celtics fall to Rockets despite 43 points from Jaylen Brown
"We didn't have a sense of urgency, and we weren't rewarded tonight."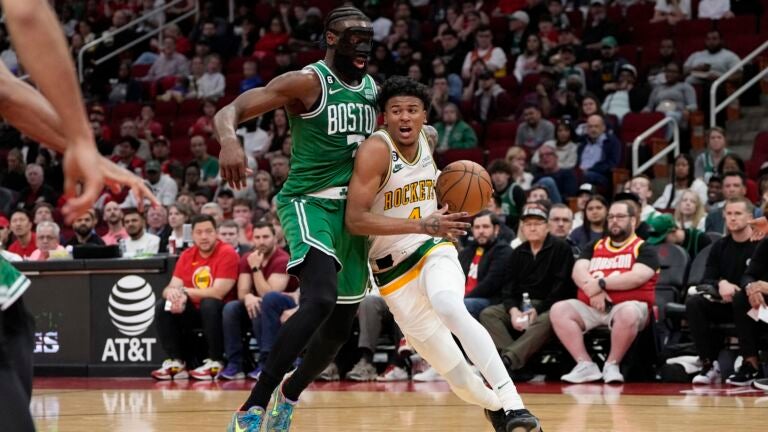 The Celtics dropped a lackluster loss to the Rockets on Monday, falling 111-109 in the second contest of their six-game road trip.
Here are the takeaways.
1. If the Celtics' run of blown double-digit leads brought fans five minutes from midnight on the panic meter, Monday's loss to a team firmly lodged in the lottery did nothing to resolve tensions.
The Rockets looked like themselves — a high-ceiling team in roughly 2026 or 2027 — but the Celtics made a number of costly mistakes. On one play in the third quarter, Marcus Smart thought he got hit on the arm while shooting a 3-pointer, and he opted not to get back quickly, which allowed Kenyon Martin Jr. to fly in for a huge one-handed slam in transition. The Celtics gave up 15 offensive rebounds, which led to a 17-10 disparity in second-chance points and also gave the Rockets a crucial opportunity in the final minute to run the clock down. They were outshot at the free-throw line, and they lost the turnover battle.
"Those are concerning, the margins," Joe Mazzulla said. "The free throws, the rebounding, the turnovers, the second chances. Regardless of who you play, playoff basketball at its finest is the ability to win those situations. So it's concerning that we're inconsistent in that, and we have to be committed to those regardless of who we're playing, regardless of the situation, regardless of how many games are left, it doesn't matter. We have to be committed to those."
Much of Monday's loss can be written off if you look at it the right way. The Celtics clearly didn't take the Rockets seriously, and they got burned. That's not encouraging, but it also doesn't mean much long-term — expect the Celtics to be significantly more engaged for, say, a first-round playoff opponent.
Maybe this Celtics team believes they can turn it on for the postseason. Maybe they're right. After all, Smart, Brown and Jayson Tatum have made the postseason every year of their careers so far. Brown and Tatum both have more conference finals appearances than Paul Pierce did in 2009-10 when a mediocre regular-season Celtics team woke up and stormed to the NBA Finals. They know how the postseason works.
Still, the Celtics haven't looked like a championship team for a few weeks, and while they keep saying the right things, progress hasn't followed. After their loss to the Cavaliers, Malcolm Brogdon said the "expectation" was that they would win every game on this road trip. Two games into the trip, that goal was laid to rest by a franchise focused more on landing Victor Wembanyama than on winning games during 2022-23.
Maybe Mazzulla is right and the problem is just in the details — some offensive rebounds here and a few turnovers there. The Celtics certainly better hope he is.
2. Brown showed up in a big way, scoring 43 points on 16-for-25 shooting. He finished 8-for-11 around the rim and 5-for-5 from mid-range, and he even shot 4-for-10 from behind the arc while the rest of his team shot 25 percent. On a night when very few of his teammates helped much, Brown did everything he could to boost the Celtics back into the conversation for the No. 1 seed.
Brown's bigger complaint, however, was the defensive performance.
"I think last year we had a great rhythm at this point defensively, and the offense would catch up," Brown said. "I think right now, we got a great rhythm offensively, but the defense is something that has to be there. It can't be like we have to catch up. That has to be there every single night. It's not there right now."
3. Tatum (2-for-10), Smart (2-for-7), Derrick White (1-for-3), and Sam Hauser (1-for-6) were a combined 6-for-26 from 3-point range.
Afterward, Tatum took responsibility for how flat the Celtics seemed throughout the game.
"I have to be better starting the game, just from an energy level," Tatum said. "Being active out there because towards the end of the game, we were trying to come back, damn near trying to be perfect. A couple turnovers, or they were getting shots and they were already in rhythm. That starts from the beginning. So I have to be better, and we have to be better to start. …
"We kind of played with the game, and tried to win at the end instead of playing how we're supposed to play the entire game from start to finish. We've just got to be more consistent throughout the course of the game, and we'll be better and learn from it."
4. After consecutive DNP-CDs, Grant Williams entered the game for Malcolm Brogdon early in the second quarter but played just eight minutes in two second-quarter stints. He did not return to the floor in the second half.
5. Robert Williams' return date remains "unclear." He expects to start ramping up his workouts on Tuesday.
6. The Celtics' loss dropped them three games behind the Bucks in the loss column and just a game ahead of the 76ers. Without a bit of a run and a minor collapse by the Bucks, the Celtics have handed over a commanding lead in pursuit of the No. 1 seed in the Eastern Conference over the last few weeks.
"We should be mature enough to just persevere through, but it just seemed like at times, today, it was a tough mental game," Brown said. "It was quiet, playing a team that only got what 15-16 wins, you think it's just automatically going to happen.
"That's not the NBA, that's not basketball. You can lose on any given night. We didn't have a sense of urgency, and we weren't rewarded tonight. That's what happens."
Monday's loss was unimpressive and potentially costly. The Celtics will look to bounce back on Wednesday against the Minnesota Timberwolves.
Sign up for Celtics updates🏀
Get breaking news and analysis delivered to your inbox during basketball season.