Celtics
5 takeaways as Celtics hold off Trail Blazers, Damian Lillard
"The game is never going to be perfect."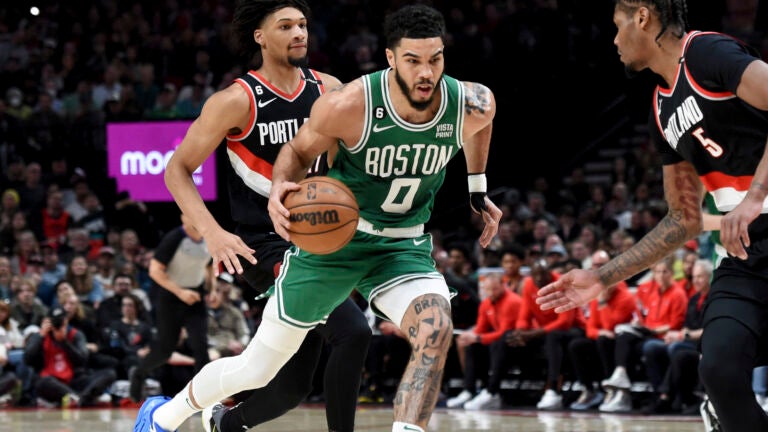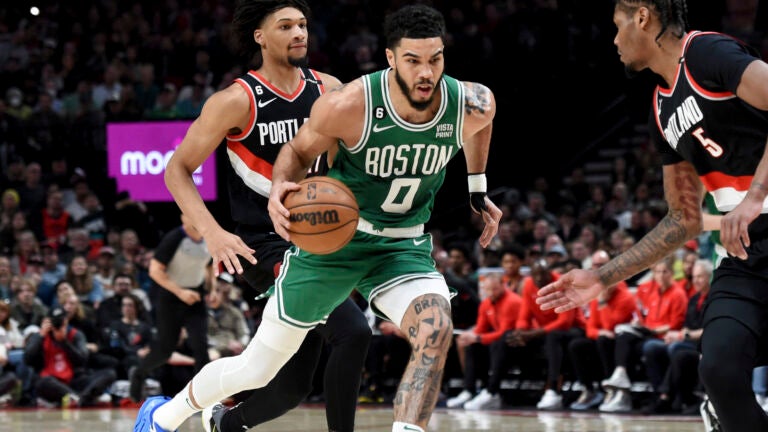 The Celtics hinted at a collapse on Friday against the Trail Blazers, but they found timely baskets down the stretch and claimed a 126-112 victory.
Here are the takeaways as the Celtics improved to 3-1 on their road trip.
1. Jayson Tatum didn't necessarily break out of his shooting slump (2-for-11 from 3-point range), but as part of a Celtics offense that got itself rolling again with ball movement and spacing, he was efficient and highly productive again — 34 points on 8-for-20 shooting.
Tatum was most dangerous getting to the rim, where he shot 5-for-6 in the restricted area, and he went 14-for-16 from the free-throw line. Sometimes a stat line doesn't tell the whole story, but sometimes it kind of does — Tatum was great when he went to the rim, and less so when he shot from deep.
"I think it honestly is as simple as that, just being aggressive," Tatum said. "I got a couple steals, got out in transition, and it just kind of got me going early."
2. Damian Lillard nearly brought the Blazers back from the brink, and Celtics fans might understandably have started to tense up watching another fourth-quarter lead start to dwindle. With 9:20 remaining in the fourth, after Marcus Smart went 2-for-3 from the free-throw line, Lillard checked back into the game with the Celtics leading 98-80.
Over the next seven minutes, Lillard cut into the Celtics' big lead with a barrage of baskets — scoring 23 of his 41 points during that stretch. With 2:22 remaining, the Blazers trailed 113-105 and had the ball after Tatum committed an offensive foul.
Fortunately for the Celtics, Friday was just a "good" Damian Lillard game — not a transcendent one. With 2:13 remaining, Lillard turned the ball over (more on that in a minute) which resulted in a dunk by Jaylen Brown. Al Horford buried a 3-pointer on the next possession, Tatum converted an and-one, and the Celtics were back in control.
The Celtics as a whole were pleased with their response.
"The game is never going to be perfect," Tatum said. "It's the NBA, they're going to make runs. And like I tell you guys all the time, it's just how you respond. In the games that we win, usually we respond. In a couple of the games we lose, it's kind of a snowball effect, and it's hard to overcome that sometimes."
"Dame went off," Smart added. "We still were able to keep our poise and respond."
Friday's mini-collapse had a justifiable reason — Damian Lillard is one of the deadliest scorers in recent memory.
But the Celtics never really stopped playing well on Friday — Lillard just couldn't complete an absurd comeback single-handedly in time. If we are being picky (and head coach Joe Mazzulla is the one who always likes to talk about margins), it would be nice to see the Celtics figure out a way to pull out of nosedives that are less justifiable as well and win a game after it snowballs on them for a stretch.
3. Smart may have saved the Celtics from further nail-biting down the stretch. Defending Lillard with the lead as low as it had been in the fourth quarter, he got into the Blazer star's space and gave him very little room to either operate or get a shot off. When Lillard tried to put the ball on the floor, he dribbled it off Smart's knee, and the two players both dove to the ground. Predictably, Smart came up with it and found a way to shovel it to Al Horford. The result was Jaylen Brown's dunk.
If you ever find yourself wondering why Smart is in the game down the stretch even though other players are better for floor spacing, that 12-second clip contains your answer.
"'Don't let [Lillard] shoot it,'" Smart said, when asked what he was thinking in that moment. "He was getting up some shots and hitting some tough ones. He was shooting the ball really quick, and he was doing what he does. He was drawing contact and getting to the free throw line as well, so for me on that play, it was really just to make it as tough as I could."
Smart told reporters he felt sick in the morning and threw up before shoot around, but his condition improved as the day went on.
"I felt a little better, enough to play," Smart said. "And we just tried to — whatever I could give, get out there and give it."
Smart finished with 15 points on 5-for-8 shooting with six assists and four steals.
4. Al Horford missed a triple-double by just one category, tallying 12 points and a game-high 10 assists. It was just the eighth time in his career that he has topped double-digit assists.
Horford is yet to play in a back-to-back this season, but he played just 26 minutes on Saturday. He told reporters he expects to be available on Saturday against the Jazz.
5. The Celtics will see some familiar faces in Utah. Assistant coach Will Hardy, who joined the Celtics as part of Ime Udoka's staff last year, left the team this offseason before Udoka's suspension to become coach of the Jazz.
Tatum, who had a relationship with Hardy that dates back to Team USA, wasn't exactly surprised.
"I knew it was only a matter of time until he became a head coach," Tatum said. "He has a great way of connecting with guys. He's still young, so he can connect with guys on the team in a special way, but he really knows how to coach, and Utah has had a relatively good year, but from the beginning, I always knew it was only a matter of time until he would leave us and get his own opportunity."
If Danny Ainge isn't attending March Madness, the Celtics also might see their former President of Basketball Operations, who is now an executive for the Jazz. Tatum maintains friendly feelings for the man who drafted him.
"We'll always have a great relationship," Tatum said. "I'm very thankful for him. Essentially took a chance on a 19-year-old kid. Drafted me and made my dream come true, so I'll always be thankful for that regardless of wherever I'm at, wherever he's at, I'll always remember him in that way. He was the guy that kind of made the decision that helped make my dream come true."
The Celtics play the Jazz at 9 p.m. EST.
Sign up for Celtics updates🏀
Get breaking news and analysis delivered to your inbox during basketball season.