Celtics
Jaylen Brown gives noncommittal answer on staying in Boston because Celtics fans will 'go crazy'
"I don't really know or want to answer that question because that type of stuff makes Celtics fans speculate and go crazy"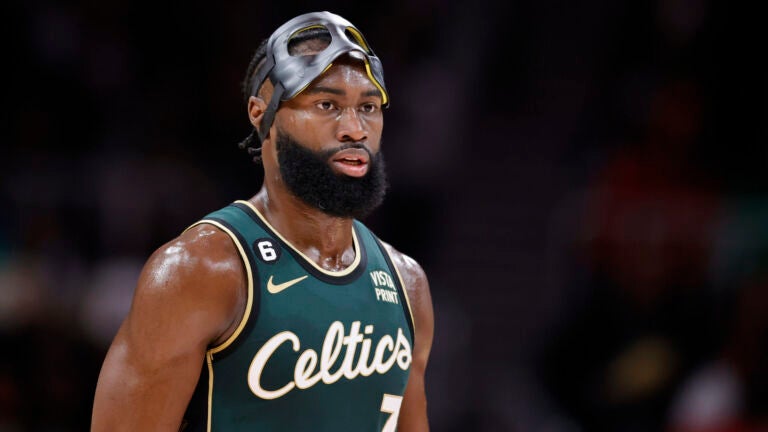 Jaylen Brown's deal with the Celtics is set to expire in 2024.
He's in his seventh season in Boston and a part of one of the NBA's best duos. The Celtics, despite their recent struggles, are legitimate NBA title contenders.
So, there's interest in Boston and beyond in finding out whether the Celtics will be able to keep Brown beyond next summer.
Logan Murdock of The Ringer asked Brown if he plans to stay in Boston long-term during a recent interview.
"I don't know. As long as I'm needed. It's not up to me," Brown said. "We'll see how they feel about me over time and I feel about them over time. Hopefully, whatever it is, it makes sense. But I will stay where I'm wanted. I will stay where I'm needed and treated correct."
Last June, after the Celtics' loss to the Warriors in the NBA Finals, Brown liked a tweet that said, "Jaylen Brown is so disrespected by Celtics fans."
In a recent New York Times profile, Brown said that he felt "adversity" in Boston while trying to start a business or buy a house. He said that he's also experienced issues with segments of the Celtics' fan base.
"I have, but I pretty much block it all out," Brown told the New York Times. "It's not the whole Celtic fan base, but it is a part of the fan base that exists within the Celtic nation that is problematic. If you have a bad game, they tie it to your personal character.
"I definitely think there's a group or an amount within the Celtic nation that is extremely toxic and does not want to see athletes use their platform, or they just want you to play basketball and entertain and go home. And that's a problem to me."
There were also rumors on multiple occasions that the Celtics would swap a package based around Brown to the Brooklyn Nets in exchange for Kevin Durant.
Durant has since been traded to the Suns, but Brown admits there was a time when he wasn't sure if the Celtics would keep him. Durant and Tatum are friends and spent time working out together, Brown noted to the Ringer.
A three-way phone call between Brown, Tatum, and Celtics president of basketball operations Brad Stevens helped clear the air and get all parties on the same page.
"You just have to have a direct conversation," Stevens told The Ringer. "And you just have to be able to say, 'This is what's real. This is where we are. Obviously, you and Jayson are the two guys that we've built the whole roster around. And our every expectation is for us to come and compete together and try to be two games better than we were last year.'"
Brown said he enjoys being in Boston and playing with Tatum. Still, he's not sure about how long the duo will last.
"I just enjoy the time that you have now," Brown said. "If it's your whole career, it's your whole career. If it's not, it's not. Some of the greatest players of all time haven't finished with their organization. Michael Jordan retired a Wizard. As much as we like it here and enjoy being here, you see where life takes you. You see how the process goes. All you do is really focus on what's in front of you right now, to be honest.
"But I don't really know or want to answer that question because that type of stuff makes Celtics fans speculate and go crazy. Especially right now, I'll just say we'll get there when we get there."
Sign up for Celtics updates🏀
Get breaking news and analysis delivered to your inbox during basketball season.