Celtics
8 takeaways as Celtics blow out Pacers in return to TD Garden
Jayson Tatum and Jaylen Brown had big performances in the win.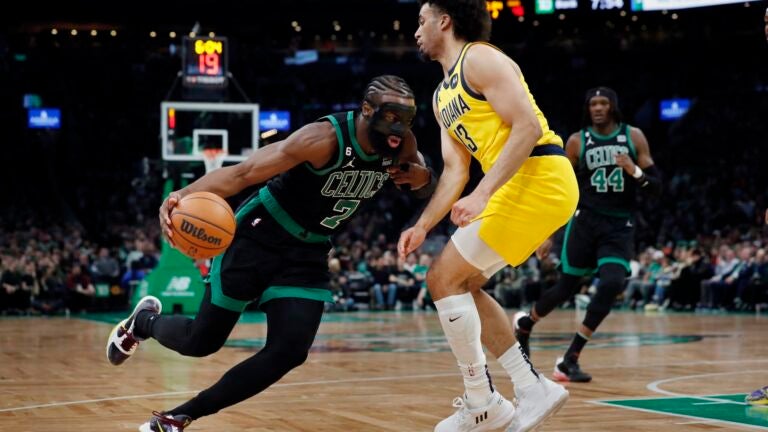 The Celtics defeated the Pacers 120-95 on Friday, claiming a big win in their return to TD Garden after a six-game road trip.
Here are the takeaways.
1. When Jayson Tatum attacks the rim consistently, the Celtics' offense looks like a significantly more dangerous group. Tatum — who has been icy cold from 3-point range since the All-Star break, shooting just 29.4 percent — still shot just 3-for-9 from behind the arc, but he was 10-for-13 in the restricted area. The Pacers have some solid rim protectors, but the Celtics were able to pull them away from the basket, and Tatum's snaking in-and-out drives to the rim might be his most dangerous weapon offensively.
"Just reading the defense, taking what they're giving," Tatum said. "Indiana, they've got Myles Turner, but they're not like a big team, so just finding angle and trying to get to the rim."
Tatum and Brown played off each other nicely as well. On one of Tatum's triples, Brown set the screen and rolled to the rim — bringing both defenders with him to free Tatum. On a third-quarter breakaway, Brown shoveled a nice pass to Tatum for a streaking layup, and then Tatum broke up the inbounds pass to Brown, who buried a deep 3-pointer that put the Celtics up by double digits.
"I think they are both finding a great balance of being dominant players and being team players," Joe Mazzulla said. "I just think when they do that our team is different because of the depth we have and how much better they make the people around them. Right now they are very committed to being both. I want them to be that so I appreciate that."
2. Derrick White recorded his second big game in a row, scoring 22 points and dishing out nine assists after dropping 20 points and 12 assists against the Kings.
Keeping White in the starting lineup seems to be a nice way to make sure he gets sufficient minutes, even when the closing lineups aren't entirely guaranteed. Mazzulla also said he likes the way it allows the Celtics to get organized behind Marcus Smart, which makes everyone a little more comfortable.
"I think it's just a team-connected dynamic of we're very cautious of our spacing and we're very cautious of playing the right way," Mazzulla said. "And I think everybody reaps the benefits from that. Like Smart only took three shots today, but his potential assists and what he did to get us in early offense is not on the stat sheet. And when Derrick is that aggressive because of those things, we're a different team."
3. Robert Williams came off the bench again in his second game back from a hamstring injury, and he had a big impact in his 15 minutes with three blocks and three steals to go with four points and eight rebounds. Encouragingly, Williams skied for a lob slam in the second quarter, showing improved bounce over Tuesday's return.
Williams' best play may have been this block, coming from behind to spike a shot by Myles Turner straight down to Derrick White, who was directly under the rim after trying to take a charge.
"One of the things [Williams] got better at in the second half was his defensive presence," Mazzulla said. "Recognizing who he was guarding and being able to help early. And so when he's there, he brings that presence at the rim, he was able to help on drives."
4. Jaylen Brown continued a hot streak that could prove very lucrative for him if it results in an All-NBA selection, pouring in 27 points and grabbing seven rebounds.
Notably, Brown also dished out four assists. Since the start of March, Brown is averaging 4.2 assists per game — up from his season average of 3.4. About half of those assists lead to catch-and-shoot 3-pointers, which is a nice indicator of Brown's creation with his passing. There has been a notable uptick in assists where Brown touches the paint and finds a teammate behind the arc as a result of a collapsing defense.
When Brown and Tatum are both distributing and sharing the ball at this level, the Celtics are a very hard team to beat.
5. Sam Hauser shot 3-for-4 from behind the arc as he continues to bounce back from his cold stretch in December and January. Hauser is now up to 47.1 percent from deep in February and March combined. He is shooting 46 percent from deep in Celtics wins, and just 31.4 percent in losses.
6. A funny moment occurred in the fourth quarter when Tatum crashed into the front row. A woman reached up to catch Tatum and when Tatum went to stand back up, she seemed … reluctant to let him go.
Was Tatum concerned for his safety?
"D-White was," Tatum said smiling, when NBC Sports Boston's Abby Chin asked him after the game. "They wouldn't let me go. D-White came over and made sure I was all right. So I appreciate that."
"I had to save him," White added. "That's my guy. I had to protect him."
Here's hoping Tatum will be OK.
7. Brown was offered a chance to expand on some of his recent comments about housing in a New York Times interview, but he declined, saying that he wants to focus on the Celtics' playoff run for the time being.
He was also asked if he's OK with people making assumptions about his thoughts.
"Not necessarily," Brown said. "I'm the type of person that likes to let people know how I'm feeling about certain things and situations. Sometimes when I don't speak, people speak for you. Sometimes things can get taken out of context and lost in translation when those things happen.
"But I pick and choose my spots. Obviously I'm not going to overcompensate myself and speak on everything and let everybody know how I feel about everything, because sometimes it ain't everybody's business. But at the same time just communicate, use my platform and try to be a leader in my community is what I pride myself on."
8. The Bucks and 76ers faced the Jazz and Warriors, respectively on Friday in later games after the Celtics played.
The Celtics have a relatively soft schedule before traveling to Milwaukee for their crucial showdown against the Bucks, with home games against the Spurs and Wizards.
The Bucks, meanwhile, have a tough back-to-back with the Jazz and Nuggets on the road on Friday and Saturday and road games against the Pistons and Pacers before taking on the Celtics on the second night of a back-to-back after wrapping up a road trip.
The Celtics and Spurs tip off at 6 p.m. on Sunday.
Sign up for Celtics updates🏀
Get breaking news and analysis delivered to your inbox during basketball season.