Celtics
What Jayson Tatum said to reassure Jaylen Brown amid trade rumors
"Without him, we can't reach our goal. You guys know that. The world knows that. The team knows that."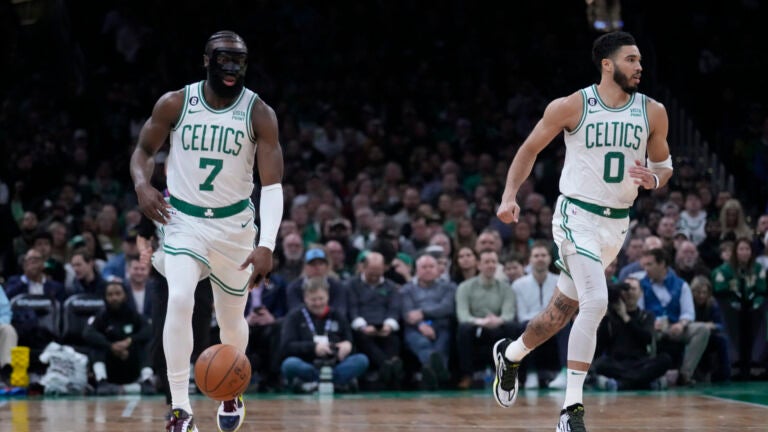 There was a point when Jaylen Brown wasn't sure whether the Celtics would keep him, or swap him for Kevin Durant.
Durant and Tatum are friends and spent time working out together last year. Brown's name was floated in trade rumors more than once.
Brown, Jayson Tatum, and Brad Stevens arranged a three-way call to talk about the direction of the franchise, Brown told The Ringer's Logan Murdock. All three parties were on the same page by the end of the call, Brown said.
On Friday night, Tatum told reporters about his message to Brown during that call.
"Just reassuring the obvious, that we need him," Tatum said. "That he's a big part of this team, this franchise. Without him, we can't reach our goal. You guys know that. The world knows that. The team knows that. We need him to be the best version of ourselves."
Brown was the subject of profile pieces published in The Ringer and The New York Times this week. He mentioned that he faced some adversity with trying to start a business and buying real estate in Boston.
He declined to give further details of the situation on Friday.
"I'll expand at some point, but right now I'm just focused on my team and getting ready for the playoffs," Brown said. "Anything else I consider a distraction. So, right now, that's my main point of emphasis, getting my guys ready to go. At some point, I'll expand. This is not the time right now."
Brown took a noncommittal approach towards questions about his future in Boston in The Ringer interview, which fueled speculation about whether or not he intends to re-sign with Boston when his contract expires after next season.
Brown said he doesn't necessarily like how fans have been left to guess how he's feeling, but also said he has to pick and choose his spots on what to address so things don't morph into a bigger distraction.
"I'm the type of person who likes to let people know how I'm feeling about certain situations and when I don't speak, people speak for you," Brown said. "Sometimes things can get taken out of context or lost in translation when those things happen. I pick and choose my spots.
"Obviously, I'm not going to overcompensate myself and just speak about everything or let everybody know what I feel about everything. Sometimes it ain't everybody's business. "
It's also generally a smart move to keep as much leverage on the table for negotiations.
The Celtics are in a position to pay Brown more than any other team and could possibly offer a supermax if he just makes an All-NBA team in one of the next two seasons.
Boston also has Brown under contract for next season, so any controversy will likely take some time to sort out.
"Sometimes it doesn't matter what you're going to say," Brown said. "People are going to take it from the perspective they want to take it from. That's the world we live in. People feed off of controversy. Controversy sells. So, If I have an opportunity to make something sound more appealing than it actually is, usually nine times out of ten they're going to take it.
"That's the life that we live, that comes with the job and territory, I'm not complaining. But, just having an understanding of it and not letting it affect you. I clarify myself sometimes when I need to, but sometimes you sweep stuff under the rug and keep going."
Sign up for Celtics updates🏀
Get breaking news and analysis delivered to your inbox during basketball season.