Celtics
Paul Pierce believes Jaylen Brown's recent comments might be him signaling he wants to be 'the guy' for a team
"There's a lot of factors that go into a mindset of a player of his caliber, because we know he's a premier player in this league."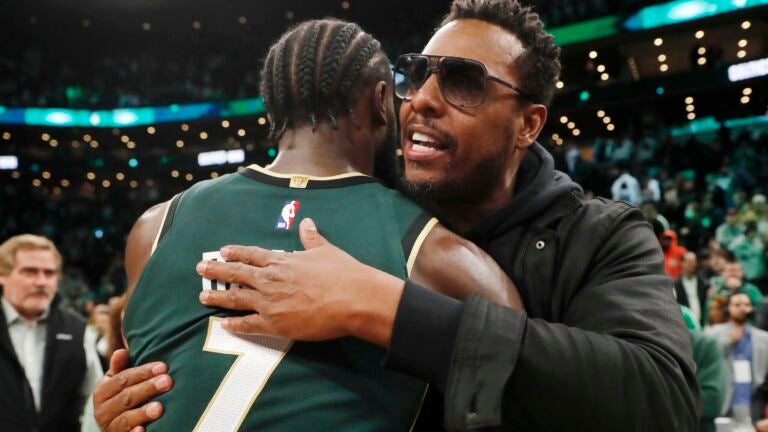 Jaylen Brown's recent comments in a pair of different profile pieces have many wondering if he'll remain with the Celtics when his contract expires following the 2023-24 season.
Brown specifically told The Ringer's Logan Murdock that his future in Boston "is not up to me," adding that: "We'll see how they feel about me over time and I feel about them over time. Hopefully, whatever it is, it makes sense. But I will stay where I'm wanted. I will stay where I'm needed and treated correct."
Celtics legend Paul Pierce believes that Brown's comments could be him signaling he might want a larger role that he wouldn't be able to obtain in Boston, citing a pair of other star players from his playing days that did the same thing.
"Maybe Jaylen wants the opportunity to be 'the guy'," Pierce said in an interview with SiriusXM NBA Radio's "The Starting Lineup with Frank Isola and Brian Scalabrine." "We've seen this for years as guys have left teams. Just think of James Harden. James Harden wouldn't be James Harden if he didn't leave [the Oklahoma City Thunder]. Tracy McGrady wouldn't have turned into T-Mac if he didn't leave Toronto. You never know. Maybe that's on Jaylen's mind or maybe he'll stay.
"There's a lot of factors that go into a mindset of a player of his caliber because we know he's a premier player in this league. Maybe he wants the opportunity to see if he can be 'the guy' or who knows."
On the court, some stats could suggest that Brown is more of a 1B to Jayson Tatum's 1A. He's shooting just one less shot per game than Tatum has so far this season (Brown has 20.4 field goal attempts per game to Tatum's 21.3 field goal attempts per game) and his usage percentage (31.1 percent) is less than two percentage points lower than Tatum's (32.9). That wasn't necessarily the case for Harden, who was third in the pecking order in his final season with the Thunder, and McGrady, who had roughly eight fewer shot attempts per game than Vince Carter in his last season with the Raptors.
However, Tatum is commonly viewed as the face of the franchise. Tatum's the only player on the Celtics with a max contract and consistently gets "M-V-P" chants, even in games where Brown outscores him.
As Brown's thrived this season, scoring a career-high 26.7 points per game, Pierce thinks that the Celtics' star duo plays well together, but noted that Brown could also handle the duties of being "the guy," if that's what he wants.
"I think they have a great understanding of each other," Pierce said. "I think they uplift each other. He doesn't get the same touches of the ball every time down like Jayson Tatum. He's, I think in my opinion, just as equally equipped to handle the same type of responsibility if given the opportunity."
Brown declined to elaborate more on his comments when speaking to reporters on Friday.
"I'll expand at some point, but right now I'm just focused on my team and getting ready for the playoffs," Brown said. "Anything else I consider a distraction. So, right now, that's my main point of emphasis, getting my guys ready to go. At some point, I'll expand. This is not the time right now."
Brown's comments certainly don't appear to be much of a distraction to the Celtics. Since Brown's comments were made public on Tuesday, the Celtics have won both of their games in convincing fashion, defeating the Western Conference's second-seeded Kings 132-109 and the Pacers 120-95. Brown scored 27 points in both games, shooting 10-of-16 from the field against the Kings and 10-of-23 from the field against the Pacers.
Sign up for Celtics updates🏀
Get breaking news and analysis delivered to your inbox during basketball season.