Celtics
7 takeaways as Celtics rout Spurs behind Jaylen Brown's 41 points
"His game really speaks for itself."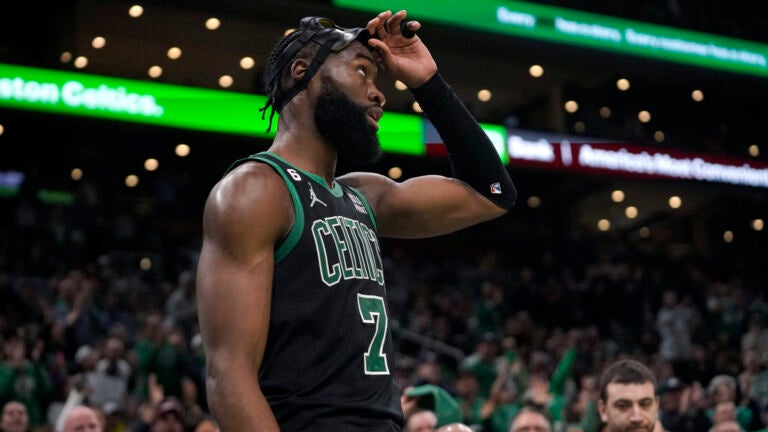 The Celtics rolled to a 137-93 win over the Spurs on Sunday, claiming their fifth win in their last six games.
Here are the takeaways.
1. On Friday, Jayson Tatum led the Celtics by shooting 10-for-13 in the restricted area against the Pacers.
On Sunday, with Tatum sidelined against the tanking Spurs, Jaylen Brown did him one better — scoring 41 points which included 13-for-15 shooting in the restricted area against a Spurs defense that had absolutely no chance of slowing him down. Spurs guards and wings couldn't keep him in front. Spurs bigs couldn't alter his shot when he got his shoulder into their bodies.
And, of course, Spurs forward Sandro Mamukelashvili couldn't do anything to stop Brown from throwing down a monster first-half dunk in transition as the Celtics started to put some distance between themselves and the Spurs.
On a night when Brown's 3-point shot wasn't falling (2-for-10) and he shot just five free throws, he remained efficient by shooting 16-for-19 inside the arc.
"He's the best shooting guard in the league," Malcolm Brogdon said. "He'll be All-NBA, he'll make one of the team's this year. His game really speaks for itself."
Brogdon's sentiment is nice, but he should be careful calling Brown a shooting guard — making the All-NBA team will be a lot harder from Brown if he is classified as a guard instead of a forward.
As Brown sat down in the fourth quarter, he received a standing ovation from the TD Garden crowd. Brown tipped his protective mask to the applauding fans.
"Since I've been here in Boston, I've always taken pride in doing what I've been asked to do," Brown said. "Whatever challenge there's been, I've always met that challenge with excitement and a willingness to be a part of a team. When you get an opportunity to be the guy that everybody is kind of leaning on, it's a privilege, it's an honor. So I don't take those moments for granted."
2. Brown told reporters he took a couple of hits to the face, one of which made his nose bleed — slightly concerning, since he is still wearing a mask to protect his cheek after his collision with Tatum earlier this year.
Still, Brown said that while the cartilage in his cheek isn't fully healed, doctors have told him he should be safe if he takes a hit. So how much longer will he keep wearing the mask?
"I guess technically I got like a couple more days until I don't have to wear it anymore if I didn't want to," Brown said. "But if you want to be safe, they say you keep wearing it. My mom wants me to wear it, so I'll probably keep wearing it."
3. Derrick White shot 4-for-6 from deep. Like Sam Hauser, he slumped in December and January, but he's up to 40 percent in March and an impressive 46.9 percent in his last five games.
"I think we're seeing his offense right now, but first half of the season, it was his defense people were talking about," Brogdon said. "So he's incredibly versatile and can impact the game in a lot of ways."
Before the game, White's former coach Gregg Popovich said the Celtics' guard — who took an unconventional collegiate path to the NBA — just needed to realize he belonged in the league.
"He understood how to play," Popovich said. "Most NBA players don't know how to play. He did. He added skill development on top of that. He's been working a lot on his shot, ball-handling, pick-and-roll, those sorts of things. He just got better and better because he put so much time in.
"Then it was just a matter of convincing him that he did belong so that his confidence would grow, and you've seen that continue in his time here in Boston. Special young man."
4. It probably isn't a direct 1-to-1 causation, but it's hard to ignore the correlation as the Celtics decimate three straight opponents with Robert Williams back from a hamstring injury. Williams finished with 11 points, eight rebounds and a blocked shot with a number of other shots altered in just 18 minutes after he was pulled early in the fourth quarter with the Celtics up big.
Williams said the Celtics have been done well taking criticism from one another over the last three games.
"We feel like we're playing with a better purpose," Williams said. "But it just starts with communication instead of burning each other."
5. The Celtics finished with 11 blocked shots — the fourth time this season they have finished with 10 or more blocks, and the second time they have reached double digits against the Spurs (they blocked 10 on Jan. 7). Their season-high was 12 in a loss to the Magic.
6. Marcus Smart was ejected in the third quarter for "using derogatory language directed at a game official" according to a pool report after the game.
Smart — who was also ejected against the Hawks on March 11 — looked genuinely surprised by the ejection as he exited the floor.
"I didn't get an explanation as to exactly what happened," Joe Mazzulla said after the game. "But I trust Smart in that situation. It will be communicated."
7. The Celtics now lead the 76ers by four games and trail the Bucks by 1.5 games for first in the Eastern Conference standings. They face the Wizards on Tuesday before traveling to Milwaukee.
The Bucks, meanwhile, face relatively easy challenges against the Pistons and Pacers, but both games are the road, and their contest against the Celtics will be their third game in four nights and the second night of a back-to-back.
"I think it's apparent when Milwaukee took the No. 1 seed from us after the break, it was sort of a shock to us that we had dropped because we had created some separation between us and them," Brogdon said. "That's something we want. We want the No. 1 seed. I think this team understands the importance of having home-court advantage in the playoffs, so that's something we are going after."
Would it be a harsh lesson to lose out on the 1-seed?
"Nah," Brogdon said. "If we don't get it, regardless, you have to play basketball. Regardless, you are going to get people' best games and regardless, you are going to have to go through teams like Milwaukee. We're going to be prepared regardless."
Sign up for Celtics updates🏀
Get breaking news and analysis delivered to your inbox during basketball season.