Celtics
Celtics' Malcolm Brogdon on Jaylen Brown's 41-point performance against Spurs: 'He's the best shooting guard in the league'
"When JT is out, he's a number-one option, and he's showing that he can be that."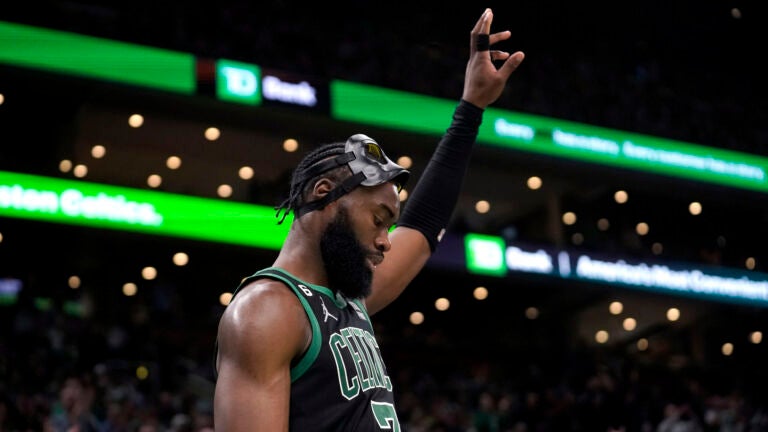 No Jayson Tatum, no problem for the Celtics on Sunday night.
Even with Tatum held out of the game due to a left hip contusion, Boston diced up the Spurs at TD Garden by way of a 137-93 blowout victory.
As expected, most of the scoring duties fell on Jaylen Brown's shoulders with Tatum sidelined. And the Celtics' star delivered on the parquet floor, recording 41 points, 13 rebounds and three assists in just 36 minutes against San Antonio.
Brown feasted against a weak Spurs defense, posting 26 points in the first half while sinking all nine of his field-goal attempts. The 26-year-old wing's strong start helped pace Boston to its third-straight 20-plus point victory after demolishing the Kings and Pacers last week.
Had it not been for a rough shooting night from 3-point range (2-for-10), Brown likely would have recorded his second career 50-point performance (Jan. 2, 2022 against the Magic).
But Brown was dominant in just about every other area of the game, headlined by a thunderous dunk that got Paul Pierce and many others out of their seats during the second quarter.
Postgame, fellow Celtics guard Malcolm Brogdon had high praise for Brown after yet another night where he excelled as Boston's top scoring option.
"Super-high level," Brogdon said of Brown's current play, per NBC Sports Boston. "He's the best shooting guard in the league. He'll be All-NBA, he'll make one of the teams this year. And his game really speaks for itself.
"When JT is out, he's a number-one option, and he's showing that he can be that. He's put in the work. He's evolved since we came to the league together. He's evolved and taking giant steps forward every year. I mean, he's playing at an extremely high level."
Brown, who is averaging 27.0 points, 7.0 rebounds and 3.4 assists per game this season, should be in prime position to secure a spot on one of the three All-NBA teams for the 2022-23 campaign.
As noted by NBC Sports Boston's Chris Forsberg, Brown has managed to elevate his game despite playing the last 14 games while recovering from a facial fracture.
In these last 14 contests where Brown has had to wear a mask, he's averaging 28.6 points per game and sinking 51.8 percent of his shots — including 37.6 percent of his attempts beyond the arc.
Postgame, Brown acknowledged that he may not have to wear that protective gear for that much longer.
"I think it's not fully healed," Brown said of his injured cheek, per NBC Sports Boston. "I think they say like you got like six weeks until the cartilage starts to grow back. So you're, I guess, safe if you were to take another hit. But you still got another six weeks before it fully gets back to where it is, or where it's supposed to be. So I guess technically I got like a couple more days until I don't have to wear it anymore if I didn't want to."
But even if he's given the green light to shed that mask, Brown might stick with the added protective gear — given an edict he received from his family.
"If you want to be safe, they say you keep wearing it," Brown said. "My mom wants me to wear it, so I'll probably keep wearing it."
Newsletter Signup
Stay up to date on all the latest news from Boston.com