Celtics
Jaylen Brown discusses meeting with DOJ, White House
"I think we're here to do more than just play basketball games."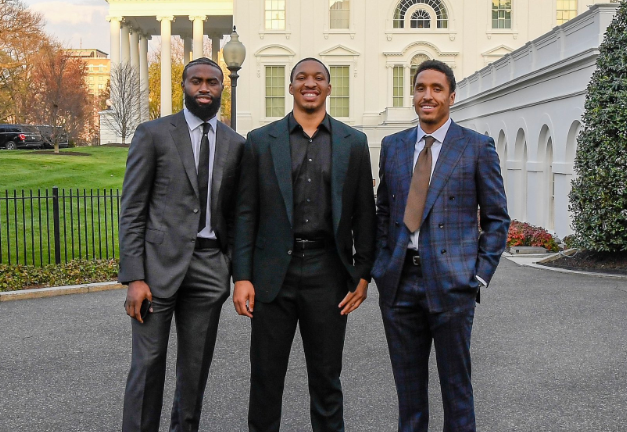 On Monday, Jaylen Brown, Malcolm Brogdon, and Grant Williams met with members of the Department of Justice and President Biden's administration to discuss potential policy changes.
The three Celtics, who are also three of the vice presidents of the NBA's players association, took time to meet with government officials in Washington before taking on the Wizards Tuesday night.
Following Tuesday's practice, Brown met with reporters to discuss the details of the meeting.
One of the main topics that Brown detailed was how NBA players and professional athletes in general can use their statuses for good.
"We sat down and had a conversation about some of the things going on," Brown said. "How to use our platform more, how to collaborate, just get more involved. I think that athletes have a tremendous platform, regardless of if people want us to use it or not."
The Celtics forward pointed out his teammate Brogdon as a great example of how an athlete can create positive change.
"Malcolm is my brother, on the court and off," Brown said. "A lot of the things he stands for I appreciate but also I have a tremendous amount of respect for. What he's doing in Africa with his foundation with the clean water, he just spoke at the United Nations last week. He's just a model of how athletes can have an impact, have an incredible amount of influence and responsibility in their community and how people should want us to do more with it than come out and play a game with a ticket price and then go home."
While Brown said he wasn't sure if he could share who exactly the players met with on Monday, he was able to recount the issues that the group discussed.
One of the topics that arose was the "raise the age" law. The age at which an individual can be tried for a crime as an "adult" varies between states. Brown said that one of the goals of him and his teammates is to raise that age in states close to them like Georgia, Wisconsin, and Massachusetts.
Another topic the group discussed was reintegration programs for previously incarcerated individuals.
"Once you commit a crime its almost like when you try to reintegrate back into society, your only choice is to go back in," Brown said. "I think there should be different options."
Later in his meeting with reporters, Brown echoed the importance of athletes recognizing their platform. He mentioned that athletes don't have to only meet with policy makers to develop change, they can work with their peers as well.
"One of our roles as the vice presidents of the players association is to pull our counterparts in and make it more comfortable for everyone," Brown said. "We still want to get more people involved, more players involved, more athletes involved to use their platform because I think we're stronger together."
Sign up for Celtics updates🏀
Get breaking news and analysis delivered to your inbox during basketball season.