Celtics
6 takeaways as Celtics dominate Bucks in bounce-back victory
The Celtics put together one of their most impressive wins of the season against a tired Bucks team.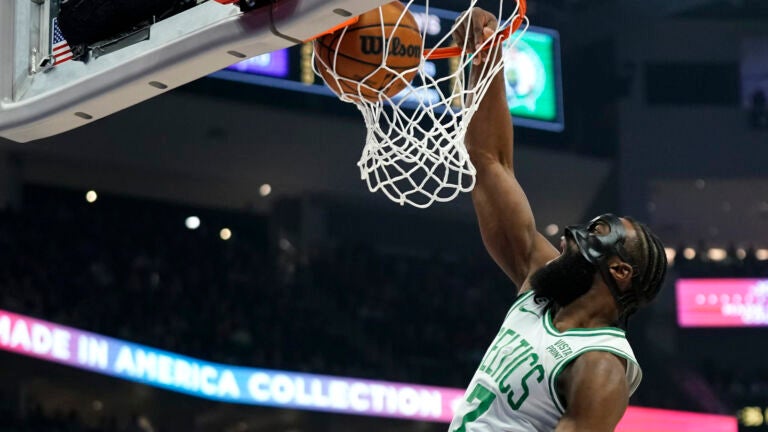 The Celtics dismantled the Bucks on Thursday, claiming a 140-99 victory to keep the door to the 1-seed from closing entirely.
Here are the takeaways.
1. Before Celtics fans start talking too crazy, we should address the circumstances on Thursday. The Bucks were soundly beaten, but they were playing their second game in as many nights after handling the Pacers on Wednesday. They were also playing their third game in four nights and arrived back in Milwaukee after a four-game road trip the night before Thursday's game. The Bucks' team bus may have cut off the NBA's schedule makers in traffic the day the schedules were released, because the circumstances going into Thursday's game were pretty unreasonable.
"Obviously they played last night," Al Horford said. "That's just the way the NBA schedule works, and we benefitted from that."
They certainly did. Still, the Celtics were dominant. The Bucks aren't likely to shoot 3-for-20 from 3-point range often, and the Celtics aren't likely to hang 75 first-half points on their vaunted defense repeatedly in the postseason. But the Celtics are still a nightmare matchup for Giannis Antetokounmpo, they can still space the Bucks to the 3-point line better than just about anyone else, and they can still punch holes in the Bucks' defense.
And, of course, Tatum and Brown are still tough — particularly for the Bucks, who don't really have a great 1-on-1 answer for either player, and especially for both of them playing well at once, and especially for both of them playing well with Malcolm Brogdon attacking the basket.
The Bucks can reasonably tell themselves that they will be fine. Thursday's game had a number of extenuating circumstances. They have still been the NBA's hottest team for months. They know — and the Celtics know — how unreasonable their schedule was over the last few weeks.
But the Celtics didn't just win comfortably. They embarrassed the Bucks on their home floor. They won the season series, and their lone loss came without any of their starters. That game was competitive too.
"At this point, it's not about sending messages," Horford insisted. "I just think for us it's to do what we have to do, handle our business."
Even if the Celtics weren't trying to send a message, they gave the Bucks something to sit and think about for a couple of days. The Bucks may win the 1-seed regular-season battle, but the Celtics look well-equipped for the postseason war.
"We know what the deal is. It's not hard to understand," Antetokounmpo told reporters. "If you're not focused, if you don't play hard, they're going to kick our ass."
2. Jayson Tatum is having a mediocre season from 3-point range, but his 8-for-10 performance on Thursday bumped him up from 33.6 percent from behind the arc to 34.4 percent in just one game. Tatum started hitting early, and those baskets carried him the rest of the way.
As a team, the Celtics were 22-for-43 from 3-point range. Tatum remains a microcosm of the team at large — when they start hot from 3-point range, they are virtually unstoppable. When they start cold, they seem to stay cold throughout the game.
3. Jaylen Brown got the Celtics going with 17 of his 30 points in the first quarter, including a flurry of 3-pointers.
More encouraging for the Celtics may have been Brown's off-ball cuts — he got behind the Bucks' defense and scored three times. If making 3-pointers is a sign the Celtics are playing well, good cutting and off-ball movement are signs they are having fun.
Horford was asked how different Tatum and Brown — who combined for 70 points total — have been this season.
"Well, much different," Horford said. "Continuing to grow, and I feel like really doing a good job of playing off one another and getting us involved and just everything that's asked of them, they are being conscious of doing that. And the growth is evident this year, they definitely have grown a lot."
4. This was a pretty remarkable photo of Robert Williams.
The video is pretty remarkable too.
Williams was excellent, even though he isn't built to defend Antetokounmpo like Horford and Grant Williams. In just 18 minutes, Williams grabbed seven rebounds — including four offensive — and went 3-for-3 from the field. Even when he isn't at his absolute springiest, Williams brings a lot to the court with his IQ and nose for the ball.
5. Thanasis Antetokounmpo — who can be seen in the video above leaping up to celebrate the dunk that never happened — was tossed in the final minutes after tussling with Blake Griffin. Antetokounmpo appeared to head butt Griffin after the two players exchanged physical plays. Griffin ultimately gave a hard foul against Antetokounmpo.
Fortunately, the Celtics have something for that.
"I thought he needed some protection out there," Brown said with a chuckle. "Guys head-butting guys. Maybe the whole team needs masks."
6. Now the Celtics have an odd challenge — rather than trying to put a bad loss in the rearview, they have to bounce back from one of their most dominant, impressive wins of the season. On Friday, they take on the Jazz, who handed the Celtics a one-point loss on their recent road trip — a finish Grant Williams would probably like to forget.
"Developing that consistency, that's something that's going to be put to the test tomorrow," Horford said. "So we'll be able to talk about this tomorrow, understanding that we have Utah coming in, we had a chance to beat them at their place, we didn't."
The Celtics now trail the Bucks by two games in the standings. The race for the 1-seed is probably still over, but the Celtics locked in the season tiebreaker on Thursday. We will see if that matters.
"Forget about tonight. The game is over. It happened," Tatum said. "We have a game tomorrow. We talked about it in the locker room, they all count as one. We won. It don't necessarily mean much, so we have to move on.
"We are going to show how good of a team we are by the way we respond tomorrow. That's all that matters at this point."
Sign up for Celtics updates🏀
Get breaking news and analysis delivered to your inbox during basketball season.