Celtics
7 takeaways as Jayson Tatum catches fire in Celtics gutsy win vs. Jazz
The Celtics claimed a tough win on the second night of a back-to-back.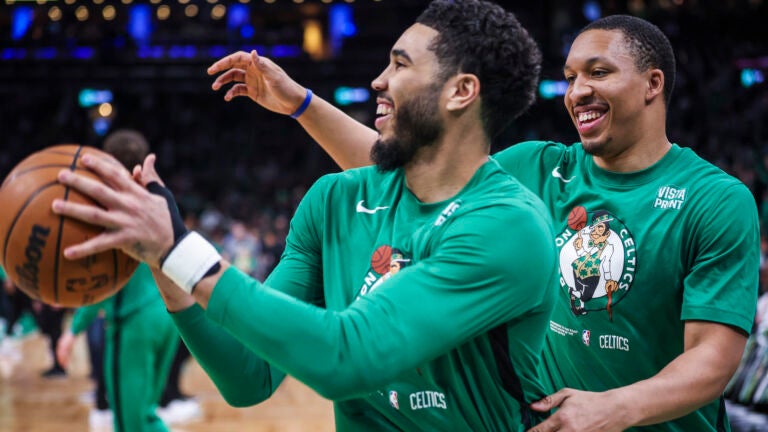 The Celtics claimed their second win in as many days on Friday, knocking off the Jazz 122-114.
Here are the takeaways.
1. Every season, Jayson Tatum seems to go through peaks and valleys — so much so that a meme often floats around Twitter, charting his early-season struggles followed by a big emergence in the second half of the year.
This season, Tatum didn't struggle much at the start of the season, which was part of the fuel for his early MVP chatter. That chatter dissipated as the Celtics dropped back in the pack, and Tatum — even though he is averaging more than 30 points per game — is yet to have his semi-annual eye-popping transcendent stretch.
Could we be watching the start of it right now? Tatum went 8-for-10 from 3-point range against the Bucks, and he followed up that performance by going 5-for-8 from deep on Friday against the Jazz in a 39-point outburst that helped the Celtics maintain their position in the Eastern Conference. His 13-for-18 stretch over the last two games boosted his season average from the 3-point range from 34.5 percent to 35.0 percent in less than 24 hours.
The 3-pointers themselves might raise some eyebrows as well — four confident spot-up makes, and this whirling triple before the double-team could arrive.
If this is the start of a big stretch for Tatum, the timing couldn't be much better as the postseason looms.
2. The Jazz — coached by former Celtics assistant Will Hardy — double-teamed Tatum throughout the evening. Despite that, Tatum finished with zero turnovers for the second consecutive game.
"Most teams wait until I'm hitting shots or there's a matchup they don't like," Tatum said. "Will's being an asshole, so he double-teamed me to start both games. I knew it was going to happen. I just kind of took it as a challenge. Play the right way, figure it out and still impact the game."
Tatum, of course, was kidding about Hardy.
"I could tell that Will wasn't going to be here long, that he was going to get an opportunity very, very soon," Tatum said. "He was motivated, he was hungry, knows what he's doing. He's got those guys playing extremely well, so I couldn't be happier for him. It's somebody that I still have a relationship with to this day. We talk from time to time. I have a lot of respect for him."
3. For the second game in a row, Blake Griffin got under the skin of an opponent — this time Jazz guard Kris Dunn, who grabbed Griffin's jersey and earned two technicals and an ejection as a result in the fourth quarter.
Dunn's ejection came on the heels of Thanasis Antetokounmpo's ejection in the last minute of the Celtics' blowout win over the Bucks on Thursday. Antetokounmpo earned his ejection by head-butting Griffin.
Griffin earned a technical as well after pounding the floor, imploring an official for a charge in the third quarter.
"I don't know about the ones that aren't called," Griffin said. "Those ones kind of hurt. It's like adding injury to insult sometimes where you take the charge, you don't get the call, and then you get a tech. So, I don't know. But yeah, that's just kind of my role is just do that kind of stuff."
The Celtics appreciate Griffin immensely.
"Blake is one of the best," Tatum said. "A true professional. Accepting his role that he's in. He don't play for some games, guys are off, now he starts, plays 25 minutes, 12 rebounds, took some charges. And it's just great to see somebody that was essentially at the top of this league and now in a different role and he doesn't have an ego at all. And (he) essentially does whatever he needs to do to help us be a better team each and every night."
4. The Celtics had plane issues on Thursday night and were unable to leave Milwaukee until this afternoon, arriving in Boston at 1:30 p.m.
Before the game, Joe Mazzulla refused to acknowledge the travel issues. A reporter noted that it sounded like he didn't want to make it an excuse.
"It's not an excuse," Mazzulla said. "It doesn't matter. Nothing matters. The only thing that matters is getting ready for Utah. It doesn't matter. We're safe, we're healthy, we're rested, got a good night's sleep. Whenever the flight landed, it would have been today."
Smart, however, acknowledged after the game that the travel problems made Friday's game more difficult.
"When we finally figured it out, it was already 2 in the morning," Smart said. "So we get back, by the time we went to sleep, adrenaline is still going. Now you're up, because you've got to keep moving around, and you've got to be alert. It was a little difficult to go to sleep for some people, but that's just part of it.
"It was definitely tough, but this is one of those games where you come out and it doesn't matter and you've got to fight through it."
5. After hurting the Bucks by driving to the hoop repeatedly on Thursday, Malcolm Brogdon buried three consecutive triples in the third quarter as part of a stretch that helped the Celtics build their lead from seven to 15 before the end of the period.
Notably during that stretch, both Jaylen Brown and Tatum were off the floor. Brogdon finished with 19, while Derrick White scored 17.
"I thought the lineup with Derrick and Malcolm, I thought they spearheaded that lineup with their pace and their decision making," Mazzulla said. "I thought Malcolm went on a small run by himself. We have the ability to play different ways, we have a lot of depth, we can play small and big. When Malcolm is at his best, he really provides that second unit with a big spark, so I thought he was great tonight."
6. After carrying the Celtics for several weeks while Tatum struggled, Brown had a very off night against the Jazz, shooting 5-for-19 and 0-for-5 from 3-point range.
7. The Celtics might be exhausted, but they now have an entire weekend off before they take the court again in Philadelphia for a crucial showdown with the 76ers.
If you feel like scoreboard watching in the interim, the Bucks take on the Sixers on Sunday, which has the potential to be crucial in the chase for the 1-seed. The Celtics now trail the Bucks by 1.5 games and lead the Sixers by 2.5 in the standings.
Sign up for Celtics updates🏀
Get breaking news and analysis delivered to your inbox during basketball season.