Celtics
How the reported details of the NBA's new CBA affect the Celtics
There are positive and negative developments for the Celtics in the new CBA, which was agreed upon early Saturday morning.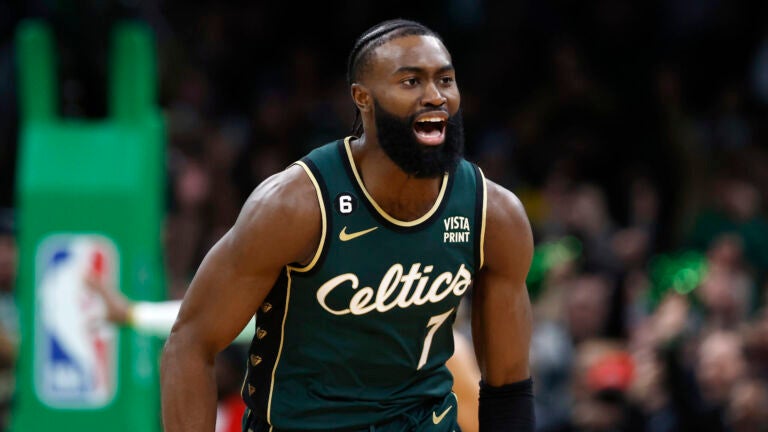 The NBA and the NBPA reportedly reached an agreement on a new collective bargaining agreement in the early hours Saturday morning and a couple of new items have some effect on the Celtics.
The bad news for Boston is that it likely will be limited in making additions in free agency for the foreseeable future. A second salary cap apron will be put in place for teams that are $17.5 million above the tax line, which will prohibit those teams from using the mid-level exception, according to ESPN's Adrian Wojnarowski.
Boston is one of the handful of teams affected by the new apron. The Celtics are roughly $25 million north of the $150 million luxury tax in salaries this season but were able to add Danilo Gallinari on the mid-level exception this past offseason.
The Celtics could possibly add a player with the mid-level exception in the 2024 offseason, but it'll likely depend on if they want to keep Grant Williams. Boston currently has $163 million committed in salary for next season (thanks to Al Horford taking a pay cut), which is just $1 million north of the projected $62 million tax line.
If the Celtics re-sign Williams to a deal somewhere between the four-year, $50 million deal he reportedly turned down and the $20 million per year he's reportedly seeking, it'd be highly unlikely that they would be able to use the mid-level exception.
There is a positive development though for the Celtics in the new CBA. If Jaylen Brown doesn't make an All-NBA team this season, the Celtics can offer Brown an extension worth 140 percent more than his current deal. Previously, teams could only offer players not on their rookie contract an extension with a 120 percent increase.
That means the Celtics can offer Brown a four-year, $189 million extension instead of a four-year, $165 million extension prior to the final year of his current deal, according to ESPN's Bobby Marks. That means the Celtics can offer Brown slightly more money this offseason than any team can when he becomes a free agent in 2024. Spotrac's Keith Smith projects that the highest offer an opposing team can make to Brown is a four-year, $184 million deal.
Of course, Brown is probably hoping to make All-NBA because he can make substantially more money if he does. If Brown is named to one of the three All-NBA teams this season, the Celtics can offer him a five-year, $290 million contract extension this offseason.
Those are the two changes that have the most direct impact on the Celtics, but there could be some other changes that they could reap the rewards of sometime in the future.
One of them could be the in-season tournament that might be implemented in the 2023-24 season. Group play for the tournament will be incorporated in the usual regular-season schedule before an eight-team, single-elimination knockout stage begins. The semifinals and finals of the tournament will take place at a neutral site sometime in December, according to ESPN. Members of the winning team will earn $500,000 each, according to The Athletic's Shams Charania.
Teams will also be able to have three two-way spots on their roster now instead of two, ESPN reported. Rookie guard JD Davison and Mifondu Kabengele are the two players on the Celtics' roster that are on a two-way deal, which allows them to earn a guaranteed salary while playing for the Celtics and the Maine Celtics in the G-League. Boston's made some notable cuts due to only having two two-way slots available in the past with Heat guard Max Strus being cut in 2019 for an example.
The NBA will also implement a 65-game minimum (with some conditions) for players to be eligible for major awards. With this rule, someone like Jayson Tatum might have a leg up over his competitions for major awards as he's played in at least 72 games in the four 82-game seasons he's played in.
Sign up for Celtics updates🏀
Get breaking news and analysis delivered to your inbox during basketball season.