Celtics
Where the Celtics stand in the Eastern Conference playoff picture
The 1-seed is still within reach if they keep winning and catch some breaks.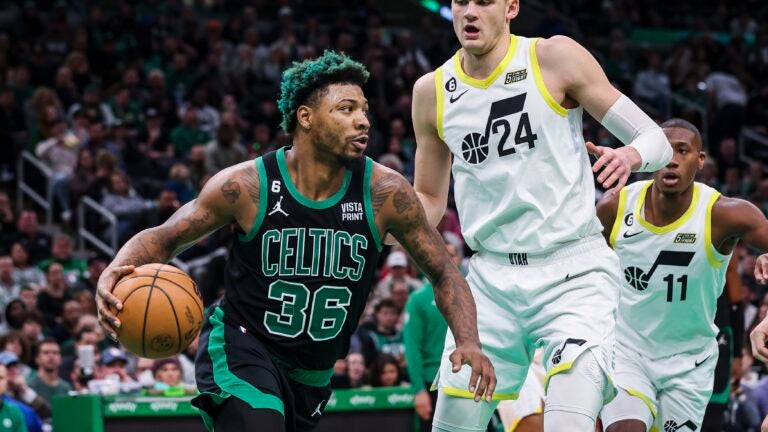 The Celtics have won five of six, and – outside of a setback against the Wizards – are starting to return to form as the playoffs near.
Boston is 54-24 with four games remaining and currently holds the No. 2 seed in the Eastern Conference.
The Celtics are 1.5 games behind the Bucks – yes, the Bucks they just demolished by 41 points – and 2.5 games up on the 76ers.
Boston has three days off before facing the 76ers in Philadelphia on Tuesday, April 4, at 8 p.m. The Bucks and 76ers play Sunday, so a 76ers win could help the Celtics in their quest for the 1-seed and a Bucks win could help the Celtics avoid the 3-seed.
The Celtics then face the Raptors twice and close out the regular season against the Hawks on Sunday, April 9.
Boston won the season series against both Milwaukee and Philadelphia, meaning it holds the tiebreaker if they finish with identical records.
After the Bucks and 76ers meet, the Bucks face the Wizards, Bulls, Grizzlies, and Raptors. The 76ers face the Celtics, Heat, Hawks, and Nets.
So, essentially, if the Celtics win out and finish 58-24, and the Bucks go 3-2 (or 3-1 for the Celtics and 2-3 for the Bucks, etc.), the Celtics would get the 1-seed. Something would have to go drastically wrong for the Celtics to fall to the 3-seed (Celtics 1-3, 76ers 5-0 or Celtics 0-4, 76ers 4-1), but it is possible.
Last year, Boston earned the No. 2 seed and advanced to the NBA Finals.
Sign up for Celtics updates🏀
Get breaking news and analysis delivered to your inbox during basketball season.