Celtics
Danilo Gallinari creates his favorite 'pizza del gallo' at Eataly for charity
$1 from every Gallinari pizza purchased will be donated to St. Baldrick's research fund for childhood cancer.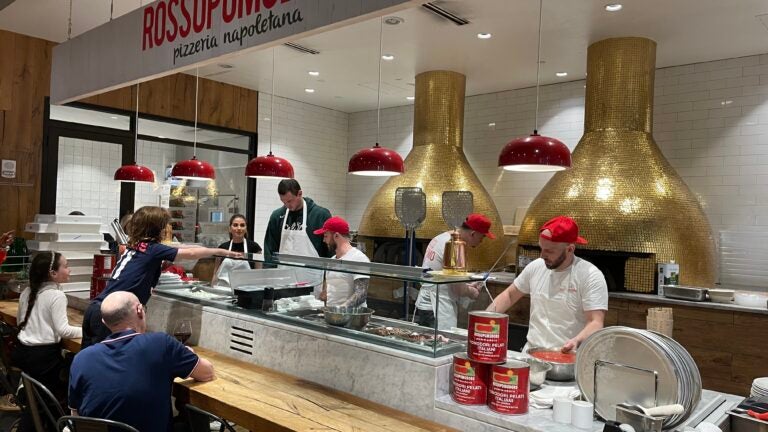 On Tuesday night, Celtics forward Danilo Gallinari and his wife Eleonora joined the staff of Eataly's La Pizza & La Pasta to make his "Pizza del gallo" for customers, with a portion of the proceeds going to charity.
Gallinari, nicknamed Il Gallo or rooster in English, partnered with the Prudential Center restaurant to benefit the St. Baldrick's foundation, a funder of childhood cancer research.
From April 11 to May 11, Gallinari's pizza will be available on the restaurant's menu for $22, with $1 of every purchase donated to St. Baldrick's.
The Italian first teamed up with the foundation in November, and has since made donations, visited children fighting cancer, and shaved his head as an act of solidarity with all who have lost their hair due to chemotherapy.
Each table at the restaurant had a green St. Baldrick's wristband and pins from the foundation.
Gallinari discussed the importance of St. Baldrick's as he began to prepare a pizza.
"[St. Baldrick's] is a great cause and is a great organization," Gallinari said. "They are experts in research for cancer for kids, which I'm sure everybody knows is a very important topic especially nowadays and it's a situation where we need money to get better. Not everybody, especially kids can win. We need to help these kids win this fight against cancer and this is a great occasion to do that."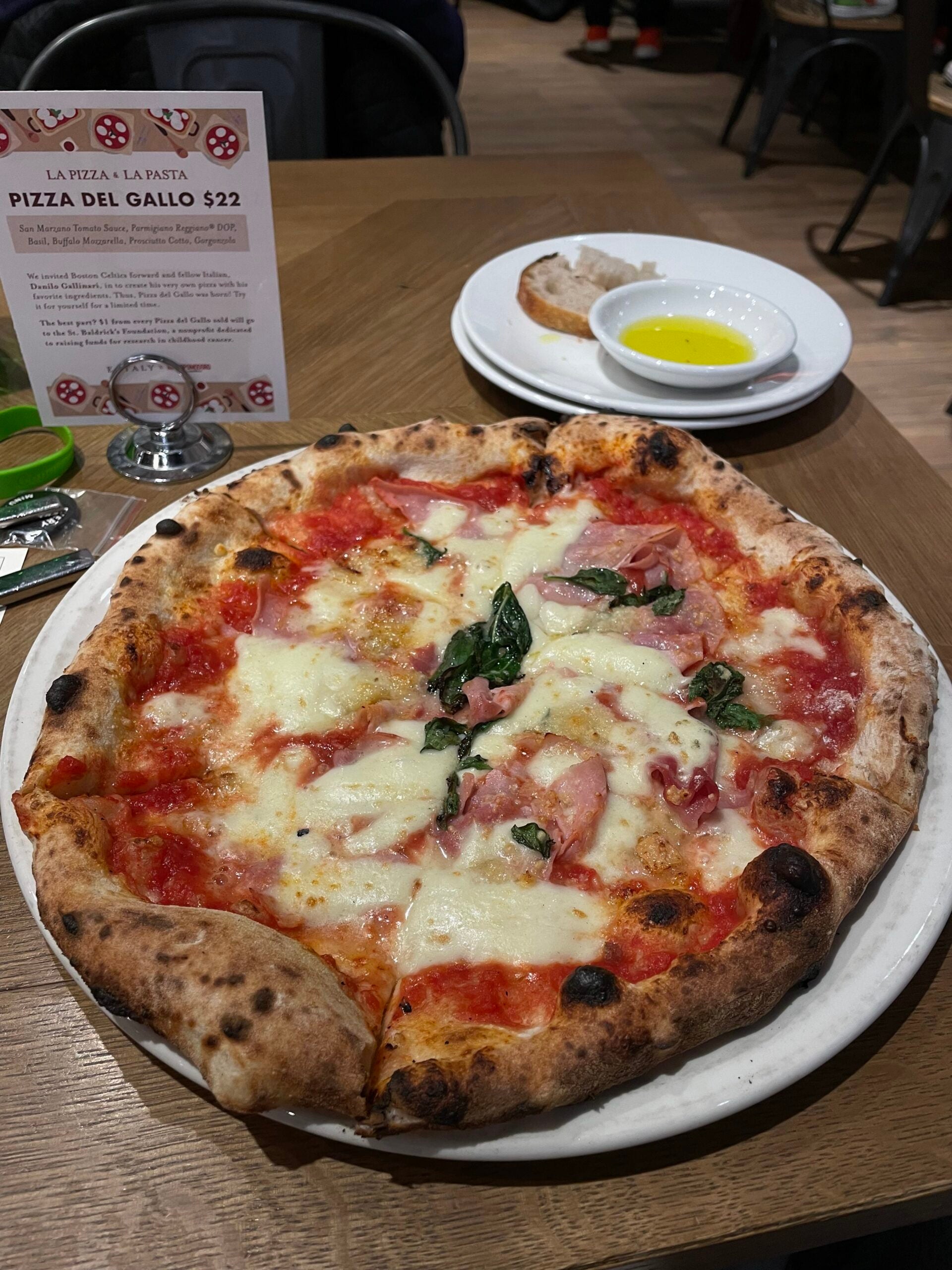 The pizza itself features freshly made dough, tomato sauce, parmesan, gorgonzola, buffalo mozzarella, basil, prosciutto, and a drizzle of olive oil on top. According to Gallinari, it's his favorite pizza.
Throughout the evening he taught customers how he made the pizza in Eataly's woodfire ovens and helped the chefs make each pizza that was plated for diners.
Anyone who wanted to see exactly how the pizza was made could walk up to the counter and see every step of the process.
One of Eataly's chefs, Gaetano, helped out Gallinari throughout the process and walked the crowd through the different ingredients and how the group makes their pizzas.
It initially took Gallinari a few tries to nail down the technique, but he was clear that he was committed to making as many pizzas as possible. A few weeks prior, he made a trip to the restaurant to practice his skills crafting the pizzas.
After half an hour near the 800 degree oven, the forward began to break a sweat and the forest green sleeves of his Celtics sweatshirt were dirtied by flour. Gallinari wanted to make clear to the restaurant's customers though that he was there to work and he wouldn't just quit after a few orders.
"We're gonna keep making pizzas all night, I don't know how many hours but a lot of hours so keep ordering," Gallinari said.
When he wasn't making pizzas, the forward was taking time to speak to customers at the restaurant. He spoke Italian with anyone who came up to his counter, took pictures with fans, and even signed one woman's menu.
Although he was busy for most of the evening, Gallinari did take time to enjoy his own creation fresh out of the oven after just 90 seconds of cooking.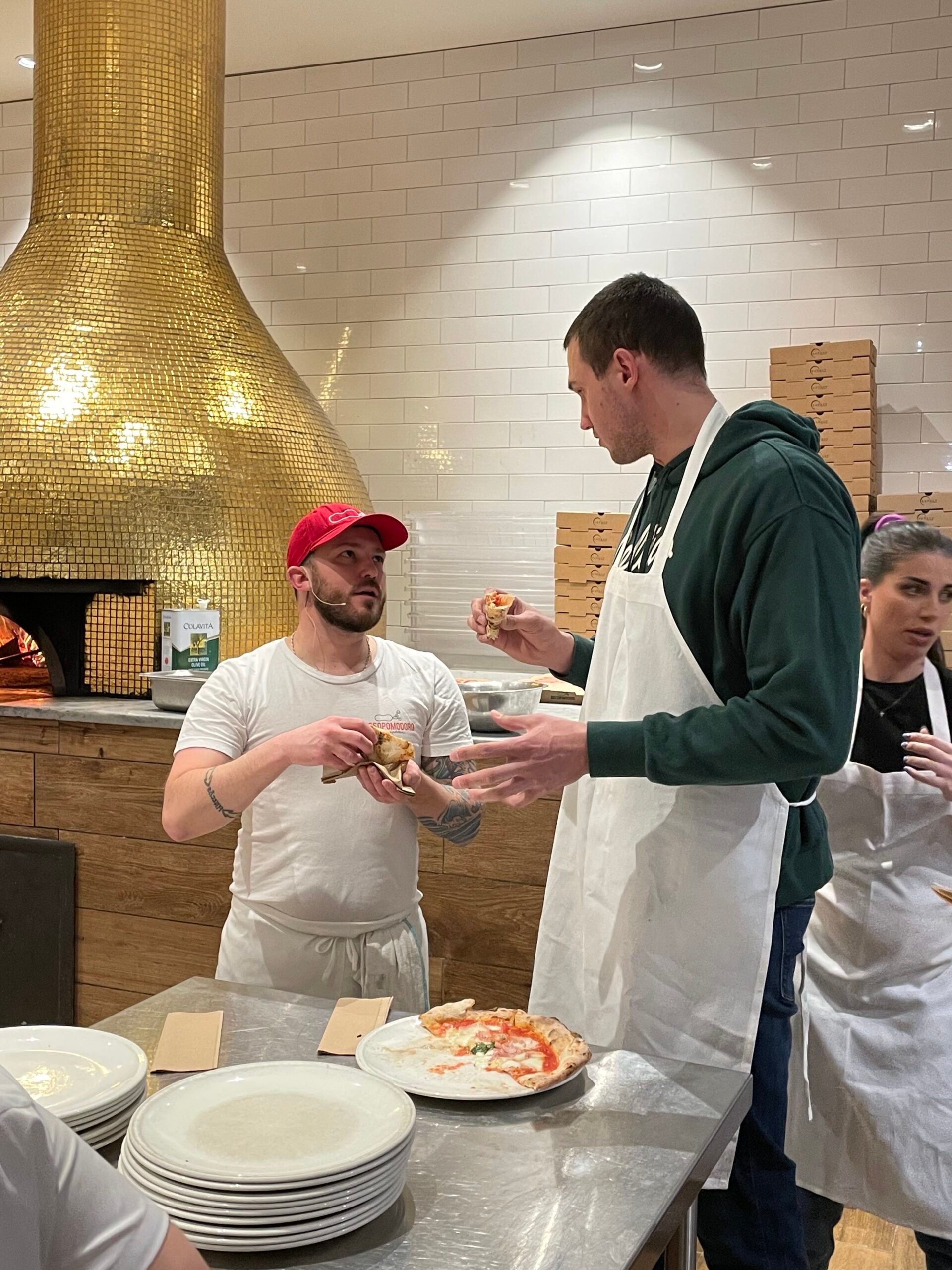 Get the latest Boston sports news
Receive updates on your favorite Boston teams, straight from our newsroom to your inbox.