Celtics
8 takeaways as Jaylen Brown returns, Celtics handle Hawks in Game 1
"There's a lot of games left."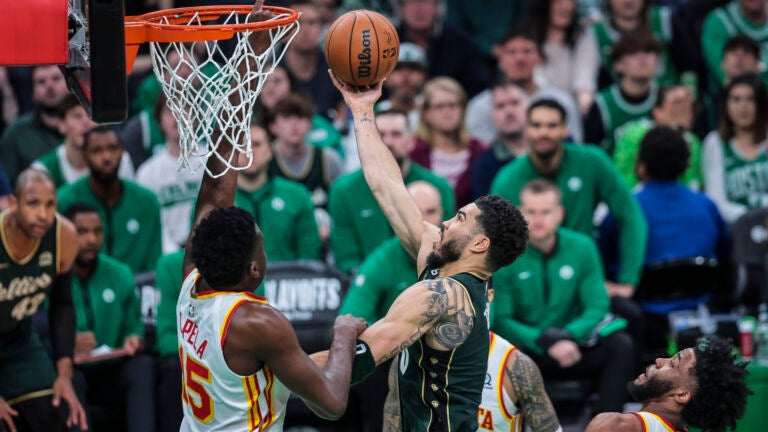 The Celtics started their playoff run with a 112-99 victory over the Hawks in Game 1 on Saturday.
Here are the takeaways.
1. The Celtics showed both their lofty potential and one of their troubling tendencies on Saturday.
The Celtics' potential is clear when the ball is zipping all over the floor, the defense holds the opponent to a minuscule 3-point percentage, and every possession is treated with the requisite attention to detail. The first half was a masterclass – the Celtics created mismatches and attacked them with fervor. Defensively, they held the Hawks in check and forced 10 consecutive misses from 3-point range before Trae Young finally connected. The lead was double-digits after one quarter, and it swelled to 74-44 after a dominant second.
"We were very intentional about personnel, we were very physical, and just detailed in their tendencies and their execution," Joe Mazzulla told reporters afterward. "It's just something we have to work to continue."
The second half was significantly less dominant. The Hawks outscored the Celtics 55-38, and the Celtics cooled off significantly from 3-point range, finishing 4-for-17 in quarters three and four after shooting 9-for-16 in the first two. The lead dwindled as low as 12 on a couple of occasions before the Celtics took control in the final three minutes.
"Each game is its own story," Jaylen Brown said. "We expect to get their best shot next game. You can't take a team for granted. We let them get a little more comfortable in the second half, so I expect the next game for them to be a little bit more prepared, so we got to be a little more prepared as well."
Brown is certainly correct – each game is its own entity, and the Celtics shouldn't expect their 30-point cushion or the Hawks' late rally to carry over to next game. The only thing that does carry over is the Celtics' 1-0 series lead, which means their business-like performance on Saturday afternoon can be considered a success.
2. The matchups in this series will be a difficult needle to thread for the Hawks. The starting lineup features two players the Celtics are happy to target in Young and John Collins. Dejounte Murray is far too small to do anything about Jayson Tatum. Clint Capela is a very useful player, but the Celtics can pull him far away from the basket. De'Andre Hunter is a good defender, but he can only hope to slow Tatum and he can't do anything about other mismatches the Celtics can pick apart.
How the Hawks defend Tatum going forward will be interesting – he shot 1-for-8 in the second half after a 9-for-15 first half, but his misses were a little flukey. He bricked an open 15-footer, got caught under the rim for layup, clanked a couple of open 3-pointers and nearly air-balled a floater. The Hawks went to a trapping defense late trying to speed the Celtics up, but Tatum has grown far too sophisticated as passer for that strategy to work over the course of a game.
Meanwhile, Jaylen Brown started the game with a steal and a layup on the first possession en route to a game-high 29 points and was the leader of five Celtics players who scored in double figures. Even if the Hawks limit Tatum, which seems unlikely, they are trying to patch over a lot of cracks in the drywall against this Celtics roster.
3. Brown returned after missing two games with a cut on his hand, and the cut split open in the first half. He was non-committal when a reporter asked if it needed more stitches, saying only that he thinks it will be fine and the team will "look at it tomorrow."
"Especially with the adrenaline of the game, you kind of just get it going," Brown said. "At times throughout the game I had to readjust it and stuff like that. Had a lot of padding on it, so it's a different feel shooting the ball. Just adjusting and adapting to the game."
Brown finished with six turnovers, but he did pull down 12 rebounds in addition to his game-high scoring.
"He looked good, came out aggressive, and obviously was playing through it," Tatum said. "So it looked like he felt fine and played really well."
4. Al Horford took just four shots, but he buried a 3-pointer with 3:16 remaining that pushed the Celtics' lead from 12 back to 15, he blocked two shots in the final three minutes, and he energized his teammates with an impassioned speech as the lead trickled away.
Horford's teammates appreciated the 36-year-old veteran's leadership.
"[When] things are going good, he's rallying everybody up. When things are going bad, he's bringing everybody together," Derrick White said. "That's just who he's been since I've been here. He makes big plays when we need them. Big, emotional plays. And he was huge for us tonight. We just kind of fed off of that."
5. Marcus Smart put together one of the better defensive performances by a Celtics player this year. He helped keep Trae Young in check, switched as necessary against a number of Hawks players, and then made two crucial plays late to help the Celtics hold off the Hawks' late charge. The first play was a ridiculous block in transition against Hunter. The second was a steal, which was initially whistled a foul before Mazzulla successfully challenged it.
If Tatum is an offensive nightmare matchup for the Hawks, Smart is a similar force on the other end. Smart doesn't seem likely to earn an All-Defense nod for his regular-season performance, but he started the postseason looking a lot like the reigning Defensive Player of the Year.
"I guess sometimes you take it for granted, but [he's] one of the best, if not the best defender that we have in this league," Tatum said. "Just extremely special on that side of the ball and he shows it night in and night out."
6. White was a beneficiary of Young's defense, finishing with 24 points on 7-for-13 shooting. His first four baskets all involved Young in some capacity – two pick-and-roll 3-pointers that lost Young entirely, a rolling layup that put Young in the middle of the action and a 1-on-1 floater over the Hawks' defensively challenged star.
7. Young, meanwhile, gave the Hawks just 16 points on 5-for-18 shooting. He finished -14 and was 1-for-5 from deep, part of a 5-for-29 performance from behind the arc by the Hawks overall.
The Celtics expect to face a better offensive performance from Young in Game 2.
"We just try to be solid on him," White said. "He's a great player, and we know that and we know he's going to make some adjustments, and we need to make adjustments as well to continue to make it tough on him.
"But he's a great player and is going to make tough shots. We've just got to continue to make it tough on him."
8. Game 2 will take place on Tuesday. Everyone involved expects a better first half than the one the Hawks submitted in Game 1.
"[Game 2 will be] as tough as we make it," Smart said. "If we come in and we allow them to just get open freely, get on the glass and get second, third chance opportunities and start feeling themselves even more comfortable, it's going to be really hard."
Where are the Celtics' heads at?
"I mean, we didn't lose the lead," Tatum said. "We were up 30 at halftime, and it got down to 13 or 12. It's the playoffs. They're a good team. We expect them to go on runs. A lot of it was self-inflicted – turnovers and missed layups and things like that. But we responded and obviously there's a lot of things that we can learn from and I'm sure the Hawks feel the same way.
"So it's all about adjustments and learning from Game 1. There's a lot of games left."
Sign up for Celtics updates🏀
Get breaking news and analysis delivered to your inbox during basketball season.